Oilpatch Slowdown Puts Squeeze On Work Camps
CALGARY — A slowdown in oilpatch activity means fewer tradespeople on site, putting a squeeze on businesses that house and feed workers in remote locations.
Before the downturn, when the oil and gas sector was chugging along, it was a challenge to entice enough skilled labourers to work for weeks on end far from home. Fat paycheques were one draw, but quality lodging was also key.
Many camps more closely resemble hotels or resorts, complete with Wi-Fi, fitness centres, ice rinks and meals prepared by Red Seal chefs.
They're quieter places nowadays, with oil and natural gas prices too weak to justify most new projects.
Black Diamond Group CEO Trevor Haynes figures the company's lodges are at about half occupancy these days. A few years ago, when times were better, it was more like 80 per cent.
The workers who remain are settling in for longer stays, as frequent shift turnovers eat into productivity at the mine or drill site, Haynes said.
Black Diamond is responding by tackling costs. Administrative expenses were down by 23 per cent during the last three months of 2015 compared to the fourth quarter of 2014, while capital expenditures were 97 per cent lower.
Workforce reductions
One of the more "painful'' measures has been to reduce the workforce last year.
"It's really hard to turn an organization around from being fast-growth to being very cost-conscious,'' he said. "It was a very difficult year in that respect.''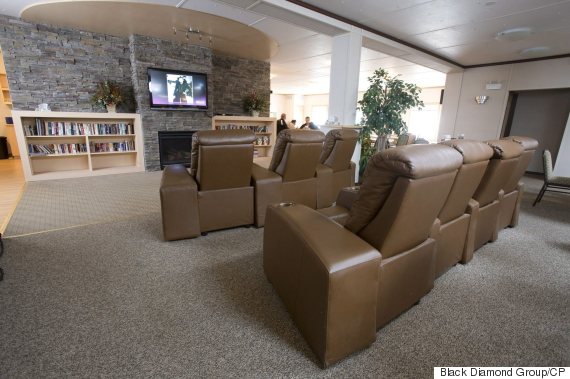 The interior of a Black Diamond Group lodge in Wabasca, northern Alta. (Photo: Black Diamond Group/HO)
It's a similar story for another big camp operator, Horizon North Logistics.
CEO Rod Graham told a recent conference call that he'd like to say the pain is over, "but I know that would be a falsehood.''
"Horizon North's traditional energy markets in Western Canada are under extreme duress.''
As of mid-February, Horizon North had a workforce of just under 1,200 — down 700 from the same time a year earlier, said Graham.
Signs of distress can be seen at work camps
Jim Seethram, chief operating officer at Orissa Software, said the earliest signs of distress in the resource sector can be witnessed at work camps.
Orissa's system helps companies manage the comings and goings of their workers, processing more guest stays than some of the world's biggest hotel chains.
The decline has been most dramatic in open camps — ones that house workers for quick drilling jobs, as opposed to ones owned by oilsands operators, for instance.
Some regions have felt more pain than others. Shale oil rigs in North Dakota, for instance, "dried up in an instant'' as it only takes a few days to wind down one of those operations, said Seethram.
But in the oilsands, the sunk costs are considerable and it takes years to build a project that will operate for decades. Operators are loath to stop construction partway through.
When activity does eventually pick up again, Seethram said he's not expecting to see camp operators pull back much on the bells and whistles for new projects.
"I don't think we can go backward from that,'' he said. "I think the camp operators have recognized that's what their guests are demanding and that's what draws them to the work site and that's just a necessary cost of business.''
Also on HuffPost:
Timeline: Oilpatch Layoffs Of 2015
Here's a look at some of the major energy industry layoffs that have affected Alberta in 2015:

Company: Royal Dutch Shell Layoffs: Hundreds of layoffs at its massive Albian Sands project. The company announced it is laying off less than 10 per cent of its 3,000 workers.

Company: Suncor Energy Layoffs: The company announced it will layoff about 1,000 people from its workforce of 14,000. It also cut $1 billion from its capital budget

Company: Schlumberger Layoffs:Schlumberger announced they would cut 9,000 jobs in January, and another 11,000 in April, but did not report on how may of those jobs would affect Alberta employees.

Company: Newalta Layoffs: The company announced it would cut 180 people from its workforce to reduce costs and improve margins. The cuts amounted to 15 per cent of its staff.

Company: Weatherford International Layoffs: The oilfield services company said it will lay off 8,000 workers worldwide, or about 15 per cent of its workforce. According to Global News, about 1,000 of those positions affected Albertans.

Company: Cenovus Energy Layoffs: Cenovus Energy Inc. said it will cut its staff by about 15 per cent, the bulk of layoffs coming from its contract workforce. The company also suspended employee salary increases for this year.

Company: Precision Drilling Layoffs: Precision announced a net loss of $114 million, and was forced to adjust to a "swift and severe" decline in crude prices, said CEO Kevin Neveu. At the time, Neveu said about 50 fewer Precision rigs, and 1,000 fewer people, were running than at the same time a year ago.

Company: Finning International Layoffs: Finning International said it will cut 500 employees, or about 9 per cent of its Canadian workforce. Some of these cuts came to people working the Alberta oilsands or based in Edmonton.

Company: Husky Energy Inc. Layoffs: Husky Energy Inc. unexpectedly laid off 1,100 workers at its Sunrise oilsands project.

Company: Nexen Energy Layoffs: Nexen said they would slash 400 jobs "in response to the recent industry downturn." The majority of Nexen's cuts affected employees at its Calgary office.

Company: Talisman Energy Layoffs: Talisman Canada said it would reduce its workforce by 10 to 15 per cent as it grapples with low crude prices. Spokesman Brent Anderson says up to 200 employee and contractor jobs would be cut, mostly at the company's head office in Calgary.

Company: ConocoPhillips Layoffs: ConocoPhillips announced that they will cut seven per cent of their Canadian staff — or about 200 people in total. Spokeswoman Kristin Ashcroft said that some Calgary-based staff and workers in the oil field would be let go.

Company: Trican Well Services Layoffs: Trican Well Service Ltd. cut 2,000 employees from its North American workforce, including about 800 in Canada, and said it will stop paying dividends to its shareholders, citing the difficult current and future market conditions.

Cenovus Energy Inc. cut between 300 to 400 jobs in the second half of this year, on top of 800 layoffs announced in February.

Penn West announced it is cutting its workforce by 400 full-time employees and contractors — most of them working at company headquarters in Calgary.

ConocoPhillips Canada confirmed to CBC News it will reduce its workforce by about 15 per cent — 400 employees and 100 contractors. The majority of jobs lost will be in the Calgary office.

Cenovus, Suncor, Athabasca Oil and Calfrac all lay off hundreds of workers. "Unfortunately, these are the necessary steps required to weather an extended downturn," company spokesman Matt Taylor tells CBC.

Enmax, Transcanada and Enbridge all announced layoffs, totalling more than 560 employees, CTV reported.

ATCO Group laid off more than 400 people, according to The Calgary Herald, bringing the total group layoffs of the year to over 18,000 workers.