Humans Of New York Creator Calls Out Donald Trump In Public Letter
Brandon Stanton doesn't normally get political, but Donald Trump apparently changed his mind.
The photographer behind the popular "Humans of New York" Facebook page posted an open letter to the U.S. Republican presidential candidate Monday.
"I've come to realize that opposing you is no longer a political decision," he wrote. "It is a moral one."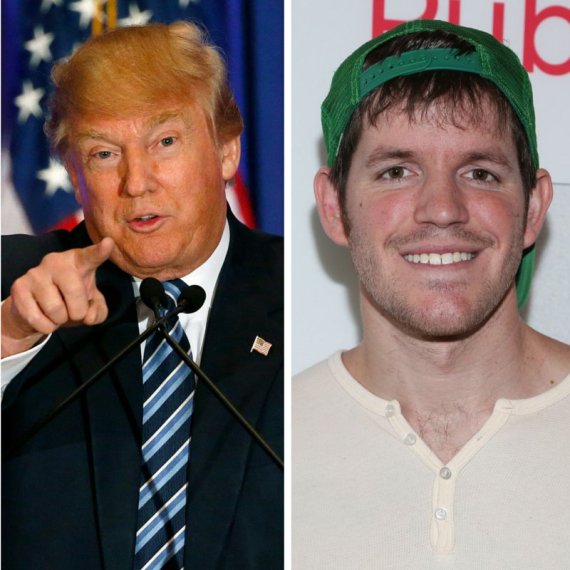 Donald Trump, left, is not presidential, says "Humans of New York" founder, Brandon Stanton. (Photo: Getty Images)
Stanton's page features photos of everyday people accompanied by their poignant stories gleaned from interviews. He began posting photos of people in New York City, but has since expanded his page to cities across the globe.
In his letter, he details interviewing Muslims in Iran, Iraq, and Pakistan, as well as Syrian and Iraqi refugees.
"I've watched you gleefully tell stories of executing Muslims with bullets dipped in pig blood," wrote Stanton, pointing out that Trump has also compared refugees to "snakes."
"And I can confirm— the hateful one is you," Stanton said.
Trump has called for the "complete shutdown" of Muslims entering the United States, and has called Latino immigrants "rapists." His rallies have also become increasingly chaotic and violent, with his supporters clashing with protesters.
"I've come to realize that opposing you is no longer a political decision. It is a moral one."
Stanton wrote that despite Trump's branding of himself and his supporters as victims, he is neither "presidential" nor a "unifier."
"You are a man who has encouraged prejudice and violence in the pursuit of personal power."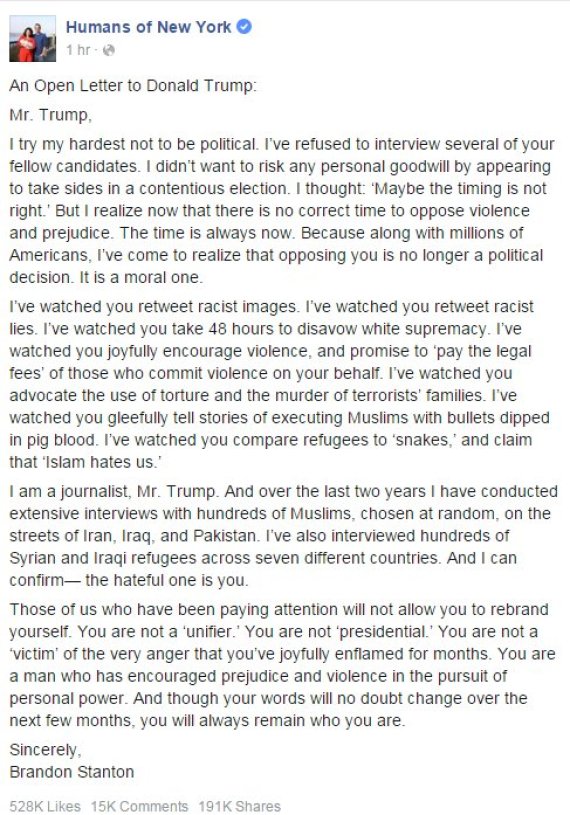 With files from The Huffington Post and The Canadian Press
Also On HuffPost: