CMHC May Force Banks To Shoulder More Of The Risk Of Mortgages
TORONTO — Canada Mortgage and Housing Corporation is continuing to explore the possibility of forcing banks to shoulder more of the risk associated with home mortgage loans.
During a speech in Calgary, CMHC president and CEO Evan Siddall said the option of requiring lenders to pay a deductible on mortgage insurance claims is still on a table.
According to speaking notes posted on the website of the federal housing agency, Siddall told his audience that the CMHC is working with a number of government entities, including the Department of Finance and the Bank of Canada, to examine ways of better distributing risk across the financial system.
The idea of having banks pay a deductible on mortgage insurance claims was first floated by CMHC under the previous Conservative government.
It's been unclear whether the new Liberal government is interested in pursuing the idea.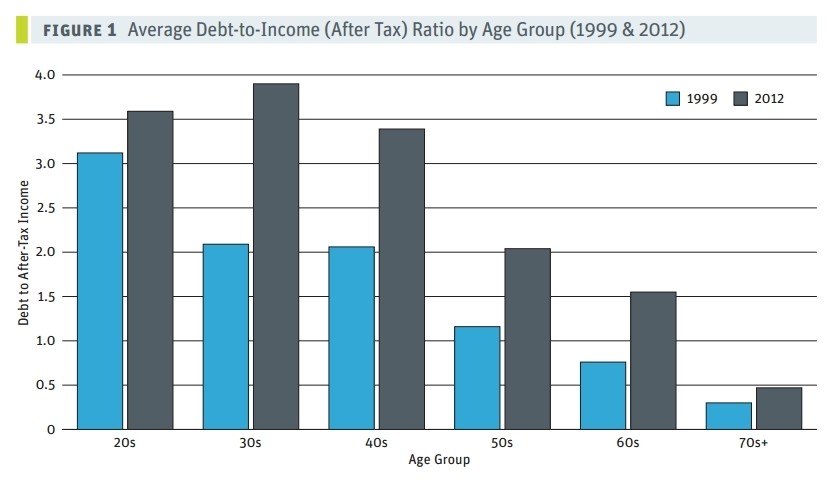 This chart from the Canadian Centre for Policy Alternatives shows people in their 20s have the highest debt loads, but people in their 30s and 40s experienced the largest increase in debt since the turn of the century.
Homebuyers with less than a 20 per cent down payment are required to obtain mortgage default insurance from either CMHC or one of the private mortgage insurers.
The Canadian Bankers Association warned the previous government that shifting more mortgage risk onto the banks could threaten the country's financial stability.
The industry association laid out its position in a letter to CMHC penned in August 2014, which was obtained by The Canadian Press through an Access to Information request last year.
The Department of Finance said last November that it had undertaken preliminary research to examine the impact of shifting more of the risk to the banks.
Feb. 2016: What $5 Million Will Buy You In Canada
This five-bedroom, five-bath house in Montreal's ritiziest neighbourhood has a large (almost 19,000-square-foot) lot featuring an amazing rock formation that makes the back yard entirely unique. The realtor boasts of spectacular views of the city as well. Listing.

This house in Coyote Valley, northwest of Calgary, features five bedrooms and three full baths in more than 6,000 square feet of living space. The property features an exercise room, a rec room and a media area, as well as a four-car garage. Listing.

This two-bedroom, two-bath condo in Coal Harbour features a 221-square-foot patio on the lower level and a master-bedroom balcony on the upper level. Which is helpful, because the views are not to be missed. Listing.

This four-bedroom, four-bath property sits in one of Canada's ritziest urban neighbourhoods and features a "smart home" automation system and an elevator. And the view from bedroom windows is of trees, which is sort of incredible for downtown Toronto. Listing.

This 9,200-square-foot house in the Greater Toronto suburb of Oakville was built around 1888, and features seven bedrooms and nine baths, and no fewer than six fireplaces. The realtor says the home was recently entirely renovated. Listing.

This 20-acre private island in swanky Lake of Bays, some 200 km north of Toronto, features five separate summer cottages and a three-bedroom boathouse, with parking for five boats. Great place for an extended family -- a rich extended family. Listing.

The realtor's boast that this is "one of the most beautiful waterfront settings on the Continental Eastern Seaboard" was a little difficult for us to verify, but it sounds good. Five bedrooms and seven baths in this 12,000-square-foot house that also features a library, a gym and a "hidden wine cellar." Listing.
Siddall made his comments Monday during a luncheon hosted by the C.D. Howe Institute, a think-tank that once called for the privatization of the CMHC.
During his speech, Siddall defended the organization's status as a public institution, arguing that it played an important role during the 2008 global financial crisis.
"As a Crown corporation with a public policy mandate, CMHC needs to be present in the market through all economic cycles," he said.
"This is a fundamental way in which we contribute to Canada's financial stability. In fact, our role now in Alberta is to support continuous access for Albertans to the housing market, even if private insurers choose to pull back."