15 Things To Do In And Around Niagara Falls
The beauty of Niagara Falls is definitely getting lost in its powerful waters but, if you're planning a trip to see this natural wonder anytime soon, make sure you pencil in some time for the city's other offerings too.
Niagara Falls and Niagara-on-the-Lake (a 25-minute drive from the Falls) has everything from fancy wine estates to cheesy Vegas-style museums to top-notch hotels with dining and casinos. But one of our favourite attractions in the city is all of its greenery.
Surrounded by gardens and lakes, Niagara Falls offers everything from fishing to trails to boat tours in and around the majestic Falls. And if you're spending time on the Lake, well, that's just another city escape altogether.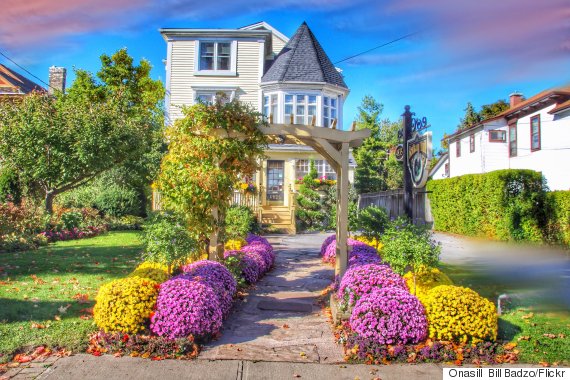 (Bed and Breakfast and Bedham Hall in Niagara Falls. Photo: Onasill ~ Bill Badzo/Flickr)


If you live in Ontario or close to the area, the idea of spending vacation at the Falls isn't always a top choice, but as a recent Google Canada travel report shows, Niagara Falls is the trendiest city for Canadians related to search — this could have something to do with our dollar or the fact the city tends to be a popular spot for honeymoons.
Below, we've rounded up 15 great things to do in and around Niagara Falls whether you're travelling with the whole clan or spending a weekend away with your best friends.
What did we miss? Let us know in the comments below.
15 Great Things To Do In Niagara Falls
Where: Skylon Tower Price: Prices vary, but a ride-to-the-top ticket for adults is $10.79 or $18.84 for a 3D/4D movie combo What to expect: The Skylon Tower includes everything from a revolving dining room to in-house movies to an observation deck 775 feet above the famous Falls.

Where: The Butterfly Conservatory Price: $14.25 for adults; $9.25 for children six to 12; free for children under five What to expect: Who doesn't want to be surrounded by 2,000 beautiful butterflies? The conservatory is lush, green and includes a self-guided walking tour, making it perfect for families.

Where: Nightmares Fear Factory Price: $13.95 for adults; $10.25 for children 12 and under What to expect: The Falls is home to several spooky spots, but Nightmares is a classic haunted house that has been around for years. And as expected of any haunted house, there's also a creepy legend behind it — read it, if you dare.

Where: The Floral Showhouse Price: $5 for adults; $3.75 for children six to 12; free for children under five. What to expect: With attractions changing by the seasons, this floral oasis has everything from tropical plants to rose gardens to singing birds — is there a better way to kick off spring?

Where: Konzelmann Estate Winery Price: $5 for a 45 minute public VIP tour or $15 for a cellar experience. This doesn't include the price of wine, of course. What to expect: There are several wineries located on Niagara-on-the-Lake (about a 25-minute drive from the Falls), that offer personalized tours, wine selections and space for private events. At the Konzelmann Estate, you can find everything from white to sparkling to vintage wines right on site.

Where: Clifton Hill Price: A fun pass is $25.95 for adults; $19.95 for children What to expect: One of the busiest areas of Niagara Falls, Clifton Hill is home to the Canadian Midway, the Movieland Wax Museum of Stars and the Ripley's Believe It Or Not Museum. Depending on who you're travelling with, there are also packages you can get (family, adults, couples), that fit your needs. If you're travelling during the summer with children, you may want to walk up and down the Hill during the day to avoid busy foot traffic.

Where: Zoom Leisure Bikes Price: $69 for a 4.5 hour tour What to expect: This is just one of the many bike tours available in Niagara-on-the-Lake, but if you're feeling more spontaneous, grab your own bike and ride from the Falls back to the Lake — you're roughly looking at 1.5 hour bike ride.

Where: In and around the Falls Price: Varies What to expect: Sure, there are a ton of big-box chains across touristy spots in Niagara Falls, but if you're interested in some local, classic and global cuisine, check out some of the city's best restaurants here.

Where: Fallsview Casino Resort Price: Obviously, this is up to your wallet What to expect: Besides the rows and rows of slots and tables, the Fallsview Casino, as well as other casinos in the city, offer up dining, live shows and nightlife.

Where: Niagara SkyWheel Price: $10.99 for adults; $6.99 for children under 12. What to expect: Located within Clifton Hill, the SkyWheel will take you 175 feet above ground, giving you an amazing view of the Falls. The best part? You can take a ride during the day or at night. Photo: Instagram/kayechavez

Where: The 'Imagine' Magic Show at the Greg Frewin Theatre Price: Tickets start at $32.95 and go up to $274.95 for private booth packages. What to expect: This Vegas-style venue hosts everything from concerts to live entertainment, but the must-see event for vacation-goers has to be the theatre's illusion spectacle with grand champion of magic, Greg Frewin.

Where: Check out the city's major spas Price: Packages at the Serenity Spa start at $250 What to expect: Whether you're planning a honeymoon or just need a weekend away with the girls, there are five major spas that offer everything from massages to manicures to body treatments for couples.

Where: Niagara Helicopters Price: $140 for adults; $272 for couples. What to expect: The classic helicopter ride has been around since 1961, and includes a 12-minute gorgeous view over the Falls, Lake Erie and Lake Ontario.

Where: Botanical Gardens Price: Free What to expect: During spring and summer, the Falls is home to some of the most beautiful (and green) examples of what the province has to offer. The Botanical Gardens is located just 10 minutes away from the Falls on the Niagara Parkway and the Great Gorge. It is home to over 2,400 roses, symmetrically maintained gardens and house and carriage tours for $18.50.

Where: Whirlpool Aero Car Price: $14.25 for adults; $9.25 for children under 12. What to expect: The Niagara Falls may be the city's biggest water attraction, but let's not forget about the Great Gorge. In an antique cable car, this tour gives you a chance to check out the famous Niagara Whirlpool. Each cable car holds up to 35 people standing (yes, you have to stand), so you may want to scratch this off your romantic itinerary, and check it out with friends or family instead.