Mike de Jong, B.C's Finance Minister, Doesn't Do Email Because Modern Life Can Go To Hell
Human time capsule Mike de Jong understands the value of email, but it's just not for him.
The B.C. finance minister admitted he "just never got into" electronic mail, and instead relies on good ol' fashioned paper for memos and correspondence, Global News reports.
"It's a tool that I think has useful application, but I've said it before, when people start getting four and five hundred emails a day, when are they working?" said de Jong.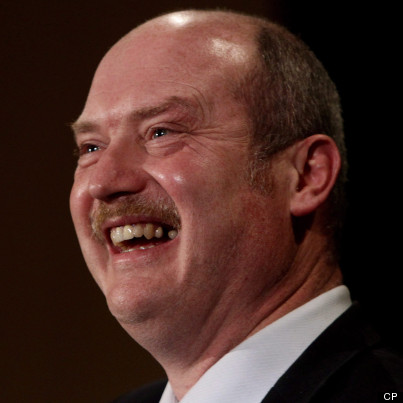 Behold the face of a man who has never had to endure hundreds of chain emails from his aunt. (Photo: The Canadian Press)

His dislike of the electronic inbox was mentioned in a freedom of information request from CKNW. The radio station's request was spawned after the B.C. privacy commissioner reported that government employees were triple-deleting — triple! — emails.
B.C. Premier Christy Clark supports the minister's classical style, according to The Province, saying that he also uses a rotary phone and drives a "1983 Miata."

We're not saying Mike de Jong is a time traveller, but the first model of the Mazda MX-5 came out in 1989. Just saying.
(For the record, De Jong apparently drives a 1991 Mazda Miata, according to the Times Colonist.)
"Some people are more comfortable with modern technology than others," Clark said. "Mike is a farmer. And I know that some farmers use email, I know that some don't. And he is one of them. I'm not going to force him to use email. I'm not going to force him to stop using his rotary phone."
But the use of a rotary phone or a car that shouldn't technically exist in time and space isn't the issue to critics. Vincent Gogolek, executive director of the B.C. Freedom of Information and Privacy Association, told Global he wonders if governments could keep accurate records without email.
What do you think?
Is de Jong on to something here? Have we just accepted the fact that hundreds and thousands of emails will haunt us as we drudge through this modern, dreary existence? Is the minister some kind of prophet who will crack our digital chains and lead us to the promised analogue land?
Or should governments use email in the year 2016?
Let us know in the comments.
Also On HuffPost:
8 Emails You Never Want to See from Your Boss
Your head is nestling into the pillow, and you're on a first-class trip to dreamland. Right then, a late-night message from the big cheese comes in; you feel compelled to answer... So much for a restful night.

Classic Friday afternoon, Bill Lumberg move. You are oh-so-close to freedom and then WAM... the email subject line that dooms your Saturday, Sunday or (sadly) both.

Damn. You were flying under the radar so well, and then the annual assessment blows through with the force of a sharknado. Wait, is that joke already played out? Hopefully it hasn't jumped the shark...nado. Saved it.

The scariest email subject line of them all. "Hey" could mean ANYTHING. A compliment, criticism, idle chit-chat about last night's episode of 'True Blood.' ANYTHING. Be on guard.

Nope. Those don't exist. With "small favor," the boss is giving a heads up that he's about to come at you with a big ask.

..and I don't care. Put down your margarita, tap into the WiFi hotspot at the tiki bar and get back to work.

RED ALERT. RED ALERT. As Jerry Seinfeld once said, "the four worst words in the English language." Open the email with grave caution.

Um, am I about to get fired? Or are you giving me two tickets to the Yankees game? WHAT THE HECK IS GOING ON?