Federal Budget 2016: Veterans Emerge As Winners, But Military Equipment Purchases Delayed
OTTAWA — The promised re-equipping of the Canadian military has essentially been postponed until after the next election in a maiden federal Liberal budget that shifts billions of dollars in capital spending to 2020 — or later.
The Trudeau government's new fiscal plan shoves $3.7 billion in planned defence purchases — ships, planes and vehicles — off into the future, but Finance Minister Bill Morneau insists the move does not represent a cut to military funding.
Morneau said the Liberals need a year to figure out Canada's defence priorities.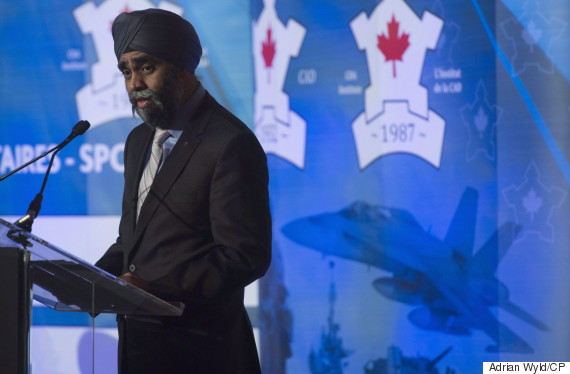 Minister of National Defence Minister Harjit Sajjan delivers a keynote speech to members of the Conference of Defence Associations in Ottawa, Thursday February 18, 2016. (Photo: Adrian Wyld/CP)
"In order to make sure we have the funds available at the time when they need those funds, we've reprofiled some in the fiscal framework," he told a news conference prior to tabling the budget in the House of Commons.
"So, when we need the money, the money will be in the fiscal framework. So, we believe that is the appropriate action to take to ensure our military has the appropriate equipment, the planes and the ships they need."
A big day for Canada's ex-soldiers
Instead, it was the veterans community that emerged Tuesday as one of the biggest winners in the Liberal spending spree.
Canada's ex-soldiers will see enriched disability awards, expanded access to permanent impairment allowances and a more generous income replacement program for the wounded — measures totalling $5.6 billion over six years, starting this year.
The budget also retreads a previous commitment to reopen nine regional Veterans Affairs offices shuttered by the previous Conservative government, but does not say precisely when that will happen.
The Liberals promised each of those measures during the fall election campaign.
Same move as Conservatives
What was unexpected was the decision to defer big-ticket procurement spending — a serious issue for a military facing serious rust-out issues.
The Conservatives did the same thing in two previous budgets. The cumulative total of postponed defence purchases has now reached $10.4 billion, said defence analyst Dave Perry of the Canadian Global Affairs Institute.
For the previous government, the postponement had a lot to do with the balancing the budget, said Perry. To be fair to the Liberals, they need to figure out their defence priorities and fix the broken procurement system, he noted.
"This is reflecting in budgetary terms that they can't buy things," Perry said.
"I don't know if this government really had much of a choice. They walked in and these projects were not going to move."
The political significance, Perry said, is that National Defence will be expecting its money at time when the Liberals will likely have to get serious about cutting the deficit, which is projected this year at $29.4 billion, falling to $14.4 billion by 2020-21.
"They're literally going to have an issue five years from now because that's when the bill arrives," said Perry, who noted that the military is at the point where it needs concrete guarantees that the money will be spent.
"I think if I was National Defence, I would hope you'd already have the money in the bank, instead of having to rely on a promise of some year, some time in the future they'll be able to acquire this stuff."
Federal Budget 2016 Highlights
The Liberal government delivered its maiden budget Tuesday, March 22. A deficit of $29.4 billion in 2016-17, nearly three times the $10 billion promised during the fall election campaign, and a projected deficit of $17.7 billion in 2019-20 rather than the balanced budget that was promised in October. (Source: The Canadian Press)

One of the earmarks of the budget is a commitment to spending on aboriginal issues. This includes: - $2.6 billion over five years for primary and secondary education on First Nations reserves, including language and cultural programs, plus $969.4 million over five years for education infrastructure. - $1.2 billion over five years for social infrastructure for Aboriginal Peoples, including First Nations, Inuit and northern communities. - $10.4 million over three years for new women's shelters in First Nations communities, and $33.6 million over five years and $8.3 million ongoing for support services. - $40 million over two years for the inquiry into missing and murdered aboriginal women and girls. Read more here (Source: The Canadian Press)

The Liberals will be changing the structure of Canada's child benefits, ending income splitting and other tax credits for families and parents. This means: - $10 billion more over two years for a new Canada child benefit, absorbing and replacing both the Canada child tax benefit and the universal child care benefit. Targeted to low and middle-income families, the government says the new benefit provides an average increase of nearly $2,300 in 2016-17. - An end to income splitting for couples with children, the children's fitness tax credit and the children's arts tax credit. Read more here (Source: The Canadian Press)

The government will spend $2.5 billion over two years on a suite of changes, including reducing the required work experience for new entrants and re-entrants; halving the two-week waiting period; extending a pilot project to allow claimants to work while collecting benefits; simplifying job-search requirements; and extending the benefit eligibility window in specific regions with a higher unemployment rate. (Source: The Canadian Press)

- $5.6 billion more in benefits to veterans and their families over five years, including a disability award that increases to $360,000, retroactive to 2006, and an earnings loss benefit to injured vets of 90 per cent of pre-release salary. The government is also re-opening nine veterans' service offices across the country and adding a 10th. - Planned National Defence purchases worth $3.7 billion — ships, planes and vehicles — are being deferred indefinitely. Read more here (Source: The Canadian Press)

Planned National Defence purchases worth $3.7 billion — ships, planes and vehicles — are being deferred indefinitely. Read more here (Source: The Canadian Press)

The budget includes $3.4 billion over five years to increase the guaranteed income supplement top-up benefit by up to $947 annually for single seniors, and restore the old age security eligibility age to 65 from 67. Read more here (Source: The Canadian Press)

The Liberals broke a major campaign promise to cut the small business tax rate. Instead, the rate will remain at the current 10.5 per cent on the first $500,000 of active business income. Read more here (Source: The Canadian Press)

The Liberals will spend $1.53 billion over five years to increase Canada student grants to $3,000 from $2,000 for low-income students, to $1,200 from $800 for middle-income students and to $1,800 from $1,200 for part-time students. $2 billion over three years is also earmarked for a new strategic investment fund for infrastructure improvements at colleges and universities, in partnership with provinces and territories.

The Liberals' green infrastructure plan includes: - $2.2 billion over five years in water and wastewater treatment and waste management - $2 billion over two years for a low-carbon economy fund - Over $1 billion over four years to support future clean technology investments - $345.3 million over five years to Environment and Climate Change Canada, Health Canada and the National Research Council to take action to address air pollution. (Source: The Canadian Press)

The Liberals will spend $500,000 to help understand the role of foreign homebuyers in the country's housing market. The government says comprehensive and reliable data on the number of homes sold to foreign buyers does not exist right now. Read more here. (Source: The Canadian Press)

The marquee Liberal commitment to Syrian refugee resettlement could end up costing taxpayers close to $1 billion. The budget provided an additional $245 million over five years to bring in the remaining 10,000 people needed to meet the Liberal promise to resettle 25,000 Syrian refugees by the end of 2016. Read more here (Source: The Canadian Press)

$142.3 million over five years will be spent to add new national parks and improve access during the 150th anniversary of Confederation. (Source: The Canadian Press

The Grits will provide up to $178 million over two years for the provinces for urgent affordable housing needs. Read more here (Source: The Canadian Press)

The budget earmarks $38.5 million over two years to strengthen and modernize Canada's food safety system. (Source: The Canadian Press)
Although not mentioned in the budget, finance officials say the previous Liberal commitment to maintain annual increases of three per cent to the defence operating budget to offset inflation will stand.
Federal budget documents, released ahead of Tuesday's fiscal plan, suggested that baseline defence funding overall will drop by as much as $400 million when compared with the current budget year, but finance officials say the allocation is routinely topped up throughout the year in supplementary requests.
The budget earmarks $200 million for infrastructure repairs and upgrades at military bases, including reserve armouries.
Just over $586 million has been set aside for promoting international peace and security over three years.
Of that, $450 million goes towards the foreign affairs-run global peace and security fund and $106 million for international police peacekeeping and peace operations programs.
But finance officials say that money is simply being renewed and is not new.