1. The single biggest environmental item in the budget is $5 billion over the next five years for what the government calls "green infrastructure." This includes a huge range of measures including electric vehicle charging stations, regional electricity grid co-operation and the development of building codes.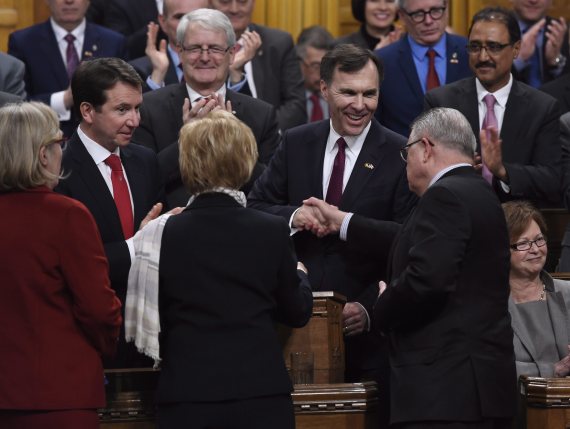 Public Safety Minister Ralph Goodale shakes hands with Bill Morneau following his federal budget speech, March 22, 2016. (Photo: Adrian Wyld/CP)
2. Prime Minister Justin Trudeau met provincial and territorial premiers earlier this month in Vancouver, where they agreed to spend six months researching and discussing a suite of climate policy measures, including carbon pricing. The Vancouver Declaration states a pan-Canadian climate plan will be finalized at a first ministers meeting next fall. This week's budget sets aside just over $1 billion in each of the next two years, starting in 2017, to help fund projects that provide "the greatest absolute greenhouse gas reductions for the lowest cost per tonne."
3. Environmental groups have long complained about government tax subsidies provided to the fossil fuel industry. The budget did not reduce these subsidies, despite a Liberal campaign promise to do so over the "medium-term." But the budget did provide accelerated capital cost allowance (ACCA) rates to an expanded range of clean energy technology, including electric vehicle charging and electrical energy storage systems. This boosts investment by allowing companies to write off investments more quickly.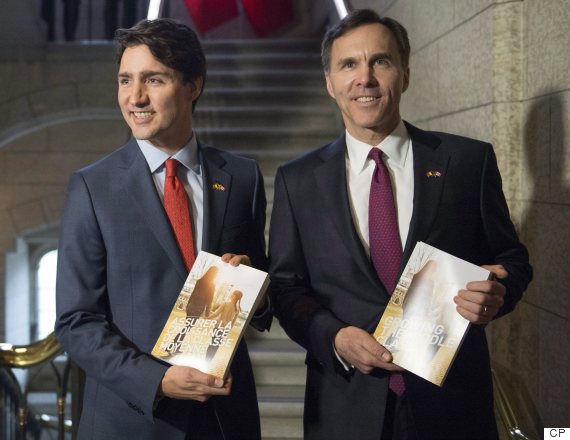 Justin Trudeau poses with Minister of Finance Bill Morneau as he arrives to table the budget on Parliament Hill, March 22, 2016 in Ottawa. (Photo: Justin Tang/CP)

4. According to analyst Celine Bak of Analytica Advisors, the budget breaks down to $4.4 billion over two years for public transit ($2.5 billion) and water infrastructure repairs ($1.9 billion), with two thirds of that funding coming in the 2017-18. 5. Last November, Prime Minister Trudeau announced during a visit to Malta that Canada would provide $2.65 billion over five years to a United Nations-administered fund to help developing nations adapt to climate change. That spending appeared nowhere in this week's budget. According to Finance Department officials: "Canada's climate finance contribution will be sourced from a combination of new funds and Global Affairs Canada's existing resources, all of which were already accounted for in the fiscal framework prior to Budget 2016."

Also on HuffPost

Federal Budget 2016 Highlights

Suggest a correction

OTTAWA — The Liberal government's first federal budget is larded with climate and environment measures, although much of the spending is backloaded to later years. Here are five things to know about the budget's environmental elements: