Last week's budget, cheerily titled "Growing the Middle Class," includes speculative nods to increasing revenues through tougher tax enforcement, particularly for high-income tax avoidance schemes. There's also a hike in federal tax rates for Canadians earning more than $200,000 a year, more than offset by a tax cut for middle-income earners.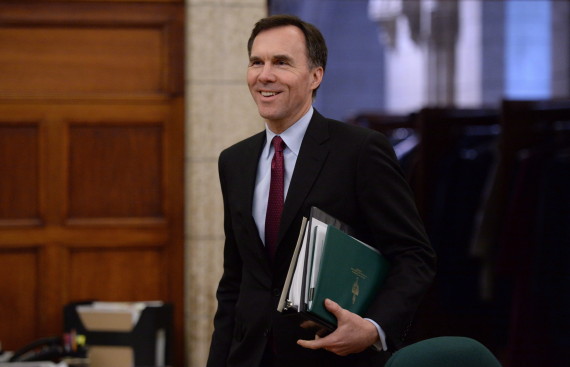 Morneau says the Liberal government has only begun to clean up the tax code. (The Canadian Press)
Overall federal revenues are forecast to fall slightly in 2016-17 compared with the current tax year that ends this Thursday.
"We're going to embark on looking at the tax expenditures in the code and making sure they are all consistent with our approach to tax fairness," Morneau told The Canadian Press in a roundtable interview.
"Tax expenditures," for those unfamiliar with government parlance, are targeted tax breaks — in effect, spending by another name on specific, favoured groups. Morneau pointed to the new Canada child benefit, coming July 1, which consolidates, boosts and re-targets four family benefits. His first budget also eliminated popular Conservative "boutique" tax breaks for children's arts and fitness, but added a new boutique credit for teachers who buy classroom supplies. The Liberals announced last month that Dominic Barton, the head of international consulting giant McKinsey & Co., will head a new advisory council on economic growth. But the government has provided no hint as to how its tax study will be structured.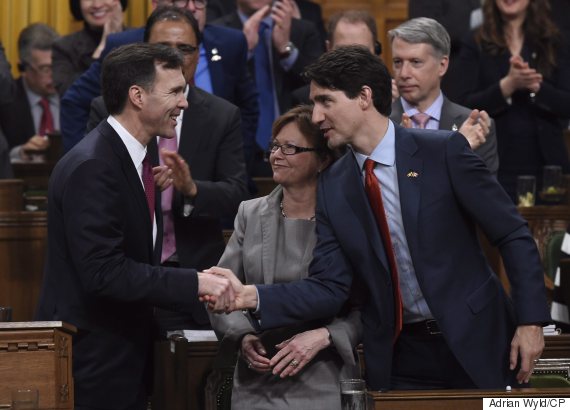 Prime Minister Justin Trudeau, right, shakes hands with Bill Morneau following his federal budget speech in the House of Commons in Ottawa on March 22, 2016. (Adrian Wyld/The Canadian Press)

"We'll move forward on a tax expenditure review and as we have more details on how we're doing that, we'll be transparent," said Morneau. If the Liberals really have the stomach for the first comprehensive look at Canada's tax code in half a century, they'll be cheered by a broad spectrum of tax analysts. Budget 2016 provided mixed signals on disentangling a tax system that successive governments have loved to gum up with politically useful goodies. Tax expert Jack Mintz of the University of Calgary said he's always been an advocate of a tax base as broad as possible, which then allows for lower overall tax rates. "This budget is kind of a mixed bag," Mintz said in an interview from New York. The budget gets rid of income splitting for families with young children but leaves in place pension splitting. While Mintz said he supports Liberal increases in the GIS for low-income seniors, his research shows that up to income levels of $60,000, Canada's elderly actually pay negative taxes, once government transfers are factored in. "We have a tax system today that is really geared to the elderly," he said, and with an aging population, "we're going to have to address these issues."

Major rethink overdue: tax experts

Mintz penned the federal government's last deep look at the business tax structure almost two decades ago in a report delivered in April 1998. But the overall tax system hasn't been fully examined since the 1966 Royal Commission on Taxation. A fundamental rethink is overdue, agree Dennis Howlett and Aaron Wudrick, tax experts who tend to come at tax issues from ideologically opposite directions. Howlett, of the advocacy group Canadians for Tax Fairness, said tax breaks tend not to get the scrutiny of direct government spending, although they amount to the same thing. He's pushing MPs to use the Commons finance committee to study the tax system. His group pegs "unfair and ineffective" tax expenditures at about $10 billion annually. It's the "obvious solution," said Howlett, to the revenue shortfalls the Liberals face with their deficit spending. Ending the very favourable tax treatment of stock options, which the Liberals have backed away from despite a campaign promise to roll back the break, would have been a good place to start, he said.

'More level playing field'

Wudrick of the Canadian Taxpayers' Federation said his group always advocates for lower taxes, "but we also push simpler taxes." "We don't think Canadians should have to hire an expert to do their own taxes," he said. "Simpler taxes also mean a more level playing field. When you have all these boutique measures — the previous government was a big fan of these things — they tend by their nature to be politically driven." Wudrick said simpler taxation also leads to greater tax compliance — taxes paid in full and on time. He notes the millions of dollars in the latest budget to help the Canada Revenue Agency pursue tax shelters might be saved if the tax system was less complicated, a point shared by Howlett. "I certainly welcome a top-to-bottom look at the tax system as a whole," said Wudrick. "There might be a way to generate the same kind of revenue they have today with a much simpler system and with far fewer distortions to the economy at large." 

Also on HuffPost

Federal Budget 2016 Highlights

Suggest a correction

OTTAWA — Finance Minister Bill Morneau says the Liberal government has only begun to clean up the tax code with his first federal budget and that a more detailed review is coming. Morneau's big-spending, big-borrowing blueprint has fiscal hawks complaining that projected cumulative federal deficits in the $100-billion range over the next four years. spiralling debt, hefty tax increases or both will be the inevitable outcome of