B.C. Might Pay People To Donate Blood
KAMLOOPS, B.C. — Health Minister Terry Lake is open to allowing a pay-for-plasma clinic in British Columbia, saying the province already gets about 85 per cent of its supply from the United States, where donors are paid for blood products.
He said Winnipeg is among the Canadian cities that have such a clinic and that the practice could happen in B.C.
"We just need to ensure that if something like this were to happen that all the quality parameters are in place and both the donors and recipients can be assured that this is the highest quality kind of practice in the world,'' Lake said.
Canadian Plasma Resources, which does not operate the Winnipeg clinic, opened a facility in Saskatoon last month and is considering expanding to B.C.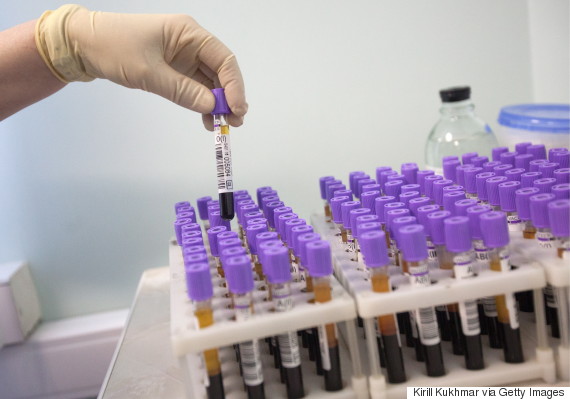 That has prompted Lake to consult with Canadian Blood Services, the not-for-profit organization that manages the supply of blood and blood products across the country, except in Quebec.
The B.C. Health Coalition has called on the province to follow the lead of Ontario and Quebec, which have banned pay-for-plasma clinics.
The federal NDP also wants Ottawa to ban private, for-profit plasma clinics, citing safety concerns, after Saskatchewan's health minister recently said he supports the clinic in that province.
Federal Health Minister Jane Philpott has said Canada's blood system is among the safest in the world and that the government has examined the issue in great detail to ensure there are no compromises to the public's safety.
'Excellent' safety record
Canadian Plasma Resources CEO Barzin Bahardoust said the company has been in talks with the Health Ministry in B.C. since late 2014, about the same time it shut down a pilot project in Toronto after Ontario passed legislation prohibiting compensation for donors.
The company plans to open at least one clinic in the suburban Vancouver area, Bahardoust said in an interview from Hamilton.
"The safety record of these products is excellent and there has never been a case of transmission of disease such as HIV,'' he said.
"But we still need to get the healthiest donors. It's not just a matter of possibly tainting the finished product, it's also very costly and undesirable for us to get donors that are possibly reactive to certain diseases or to discard the product.''
"The safety record of these products is excellent and there has never been a case of transmission of disease such as HIV."
A federal inquiry in the 1990s investigated allegations that contaminated blood and blood products infected thousands of people with HIV and hepatitis C when they received blood transfusions through a system that was managed by the Canadian Red Cross Society.
Bahardoust said applicants are screened and tested on two separate occasions within four months before they can donate plasma, the straw-coloured liquid portion of blood that remains after the red and white blood cells and platelets have been removed.
The process takes about 90 minutes, and donors get $25 in the form of a tax receipt per donation, or a reloadable credit card in that amount, which can be used for purchases but not for a cash advance or cash withdrawals, he said.
"In Canada, we don't have specific regulations for compensation,'' Bahardoust said, adding Germany uses a similar model. (The Canadian Press, CHNL)
Also On HuffPost:
When Dean Willis' father-in-law needed blood after getting heart-bypass surgery in 1975, he unhesitatingly stepped in to help, News4ajax.com reports. Since then, the coveted O-positive blood donor has given 100 gallons of blood and saved 2,000 lives. "I guess it's a cliché, but you know, it makes me feel good," Willis told the news outlet.

Paul Olsen, 79, donated his 400th pint of blood in August, according to Mainlinemedianews.com. The Pennsylvania native donates platelets, which is key to helping cancer patients, and gives twice a month. "I really feel good [about giving] because it helps other people," Olsen told the news outlet. He hopes to ultimately hit his 500-pint goal.

Honored with the "Golden Heart Award" from the Heartland Blood Centers for having donated blood 200 times, Warren Krup continues to give, despite a disability. "I get to sit and take a break, and it saves a life," the 52-year-old Illinois native told the Courier News. "Why wouldn't you want to do that?"

About 40 percent of dogs are universal donors, making Sparkle, a California-based rescue Greyhound, a critical lifesaver for pooches in need. "For every unit of blood that she gives, she will help at least two other dogs," Mary Beth Bartel, Sparkle's owner, told ABC. Sparkle donates once a month and her name is included on a 24-hour emergency call list.

When Ralph "Rocco" Russo hit his 300th donation at the Dana-Farber Cancer Institute, nurses honored him with a cake, the Boston Channel reports. But, the true reward for Russo is knowing that he's helped save hundreds of lives, including Nicole Sorensen, who battled -- and overcame -- cancer when she was 14. "People will give once. People will give twice," Sorensen told the news outlet. "But to give 300 times every other week religiously is incredibly moving."

Barbara Brinkmann has been donating blood since she was 16-years old, KENS5 reports . "I do it on a regular basis and I enjoy doing it," Brinkmann told the news source. "It's a wonderful way to give back to the community." For her generosity, the San Antonio, Texas resident was rewarded with a brand new 2012 Toyota Tundra pickup truck. Naturally, it's bright red.