P.E.I. To Allow Abortions Within The Province, Liberal Government Confirms
CHARLOTTETOWN — Prince Edward Island has agreed to provide abortions within the province by the end of the year, ending decades of forcing women to travel to neighbouring provinces to access the procedure.
The Island's Liberal government announced Thursday it will not fight a legal challenge launched in the province's Supreme Court by the group Abortion Access Now, which says the province has an obligation to provide safe abortions under the Charter of Rights and Freedoms.
"We have been advised the probabilities are very low that the province could successfully defend policies that provide a legal, provincially funded medical procedure only if obtained outside of the province," Premier Wade MacLauchlan told a news conference in Charlottetown.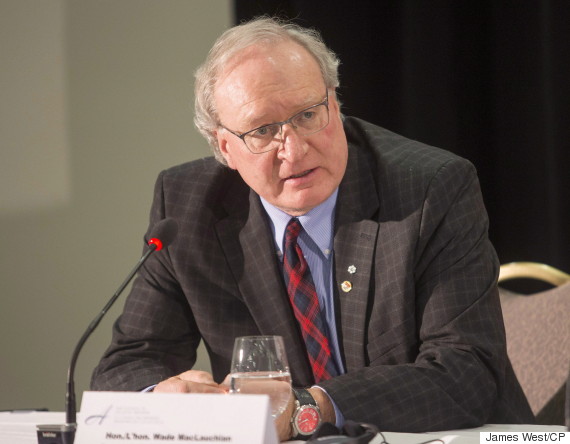 Prince Edward Island Premier Wade MacLauchlan answers a question at a meeting of the Atlantic premiers and members of the federal cabinet representing Atlantic Canada in Fredericton, Wednesday, Feb.10, 2016. (Photo: James West/CP)
"We are advised that the current policy would likely be found to be contrary to equality rights guaranteed under the Canadian Charter of Rights and Freedoms as well as Charter guarantees of security of the person."
Prince Edward Island is the last province in the country to allow abortion access within the province, 28 years after the 1988 Morgentaler decision of the Supreme Court struck down laws restricting abortion in Canada.
Women from the Island must currently travel to New Brunswick or Nova Scotia to get abortions paid for by the Island government.
'Good day for equality rights'
The group that launched the recent lawsuit said Thursday's announcement was the culmination of years of relentless lobbying for change.
"Today is a good day for equality rights in P.E.I.," Abortion Access Now said in a statement.
"This outcome would not have been possible without the tremendous efforts of the activists in P.E.I. who have tirelessly advocated for abortion access in the province over the last three decades."
Health Minister Robert Henderson said Health PEI has been told to develop plans for a women's reproductive health centre somewhere on the Island. He says it should be in place by the end of the year.
He said the new centre, to be located within a hospital, will offer a range of services including counselling.
The P.E.I. Right to Life Association panned the change in policy and said it will continue to provide public education in opposition of abortion.
"We are not in support of the government's decision to allow the dismemberment and decapitation of the pre-born human child on the Island," said executive director Nicole Dupuis, adding she is pleased that the new centre will provide counselling services before and after abortions.
MacLauchlan said his government respects that Prince Edward Islanders hold a range of deep convictions about abortion.
"This range of views and these strong convictions are reflected within our cabinet and caucus and have been fully aired in our deliberations," he said.
Henderson says the P.E.I. government will end its agreement to pay for abortion services in Halifax, but will keep the agreement with New Brunswick to give women on the Island an option.
"Existing regulatory barriers to on-Island abortion access will be removed," he said.
Paula Biggar, the minister responsible for the status of women, said she hopes the public will see this was the right decision to make.
"It is my hope that this decision will not be regarded as much as a victory or defeat, but as an effort to ensure that we have good public policy that can stand the test of time," she said.
In a statement, Prime Minister Justin Trudeau applauded the announcement.
A woman's right to choose is fundamental in Canada. We welcome today's announcement by PEI Premier MacLauchlan on reproductive services.

— Justin Trudeau (@JustinTrudeau) March 31, 2016
"The Government of Canada reaffirms its belief that a woman should have access to reproductive health services, no matter where they live in our country," Trudeau said.
It was also welcomed by Vicki Saporta, president of the National Abortion Federation.
"Sometimes you do need to bring legal challenges in order to effectuate change. It's unfortunate that it took the threat of a legal challenge to have the government do the right thing," Saporta said in an interview from her office in Washington, D.C.
Also on HuffPost:
10 Myths About Abortion That Need To Be Busted
REALITY: Over 99.75 percent of abortions do not cause major medical problems. Less than one-quarter of 1 percent of abortions performed in the United States lead to major health complications, according to a 2014 study from the University of California, San Francisco, that tracked 55,000 women for six weeks after their abortions. The researchers note that this makes an abortion statistically about as risky as a colonoscopy. If that fact seems surprising, consider how American pop culture misrepresents the risks of abortion: Nine percent of film and television characters who have abortions die as a direct result of the procedure, according to another 2014 study from UCSF.

REALITY: About one in five abortions are medical abortions. The Centers for Disease Control and Prevention found that 19 percent of abortions in 2011 were medical abortions and that 28.5 percent of those took place in the first nine weeks of pregnancy. The Guttmacher Institute also found that medical abortions increased substantially from 2008 to 2011, meaning more women have ended their pregnancies with this alternative to surgery.

REALITY: Most women will not regret their decision, and are no more likely to experience mental health problems than women who carry an unplanned pregnancy to term. While many women experience mixed emotions after an abortion, 95 percent of women who have abortions ultimately feel they have made the right decision, according to an August 2013 study from UCSF. "Experiencing negative emotions postabortion is different from believing that abortion was not the right decision," the researchers explained. Furthermore, while unplanned pregnancies often cause emotional stress, there is no evidence to suggest that women who choose to terminate their pregnancies will be more likely to suffer from mental health issues, according to a 2008 report from the American Psychological Association that investigated all relevant medical studies published since 1989. The APA found that past studies claiming abortion causes depression and other mental health problems consistently failed to account for other risk factors, particularly a woman's medical history. The APA accounted for these factors and found that, among women who have an unplanned pregnancy, those who have abortions are no more likely to experience mental health problems than those who carry the pregnancy to term.

REALITY: Fetuses cannot feel pain until at least the 24th week of pregnancy. Experts ranging from Britain's Royal College of Obstetricians and Gynaecologists to the American Congress of Obstetricians and Gynecologists agree with that timeline. In fact, research from UCSF found that fetuses can't perceive pain before 29 or 30 weeks of development. Then why have so many states banned abortions after 20 weeks of pregnancy? Perhaps misrepresentation of research is partly to blame: Many of the researchers most frequently cited by pro-life politicians told The New York Times that their research does not prove anything about fetal pain.

REALITY: Most Americans support a woman's right to choose. According to a Gallup poll from 2014, 78 percent of Americans think abortion should be legal in some or all circumstances. (Fifty percent said "some circumstances," while 28 percent said all.) What's more, in 2012, Gallup found that 61 percent of Americans think abortions that take place during the first trimester of pregnancy should be legal. (Nine out of 10 abortions in the U.S. do take place during that time period, according to Guttmacher.)

REALITY: The abortion rate in the United States is the lowest it's been since 1973. The abortion rate has been on the decline for years, and hit its lowest level in 2011, according to the latest data available from the Guttmacher Institute. The study's author partially credited the decline to better contraceptive use and more long-term contraceptive options, such as the IUD.

REALITY: Women face a growing number of barriers to accessing abortions. More than 57 percent of American women live in states that are hostile or extremely hostile to abortion rights, according to the Guttmacher Institute. That represents a marked increase from 2000, when 31 percent of American women lived in such states. In 2011, 89 percent of counties in America had no abortion clinics. This is no accident: Across the U.S., lawmakers have enacted 231 new abortion restrictions over the past four years, according to a Guttmacher analysis from January 2015. As a result, many women have to travel great distances to reach an abortion clinic, where they may face 24-hour wait periods. These barriers particularly affect women living in rural areas and low-income women, who often can't afford to take time off work and pay for gas and a hotel room. Other laws force women to go through potentially distressing procedures, such as viewing their own ultrasound photos, in order to move forward with an abortion.

REALITY: Women rarely cite pressure from family or partners as leading to their decision to abort. A 2005 study from the Guttmacher Institute found that less than 1 percent of women surveyed cited such pressure among their main reasons for having an abortion. A 2013 study from UCSF reached a similar conclusion, and found that while women rarely cited partner coercion as a reason they sought an abortion, many did cite the desire to escape a bad relationship or domestic violence.

REALITY: Most women who have abortions are already mothers. Sixty-one percent of women who had abortions in 2008 were mothers, and 34 percent had two or more children, according to the Guttmacher Institute. That number only increased after the 2009 financial downturn. The National Abortion Federation told Slate that between 2008 and 2011, 72 percent of women seeking abortions were already mothers. A study from Guttmacher found that mothers typically have abortions to protect the children they already have; they simply cannot afford to raise another child.

REALITY: Requiring abortion clinics to meet these standards does little to improve patient safety and forces many to shut down. Currently, 22 states require abortion clinics to meet a set of restrictive and often arbitrary standards, dictating that they be close to hospitals and that their hallways and closets meet certain measurements. Clinics often need to undergo expensive renovations in order to comply, and leading doctors' groups say the laws do little to improve patient safety. What's more, 11 states now require that doctors at abortion clinics obtain admitting privileges at a nearby hospital, but many hospitals flat-out refuse to grant these privileges. As a result, hospitals essentially have the power to shut down nearby clinics.