RCMP Commissioner Bob Paulson Owns Up To Speeding In Most Awkward Way Possible
VANCOUVER — The Commissioner of the RCMP was reluctant to answer questions about a speeding ticket he avoided after being stopped by an officer along a British Columbia highway.
Bob Paulson told members of the Greater Vancouver Board of Trade that he was pulled over while driving a rental vehicle along the Coquihalla Highway returning from a friend's wedding last year.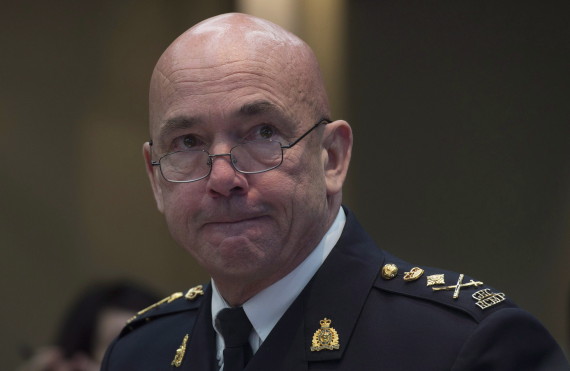 RCMP Commissioner Bob Paulson waits to appear before the Commons public safety and national security committee in Ottawa, Feb. 23, 2016. (Photo: Adrian Wyld/CP)
"The officer walks up and says, 'Do you have any idea how fast you were going?'" Paulson told the crowd.
"He says, 'Driver's licence and registration,' ... and I gave him my licence and he looks at it and he goes, 'Aw, seriously,'" he added, as the crowd laughed.
When questioned later by a reporter, Paulson initially said it was just a story he made up.
When pressed, Paulson said the story was true but he didn't want to say whether he had received a ticket.
"I don't want to talk about that. I do not want to talk about that," he said.
A short while later Paulson was again asked about the speeding story. He confirmed he had not been given a ticket but said he hadn't received preferential treatment.
"I was warned," Paulson said.
Also on HuffPost:
New Driving Laws In Ontaio
The penalty for texting and driving will jump from $60 up to $490 on September 1. And the changes don't stop there. Drivers with their G1 and G2 licences could face immediate suspension, while fully licensed drivers caught looking at or talking on their phones without a handsfree device while driving (which includes sitting at red lights) also face more demerit points.

You have a little more time to practice this one, but come January, drivers will have to wait a little longer at crosswalks. A new law states that vehicles must wait for pedestrians to fully cross the intersection before driving through.

Anyone who bikes in a busy city knows how dangerous it can be. Fortunately, the new rules of the road will require motorists to leave at least one metre of room for cyclists. And drivers who open their car doors without watching for bikers will face fines ranging between $300 and $1,000.

As of Tuesday, if you see an emergency vehicle on the side of the road, you are required to slow down and move over. And it's not just those flashing red light you should be looking out for. Vehicles with flashing amber lights also require you to slow down and switch lanes. Fail to comply and you could be charged $490 and three demerit points.

It's not just drinking and driving that will land you with a suspended license. Drivers who are caught under the influence of drugs (both illegal drugs, as well as prescription and over-the-counter pills that can impair driving) face license suspension ranging between three and 90 days, and their car will be impounded for a week.

As part of the Abbotsford Police Department's "Driving Excuses" road safety initiative, officers are publishing posters with real comments made by drivers after being pulled over.

NEXT: ICBC Top Fraud Files of 2014

In what started with a driver rear-ending someone else in traffic got complicated when the driver only had basic insurance and an expired driver's license. Said driver asked the other driver involved to tell ICBC the accident happened later that day, so that she could buy insurance to cover the damage on her car. When the other driver refused, she bought insurance on her way home from the crash, insisting instead to ICBC that she headed straight home. ICBC denied her claim using the other driver's statement and time-stamped insurance transaction data. In the end, she ended up having to pay back more than $7,400 to repair both vehicles.

An ICBC customer who was prohibited from driving made the claim that his vehicle was stolen when it was involved in a three-vehicle crash. Using forensic testing on the driver-side airbag, DNA was matched to said customer and it was concluded that he was driving at the time of the accident. In the end, he was found guilty of providing a false statement, fined $1,000, and ordered to pay $18,000 in claims costs and total loss payments for the other two cars in the crash.

A driver reported his truck was stolen at a movie theatre. Later it was recovered, burnt to a crisp. But when ICBC looked into the case, they found the truck had serious mechanical problems, which the customer neglected to mention. Cellphone records show the customer was at the scene when the burnt truck was found. Pleading guilty to providing a false statement costed him more than $7,000 in fines for "investigative and claims costs."

When a customer claimed his Honda Civic was struck while parked outside his home, ICBC found that the damage was not consistent with his story; the paint flecks on his vehicle actually matched the car of another owner who claimed a hit-and-run. When confronted, he admitted that he struck a car and drove away from the scene. He was fined $1,000 and ordered to pay back more than $5,600 in claims and repair costs to the vehicles.

A passenger in a vehicle that was rear-ended told ICBC that she had a long-term injury from the crash, which included neck pain and headaches. However, an investigation unearthed a blog by the injured passenger that outlined a six-month motorcycle trip through South America. Being able to drive on the extremely rough terrain showed the investigators that her injuries weren't as bad as she claimed. When the claim went to trail, she was only awarded $12,000 — two-thirds less than what she originally asked for.

When a Vancouver police officer pulled over a driver talking on his cellphone, he found the driver had received a 90-day driving prohibition just two days earlier. The driver was charged with driving while prohibited and received a one-year ban from getting behind the wheel. But he wasn't deterred, and next used a friend's identity to get an interim licence and insured his vehicle under his friend's name. ICBC found him, yet again, and the driver was fined $2,500 when he pled guilty to impersonation.