CBC News has obtained an email copy of an invitation to an event to drum up funds and support for Kellie Leitch, a pediatric surgeon and the former minister of labour and status of women who is expected to mount a leadership bid.
According to the email, the event at Edmonton's Royal Glenora Club offers a chance to hear from the Ontario MP about why "she is the best candidate to lead the Conservative Party of Canada into the next election." It also delivers a reminder that donors can give up to $1,525 each calendar year for the cause.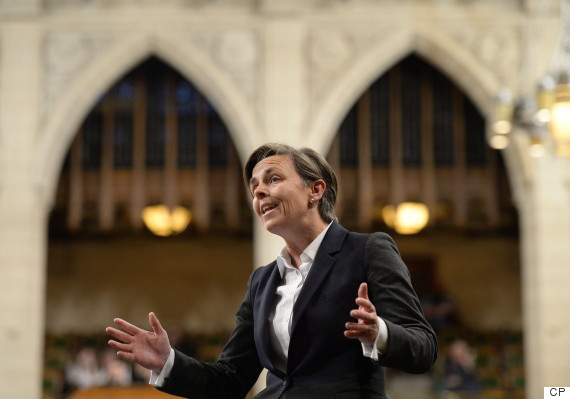 If Leitch officially declares her candidacy soon, she could be the first in the race to replace Stephen Harper. (The Canadian Press)

The organizer declined to comment on the "private" event, and a call to Leitch was not returned.

The email describes Leitch as a "tireless worker and dedicated Conservative."

"She campaigned for 70 different candidates in the most recent federal election; candidates from coast to coast. She did this because she cares about Canada and she believes strongly that the Conservative Party of Canada offers Canadians the best opportunities to lead happy, safe and successful lives," it reads.

Leitch was also involved in last fall's controversial campaign event to announce a new RCMP tip line for so-called "barbaric cultural practices." The move was widely panned, with some criticism coming from within the Conservative ranks.

No registered candidates

Donations are to be paid to the Conservative Fund Canada with a "reference" to the Kellie Leitch campaign. The note says MPs and community leaders will be in attendance.

If Leitch officially declares her candidacy soon, she could be the first in the race to replace Stephen Harper.  The party's leadership convention will be held May 27, 2017. 

Quebec MP Maxime Bernier, who has also been meeting with party supporters across the country for months now, is on the list of potential contenders.

Others possible candidates include former cabinet ministers Tony Clement, Jason Kenney and Lisa Raitt, along with businessman and television personality Kevin O'Leary.

Early polls suggest former cabinet minister and ex-leader of the Progressive Conservative Party Peter MacKay could be a front-runner if he enters the race. 

So far, he has only said he hasn't ruled out a leadership run.

The spending cap has been set at $5 million, which is more than five times the $950,000 limit for the 2013 Liberal leadership campaign. The NDP had limit of $500,000 in 2012.

Must be card-carrying Tories

The Liberal campaign was five months long, and the NDP race was six months.

Candidates must be card-carrying Conservative members for at least six months before they can enter the race.

The Conservative caucus picked Rona Ambrose to serve as leader on an interim basis with the understanding she would not seek the job permanently.

Candidates must register by Feb. 24, 2017.

Also On HuffPost:

Conservative Leadership Candidates




Suggest a correction

A former Tory cabinet minister will be feted at a cocktail fundraiser today, informally kicking off what is expected to be a long and costly Conservative Party leadership race.