Merle Haggard, Country Legend, Dead On His 79th Birthday
NASHVILLE — Country giant Merle Haggard, who rose from poverty and prison to international fame though his songs about outlaws, underdogs and an abiding sense of national pride in such hits as "Okie From Muskogee'' and "Sing Me Back Home,'' died Wednesday at 79, on his birthday.
Haggard's manager, Frank Mull, said the country icon died in Palo Cedro, California, 8 miles east of Redding, of pneumonia that he had been battling for months. He had kept up an ambitious touring schedule, but the pneumonia in both lungs had forced him to cancel several shows this year.
A masterful guitarist, fiddler and songwriter as well as singer, the Country Music Hall of Famer with the firm, direct baritone recorded for more than 40 years, releasing dozens of albums and No. 1 hits.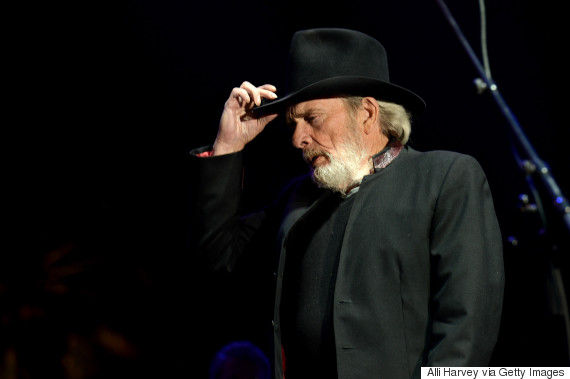 INDIO, CA - APRIL 24: Merle Haggard performs onstage during day one of 2015 Stagecoach, California's Country Music Festival, at The Empire Polo Club on April 24, 2015 in Indio, California. at The Empire Polo Club on April 24, 2015 in Indio, California. (Photo by Alli Harvey/WireImage)
The White House called Haggard a "legend'' and said President Barack Obama was sending his thoughts and prayers to Haggard's family. White House press secretary Josh Earnest said Haggard told stories that people from all walks of American life could relate to.
"His passing is a loss for country music, but obviously is a loss for all the people who got to know him personally, too,'' Earnest said.
Haggard — along with fellow California country star Buck Owens — was a founder of the twangy Bakersfield Sound, a direct contrast to the smooth, string-laden country records popular in Nashville, Tennessee, in the 1960s.
His music was rough yet sensitive, reflecting on childhood, marriage and daily struggles, telling stories of shame and redemption, or just putting his foot down in "The Fightin' Side of Me'' and "I Think I'll Just Stay Here and Drink.''
His most beloved songs included the prison ballad "Sing Me Back Home,'' the tributes to his mother "Mama Tried'' and "Hungry Eyes,'' the romantic lament "Today I Started Loving You Again'' and such blue collar chronicles as "If We Make It Through December'' and "Workin' Man Blues.''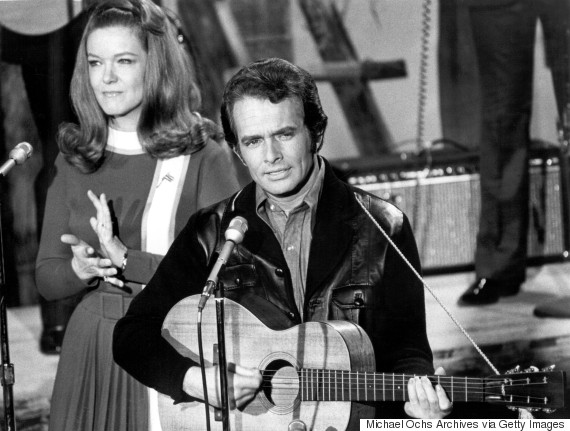 UNSPECIFIED - CIRCA 1970: Photo of Merle Haggard (Photo by Michael Ochs Archives/Getty Images)
Few faces in country were as recognizable as Haggard's, with its wary, sideways glance and chiseled, haunted features that seemed to bear every scar from his past.
General audiences knew him best for "Okie From Muskogee,'' a patriotic anthem released in 1969 at the height of the Vietnam War that quickly became a cultural touchstone for its anti-hippie lyrics proclaiming "we don't burn our draft cards down on Main Street; we like living right and being free.''
"Okie from Muskogee'' made him a hero among conservatives, but he softened on the counterculture and released the lighthearted "Big Time Annie's Square,'' a tribute to a hippie girl and her "crazy world.'' More recently, he was a backer of prominent Democrats. In 2007 he unveiled a song to promote Hillary Clinton and two years later he penned "Hopes Are High'' to commemorate Obama's inauguration. In "America First,'' he even opposed the Iraq War, singing "Let's get out of Iraq, and get back on track.''
In 1970, Haggard was named entertainer of the year by the Country Music Association, and "Okie From Muskogee'' won best album and single. The No. 1 hits "Mama Tried'' and "Workin' Man Blues'' also broke onto the charts around that time, sealing his reputation as one of country's defining voices. He picked up another CMA album of the year in 1972 for "Let Me Tell You About a Song.''
"I'll tell you what the public likes more than anything. It's the most rare commodity in the world — honesty.''
Still, Haggard referred to the improvisations of his band, the Strangers, as "country jazz,'' and in 1980, became the first country artist to appear on the cover of the jazz magazine "Downbeat.''
He was inducted into the Country Music Hall of Fame in 1994, the same year he won a Grammy for best male country vocal performance in "That's the Way Love Goes.''
Haggard also began headlining at Farm Aid, the benefit founded by his longtime friend Willie Nelson, and started touring with Bob Dylan and the Rolling Stones.
Along with his albums of original songs, he recorded tributes to such early influences as country pioneer Jimmy Rodgers and Western swing king Bob Wills, and paired up with Nelson and George Jones among others. He also resisted the slick arrangements favoured by some pop-country stars.
"I'll tell you what the public likes more than anything,'' he told the Boston Globe in 1999. "It's the most rare commodity in the world — honesty.''
Jackie, who sold more than 500 million novels in more than 40 countries in her four decades-long career as a writer in raunchy female fiction, died of breast cancer in September. She was 77 years old.

The 'Coronation Street' legend played Deirdre Barlow on the cobbles for over 40 years. She died in January at the age of 60.

The bestselling 'Discworld' author died in March at the age of 66.

Pop singer Lil' Chris - real name Christopher Hardman - died at the age of 24 in March. An inquest later revealed he had killed himself after battling depression.

Ventriloquist Keith Harris was best known for his double-act with Orville the Duck. He died of cancer, at the age of 67, in April.

The 'Blind Date' and 'Surprise Surprise' star passed away following a fall at her Spanish villa in August at the age of 72.

Actor Leonard Nimoy, who was best-known for his role as Mr. Spock in the 'Star Trek' franchise, died on Feb. 27, 2015. He was 83.

The veteran actor made his name in a long list of 'Hammer House of Horror' films, from which he will forever be celebrated for his role as Count Dracula. He passed away in June at London's Chelsea and Westminster Hospital aged 93.

Legendary blues star B.B. King died at the age of 89 in May.

Anne Meara, star of 'Sex And The City' and mother to Ben Stiller, died at the age of 85 in May.

A.J. Pero, the drummer for the heavy metal band Twisted Sister, died on March 20, 2015. He was 55.

Robert Lewis Burns Jr., the original drummer for rock band Lynyrd Skynyrd, died in a car accident on April 4, 2015. He was 64.

Richard Glatzer, who wrote and directed the film 'Still Alice' while battling ALS, died on March 10, 2015. He was 63

Nine-time Emmy winner Sam Simon, who wrote episodes of "Taxi," "Cheers" and "It's Garry Shandling's Show" before co-creating "The Simpsons," died on March 9. He was 59.

Legendary jazz musician Clark Terry, who mentored Miles Davis and Quincy Jones and played in the orchestras of both Count Basie and Duke Ellington and on "The Tonight Show," died on Feb. 21, 2015. He was 94.

Singer-songwriter Lesley Gore, who topped the charts in 1963 at age 16 with her epic song of teenage angst, "It's My Party," and followed it up with the hits "Judy's Turn to Cry," and the feminist anthem "You Don't Own Me," died on Feb. 16, 2015. She was 68.

Actress Geraldine McEwan, known for playing Agatha Christie sleuth Miss Marple on television, died on Jan. 30, 2015 at age 82.

Pioneering radio and TV host Joe Franklin, who gave breaks to the likes of Al Pacino and Bill Cosby on his variety show long before they became famous and who boasted he never missed a broadcast in decades, died on Jan. 24, 2015 at age 88.

Taylor Negron, a comedian and actor who described his style as "California Gothic" and who brought a funereal, straight-faced sensibility to a career's worth of character roles in cult comedies like "Fast Times at Ridgemont High" and "One Crazy Summer," died on Jan. 10, 2015. He was 57.

Samuel Goldwyn Jr., the son of a fiercely independent-minded Hollywood mogul and the producer of many independent films in his own right including "Mystic Pizza" and studio hits including "Master and Commander," died on Jan. 9, 2015 . He was 88.

Andrae Crouch, a Grammy Award-winning gospel performer, songwriter and choir director, died on Jan. 8, 2015. He was 72.

Actress Donna Douglas, who played the buxom tomboy Elly May Clampett on the hit 1960s sitcom "The Beverly Hillbillies," died on Jan. 1, 2015. She was 82.

Little Jimmy Dickens, a diminutive singer-songwriter known for his sense of humor and as the oldest cast member of the Grand Ole Opry, died on Jan. 2, 2015. He was 94.

Ron Moody, famous for playing Fagin in the musical version of 'Oliver!', died in June aged 91. The sprightly British stage and screen veteran found worldwide acclaim when he instructed all his young street urchins how to 'pick a pocket or two' in 1968, and was Oscar-nominated for his role in the hit film in 1968, when he starred alongside Mark Lester, Harry Secombe, Jack Wild, Leonard Rossiter and Shani Wallis.

The two-time Oscar-winning film composer was killed in a plane crash when the aircraft he was piloting came down in Santa Barbara, California. He was 61.

The famed horror film director of 'Nightmare On Elm Street' fame passed away age at 76 in August. He was battling brain cancer at the time.

The 'Lawrence of Arabia' actor died on July 10 at the age of 83. He suffered a heart attack after being diagnosed with Alzheimer's disease earlier this year.

Bobbi Kristina, the daughter of Whitney Houston and Bobby Brown passed away on July 26. She was 22. Her death came nearly six months after she was found unconscious in her bathtub in her Roswell, Georgia home.

The actor, who played Sheriff Rosco P Coltrane in the US TV show 'Dukes Of Hazzard', died in a hospice in Hickory, North Carolina after a brief illness and battle with pneumonia. He was 88.

The legendary R&B singer, best known for his 1966 hit 'When a Man Loves a Woman' died at his Baton Rouge, Louisiana home after a long battle with cancer in April. He was 73.

The Hot Chocolate singer died in his home in The Bahamas after losing his battle to liver cancer at the age of 71. His hits included 'So You Win Again' and 'You Sexy Thing'.

The Motörhead frontman died on 29 December, just three days after being diagnosed with an aggressive form of cancer. He was 70.

'The Only Way Is Essex' star died at the age of 80 following a short illness just a week before Christmas.

The Specials' drummer John Bradbury died at the age of 62 at the end of December. The sad news was shared via the band's Twitter account, with a simple post that read: "It is with deep regret that we say goodbye to our great friend, the world's greatest drummer, our beloved Brad. RIP."
The Byrds, Lynyrd Skynyrd, Grateful Dead, Emmylou Harris, Dwight Yoakam, Lucinda Williams and Reba McEntire all covered his songs, while many others paid tribute to him in theirs. In the Dixie Chicks' "Long Time Gone, which criticizes Nashville trends, the trio crooned: ''We listen to the radio to hear what's cookin' / But the music ain't got no soul / Now they sound tired but they don't sound Haggard."
His childhood was out of a John Steinbeck novel; his family migrated from Oklahoma to California and lived as outsiders in their adopted state. Born in 1937 near Bakersfield, Haggard was raised in a converted railway boxcar, the only dwelling his parents could afford. When Haggard was 9, his beloved father suddenly fell ill and died, leaving Haggard with lasting grief. He turned to petty crime and spent several years in and out of institutions.
He served three years in San Quentin as inmate 845200 for burglarizing a cafe during a drunken spree. It was during that stint he saw Johnny Cash play, and he returned to Bakersfield at age 22 in 1960 ready to write music. Singer-bandleader Wynn Stewart was an early patron, hiring Haggard to play bass in his group. Haggard's first hit was a cover of Stewart's "Sing a Sad Song'' and by 1966 he had been voted most promising vocalist by the Academy of Country and Western Music. He became a superstar in 1967, first with a cover of Liz Anderson's "I'm a Lonesome Fugitive,'' then with such originals as "Sing Me Back Home'' and ``The Legend of Bonnie and Clyde,'' featuring Glen Campbell on banjo.
"When I quit doing them (tours), the next big event is the funeral. They keep me young." — Merle Haggard in 1990
Fame brought him unexpected respectability. His criminal record was erased by then-Gov. Ronald Reagan, who pardoned him in 1972, and he was invited by President Richard Nixon to sing at the White House. Officials in Kern County, where he spent his boyhood years, have since honoured his legacy by renaming a portion of road Merle Haggard Drive.
Haggard was active as ever in his 70s, and received strong reviews for his 2010 album "I Am What I Am.'' He lived his last years outside Redding with his fifth wife, Theresa Lane. Haggard previously was married to singer Leona Williams, and to country crooner Bonnie Owens, the former wife of Buck Owens, with whom he toured for nearly a decade.
When doctors found a spot on his lung in 2008, Haggard announced he didn't plan to seek treatment. But after friends and family members convinced him otherwise, he had a tumour removed and vowed to keep performing.
"When I quit doing them (tours), the next big event is the funeral,'' he told the AP in a 1990 interview. "They keep me young.''