Postmedia Loses $225.1 Million Amid 'Unrelentingly Challenging Environment'
TORONTO — Postmedia Network Canada Corp. has reported a $225.1-million loss for the second quarter and says it is looking to trim millions of dollars more from operating costs by mid-2017 amid what CEO Paul Godfrey calls "an unrelentingly challenging environment.''
The bulk of the loss reported Thursday was related to non-cash accounting items, plus a $63.8-million increase in operating expenses, primarily related to its acquisition of the Sun Media business from Quebecor (TSX:QBR.B).
The owner of the National Post, Toronto Sun, Ottawa Citizen and numerous other daily newspapers says its revenue for the quarter was $209 million — up $63.6 million from a year earlier due to the addition of Sun Media.
Excluding the acquisition, Postmedia's revenue would have been $126.4 million — down 13.1 per cent or $19.1 million from a year earlier.
The drop was a result of a $13.8-million decrease in print advertising revenue, as well as declines in print circulation and digital revenue.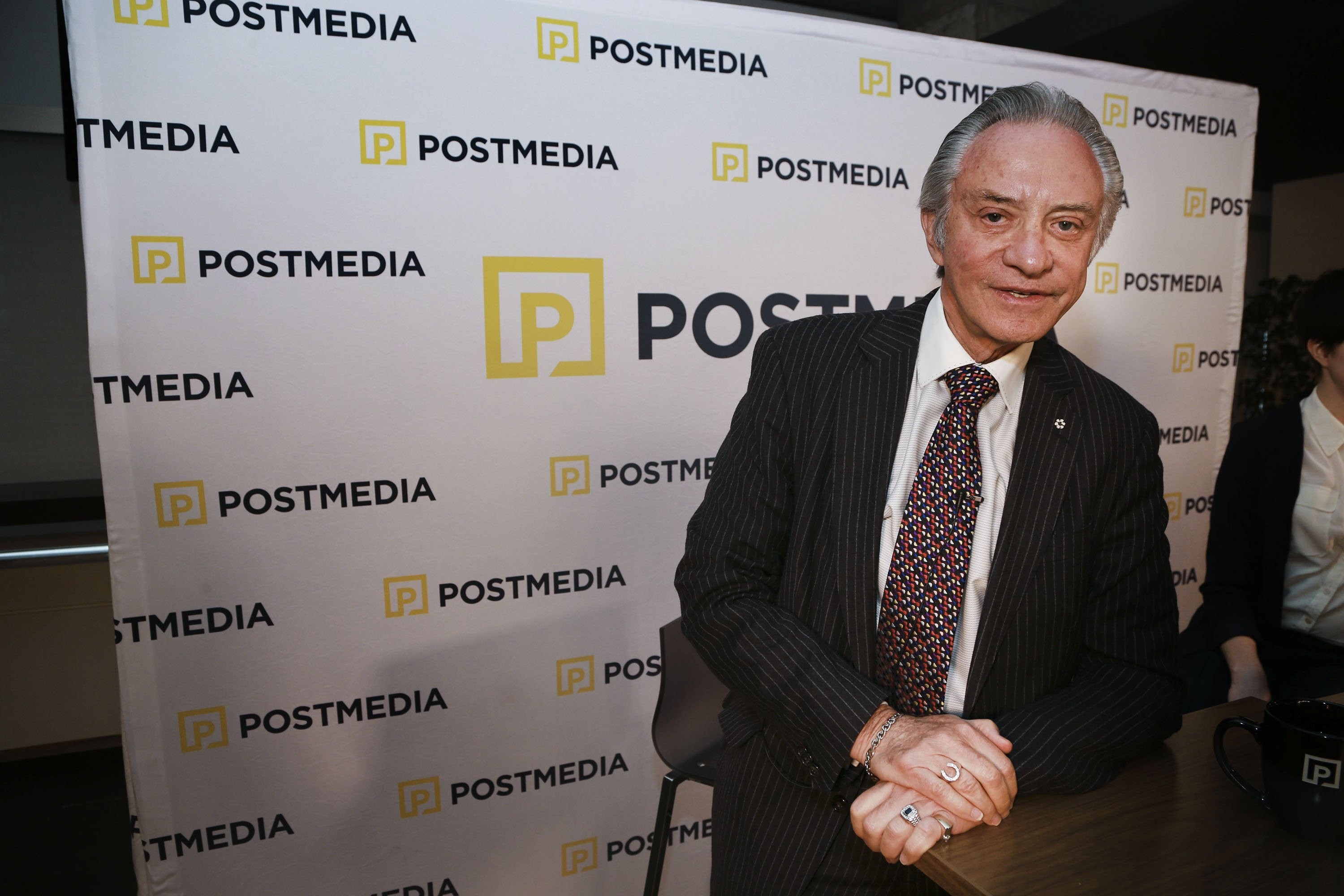 Postmedia CEO Paul Godfrey says the country's largest newspaper chain faces an "unrelentingly challenging atmosphere." (Toronto Star via Getty Images)
Postmedia continues to work on integrating its new brands and cost-cutting measures, Godfrey said in a statement.
The company has said it is aiming to reduce costs by $80 million by mid-2017, in part, to make it more appealing to investors.
Already this year, Postmedia has laid off about 90 employees as it merged newsrooms in multiple cities where it owns two papers in each market.
The company had 4,733 full-time equivalent employees as of the end of August last year, according to its 2015 annual information form.
But, those cuts will only move Postmedia part of the way toward its cost-reduction goal. Measures initiated over the last quarter are expected to result in $23 million of cost savings.
Billionaires Who Own Newspapers
The Australian-born media magnate owns The Sun and The Times in the U.K., and the New York Post and Wall Street Journal in the U.S., among many other media holdings. Net worth: US$12.4 billion.

The billionaire investor owns his hometown newspaper, the Omaha World-Herald, and dozens of other newspapers. Net worth: US$66.7 billion.

Zell owns the Chicago Tribune and the L.A. Times. Net worth: US$4.8 billion.

The chairman of Chinese web giant Alibaba recently bought Hong Kong's South China Morning Post. Net worth: US$22.5 billion.

The founder of Amazon owns The Washington Post. Net worth: US$46.7 billion.

The owner of the Boston Red Sox also owns the Boston Globe. Net worth: US$1.58 billion.

The heir to one of Britain's largest media empires owns the Daily Mail. Net worth: US$1.4 billion.

The Russian oligarch owns The Independent and the Evening Standard in the U.K., as well as Novaya Gazeta, a Russian newspaper that has at times been at odds with Vladimir Putin. Net worth: US$1.1 billion.

Canada's richest person indirectly owns a minority stake in the Globe and Mail. Net worth: US$26.1 billion.
Since the company announced the goal in July 2015 — when it was initially $50 million — it has cut $55 million.
The Toronto-based company says its board has set up a special committee to oversee a review of Postmedia's strategic options, which could include a sale of non-core assets, cost reductions or a refinancing.
Postmedia's long-term debt stands at nearly $650 million. Next year, more than $300 million of that debt matures.
The company's largest shareholder, GoldenTree Asset Management LP, which owns more than half of its variable voting shares and a portion of its debt, has been looking for buyers for its stake. The Catalyst Capital Group Inc. was approached about a potential purchase, but was not interested, a spokesperson confirmed to The Canadian Press in March.
Meanwhile, the company announced Thursday that GoldenTree partner Ted Lodge had resigned from Postmedia's board of directors. GoldenTree is permitted to nominate one member to sit on the board but Postmedia said it does not plan to fill the vacancy.