Zari, New 'Sesame Street' Character, Is From Afghanistan
Zari is a six-year-old girl from Afghanistan who loves spiking a volleyball, swinging a cricket bat, and teaching her friends how to say "asalaam alaikum" — a greeting that means "peace be upon you."
And now, the new "Sesame Street" character hopes to empower young women.
The Sesame Workshop announced Thursday that Zari, whose name translates to "shimmering" in English, would feature in the fifth season of "Baghch-e Simsim," an Afghan edition of the popular children's show.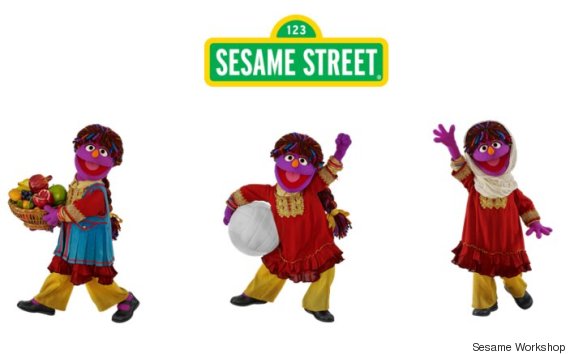 The character will appear in several segments that focus on themes such as empowerment, fitness, and national identity.
Segments planned for the Muppet include "Zari Exercises," in which she teaches kids how to stretch; "Zari Says 'Salaam,'" in which she talks about the meaning of the greeting; and "Zari Interviews a Doctor," in which she finds out what her heartbeat sounds like.
Meet Zari, our new friend from Afghanistan! She's here to teach young kids about girls' empowerment! #BaghcheSimsim pic.twitter.com/itS9kNZieV

— Sesame Street (@sesamestreet) April 7, 2016
Zari represents a "perfect opportunity" to help viewers support "girls' empowerment and diversity appreciation," Sherrie Westin, the Sesame Workshop's executive vice president of global impact and philanthropy, said in a statement.
And the show, it appears, can't wait for her debut.
We're excited to have Zari in the family! She's an incredible role model for kids around the world! #BaghcheSimsim pic.twitter.com/EMcRWiuwlh

— Sesame Street (@sesamestreet) April 7, 2016
Like Us On Facebook

Follow Us On Twitter

Also on HuffPost:
Sesame Street Musical Guests
The best part of this is how mildly nonplussed Johnny Cash looks, as if he's not quite sure where he is.

Feist's song was probably the easiest ever to adapt for "Sesame Street."

This was banned after parents complained that preschoolers, not too far beyond the suckling stage, may be irreparably harmed by seeing Katy Perry's cleavage. needless to say, it has since had 54 million YouTube views.

But wait, Ricky Gervais isn't a musician. Oh, how wrong you are! He was actually in a new wave band back in the 80s. Anyway, this combines his musical skills with his faux-arrogant comedic persona and a chorus that every kid in the world will love.

A seven-minute jam would probably not appear on "Sesame Street" today. Also notable is the kid rocking out at around 4:00.

The look of slight confusion on the little girl's face when Paul Simon interrupts her and her subsequent attempts to sing backup are hilarious. She is trying to sing her heart out but Paul Simon just won't let her.

When Norah Jones sings about how she's sad that her friend Y stood her up, you really believe it.

Ray Charles looks like he's having a lot of fun jamming on the piano with Elmo.

Eight minutes of Herbie Hancock teaching some kids (including Ashley from Fresh Prince) how to use synthesizers.

The best part of this are the puns on his name.

If you look up past musical guests on Sesame Street, you may find yourself thinking, "I never would have thought that person would ever be on Sesame Street." This is one of those times.

Just look how much fun Michael Stipe is having. This is a long way from "Everybody Hurts."

B.B. King's name was made for Sesame Street.

"I'm Yours" becomes "Outdoors," as the singer-songwriter duets with Elmo while trying to get the kids watching in front of their TVs or computers to, I guess, turn him off and go outside.