Kourtney Kardashian Has A Teaspoon Of Ghee Every Morning, Should You?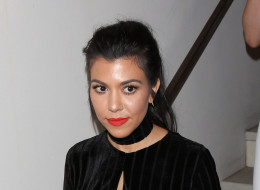 Ghee is mostly used in South Asian households for cooking, but one Kardashian is eating a spoonful of it for breakfast.
In a recent blog post by Kourtney Kardashian, the 36-year-old mother of three wrote she has one teaspoon of the clarified butter to start her day, Cosmopolitan magazine reports.
Ghee is a source of fat traditionally used in Indian cooking and is often made at home by melting unsalted butter until it boils. During this process, milk solids found in the butter start to separate and are filtered out leaving behind a golden (and delicious) liquid.
But registered dietitian Raman Khatar of Food For Thought in Vancouver says you shouldn't be drinking a spoonful of it every morning.
"If you're having butter on toast or choosing between ghee or another type of fat, then ghee is a great choice because of the benefits it may bring," she tells The Huffington Post Canada.
As Cosmo notes, Kardashian described ghee to taste like "a caramelized substance with a nutty flavour" — although we see the nutty-ness of it, we have no idea where the caramelization comes in. To us, it tastes like an unsalted version of butter, with a different texture.
Replacing her cooking oils and regular butter for ghee, Kardashian wrote it can burn fat, help with digestion and support weight loss.
Besides cooking with it, other potential benefits of this liquid butter include being rich in fat soluble vitamins A, D, E and K, decreasing inflammation, and helping improve the digestive system.
But in regards to weight loss, Khatar says you shouldn't treat it as a miracle butter and if you are trying to watch your weight, you should be aware of how many calories you intake from a fatty source.
Our advice? Start cooking with it first.
ALSO ON HUFFPOST:
Ghee has a higher smoke point than normal butter, olive oil and coconut oil, making it a great choice for sautéing or frying foods, says registered dietitian Raman Khatar of Food For Thought in Vancouver.

Khatar says ghee is also rich in butyrate, a short chain fatty acid linked to an immune response that can decrease inflammation and help improve the digestive system.

Besides cooking with it, Khatar says ghee can also decrease inflammation when rubbed externally onto the skin. In the natural medicine realm, ghee was used to treat burns and swelling on the skin.

You may not want to eat spoonfuls and spoonfuls of ghee on its own (remember, it is still butter), but its nutty taste makes a great topping for foods like popcorn, rice, veggies and bread.

Unlike other butters in your home, ghee doesn't need to be refrigerated. In fact, if stored in an air tight container, Khatar says ghee can last up to three months.

Not only is it used for prayers and lighting diyas (a mini clay oil lamp) in India during festivities or holidays, but since ghee is from a cow, a holy animal in India, ghee is considered to have positive energies.

"Ghee is very low in casein — the main protein found in milk — and has nil to minimal amounts of lactose, making it better tolerated by those with dairy intolerances," Khatar says.

Ghee is rich in fat soluble vitamins A, D, E and K, Khatar adds. One tablespoon of ghee can provide approximately 15 per cent of your daily requirements of vitamin A.

Khatar says ghee has one of the highest natural contents of conjugated linoleic acid (CLA) if prepared from grass-fed cows. CLA has been linked to animal studies to improving insulin resistance and potentially fighting cancer. However, she adds further research has to be done to understand CLA's interaction with humans.

Women in India have also traditionally used ghee as a facial moisturizer for dry skin. "It is also used on their scalp to fight dry skin and enhance the growth of strong, thick hair," she adds.

Ghee does not contain any water, milk solids or preservatives.