Surrey Gang Violence Is Ruining City's Rep, Mayor Says
SURREY, B.C. — The mayor of a Vancouver-area city where police have logged 31 shootings this year has approved 24-hour police access to more than 400 closed-circuit cameras in an effort to stop the violence.
More RCMP resources and specialized teams are also being added in an effort to end the gunplay.
Surrey Mayor Linda Hepner told reporters Friday that the shootings have damaged the reputation of the city and she promises those involved will be caught.
"To the citizens of Surrey and the residents here, I want to tell you that progress has been made and we have made arrests,'' she said.
"What is really disheartening for me is that these individuals are smearing our community and our city.''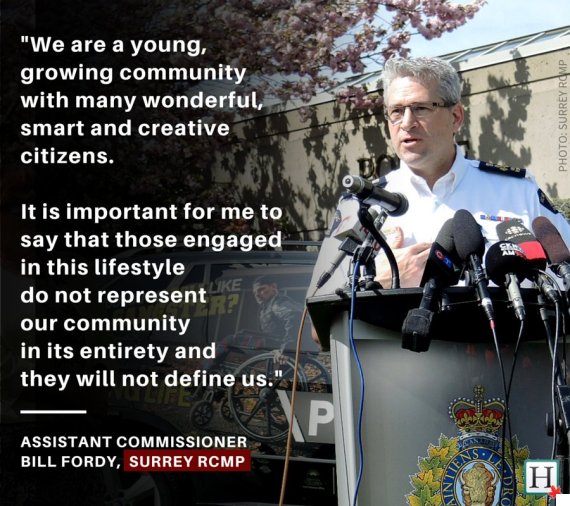 RCMP Assistant Commissioner Dan Mallow said they've learned that those responsible are "kids'' in a low-level dispute over drugs.
"But it's not one group that's driving around the city of Surrey and the Lower Mainland that is creating this situation.''
He added that the problem isn't just in Surrey, but in Metro Vancouver as well.
One person has been killed and several have been injured and residents have a right to be concerned, he said.
"What is really disheartening for me is that these individuals are smearing our community and our city.''
— Mayor Linda Hepner
"Those responsible for those brazen shootings have shown an absolute disregard for the safety for our large communities and that should be unacceptable to all of us.''
Public Safety Minister Mike Morris told the same news conference that some of the shootings have been around elementary schools and in residential areas, which has led to greater police focus on the crimes.
He said there would be no good outcome for young people playing with guns.
"There's life in jail, if you're lucky enough to get caught. There could be a toe tag in a morgue somewhere. There's nothing glamorous and nothing achievable by being a gang member in this country,'' he said.
"There's nothing glamorous and nothing achievable by being a gang member in this country."
RCMP also announced that two men they believe have been involved in some of the gun violence have been arrested and charged with drug and firearms offences.
In 2013, Surrey's murder rate reached record highs. Then-mayor Dianne Watts launched a special task force in an effort to uncover what was setting off the violence as the death toll neared two dozen people.
In the months after the task force was established, police said they made 153 arrests and seized cash, vehicles and other property connected to crime.
Also On HuffPost:
People Who Are Redefining Surrey, B.C.
Surrey, B.C. has a reputation for gangs and crime, but here are some people behind good things happening in the city. Artist Jude Hannah is a community advocate behind ReNewton Nation, which is working to revitalize the Newton area. She's a vocal supporter of redeveloping the old Surrey Public Market site. She argues that turning an "eyesore" into a positive community space, like a park or amphitheatre, gives young people a place to go, and discourages vandalism and crime.

When it comes to gang violence in Surrey, there is no figure more polarizing than Ranj Dhaliwal. Growing up in Surrey, many of his friends and acquaintances were caught up in drug and gang lifestyles, which claimed many lives in the Indo-Canadian community. In 2006, Dhaliwal wrote his first book "Daaku" on gang life in Surrey. His second book in the series, "Daaku: The Gangster's Life" was published in 2011, providing more insight into how many youths get caught up in the money and glamour of the underworld. Dhaliwal organizes Sikh programs for youth, and lectures on organized crime in high schools and universities.

The non-profit Clothes on Wheels is based in Surrey and transports donated clothing to areas that are convenient for pick-up by low-income families. It co-ordinates clothing drives with Surrey pubic schools to offer "free stores" up to four times a year to equip kids with clothes they would need for the different seasons. This year, the organization is expected to help distribute 120,000 articles of clothing to more than 20,000 children and adults in Greater Vancouver and the Fraser Valley. Donations are stored at Surrey's Hjorth Elementary School.

United Furniture Warehouse owner, John Volken, opened a state-of-the-art $80-million addiction recovery centre in Surrey in April 2015. The Volken Academy in Newton can help up to 150 people. It focuses on education and recovery. There are two smaller Volken centres are in Seattle and Phoenix.

The Surrey RCMP have pioneered community programs to help troubled kids. More than a decade old, the School Sports Program connects police officers with Grade 7 students across Surrey. As these 12-year-old kids enter high school, the program encourages them to engage in positive relationships with police. Once a week "Team RCMP" goes to different schools to take on the students in whatever sport the kids wish to play. The Surrey RCMP also host an annual high school basketball tournament.

Surrey filmmaker Mani Amar is aiming for social change through his movies. The semi-fictional "Footsteps Into Gangland" looked at young Indo-Canadians whose lives are ruined by gangs, violence, and abuse in their families. Criticized for portraying the South Asian community in a negative light, Amar told Surrey Now that he'll "say what needs to be said. I don't sugarcoat."

The Surrey RCMP's Youth Intervention Program targets at-risk youths to steer them away from crime. About 300 troubled young people get counselling and mentoring ever year. "These youths are just looking for a little guidance," said youth counsellor Brian Aasebo in a news release. "The most rewarding part is seeing their behaviour change once they understand the real consequences that their actions have."

People who live near a small, wooded area known as "the grove" have banded together as Friends of the Grove to share stories and create a friendly community atmosphere. Simple meetings turned into barbecues and picnics, and now a free community garden.

Code Blue is a weekly drop-in fitness program that lets kids try some of the intense physical training it takes to become a police officer, such as sprints, push-ups and sit-ups. Officers often do the exercise with students and encourage them to challenge themselves. Like the School Sports Program, Code Blue wants to build positive relationships between youth and police in an effort to prevent them from getting involved in gangs or other forms of crime.