Alexander Skarsgård Wears No Pants At The 2016 MTV Movie Awards
The 2016 MTV Movie Awards may have been filled with sheer dresses and cut outs, but the most revealing outfit went to someone rather unexpected: Alexander Skarsgård.
While presenting the award for "Best Movie of the Year," the 39-year-old actor decided to capitalize on a trend normally worn by Hollywood's leading ladies: going pants-less.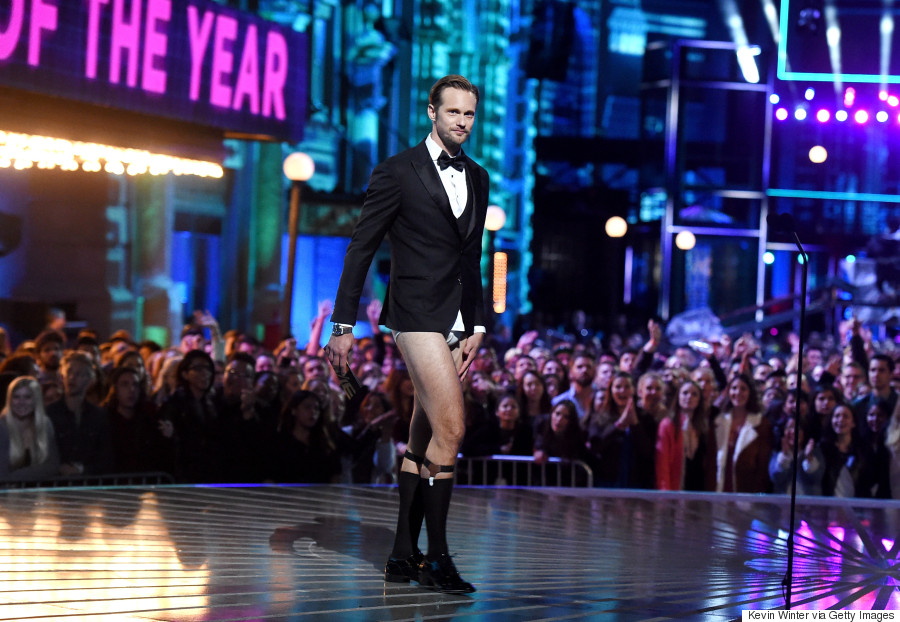 The former "True Blood" star, who is set to play Tarzan in "The Legend Of Tarzan," walked onto the stage donning a tuxedo jacket, white shirt and bow tie, however, the bottom half of his ensemble consisted solely of a pair of tighty-whities, knee-high socks and sock garters.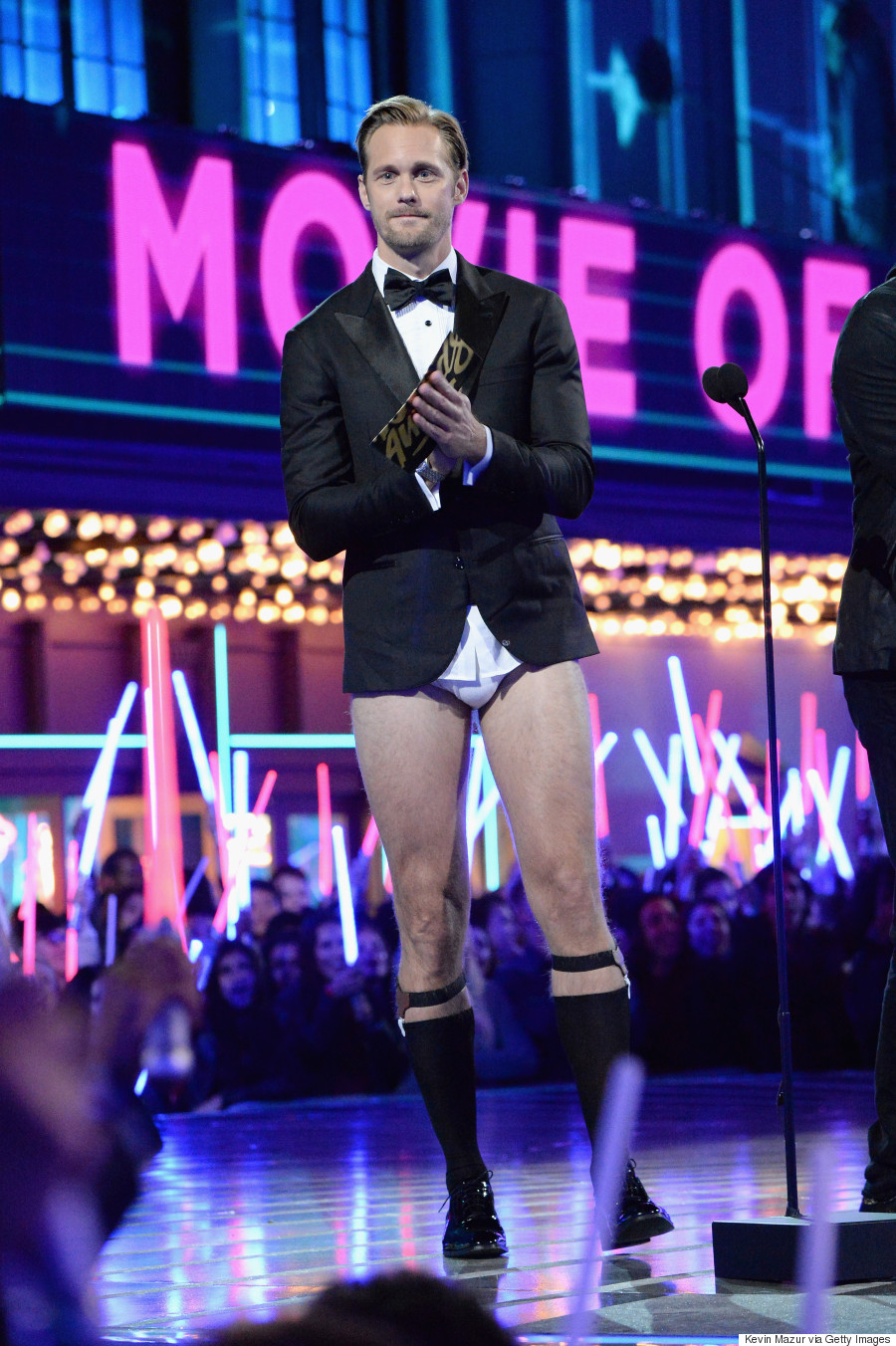 Joining Skarsgård on stage was Samuel L. Jackson, who had all his clothing layers intact.
"You're not wearing any pants," 67-year-old Jackson told Skarsgård.
"Me Tarzan, you gotta give the fans a little skin," Alex explained. "I was going to go shirtless but then someone told me Zac Efron did that a few years ago."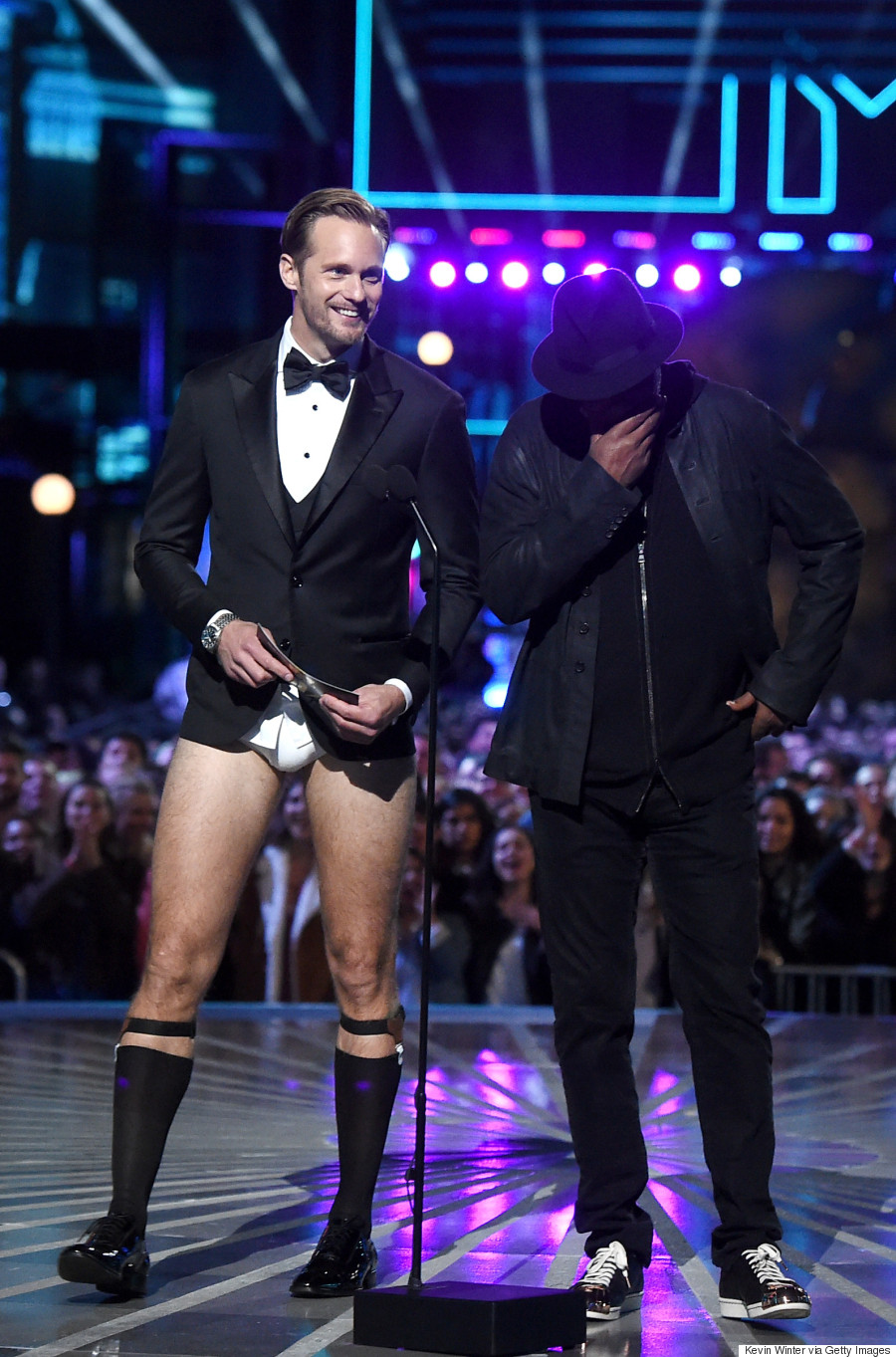 Later on in the evening, the hunky actor threw on a skirt, in an apparent nod to his upcoming film role.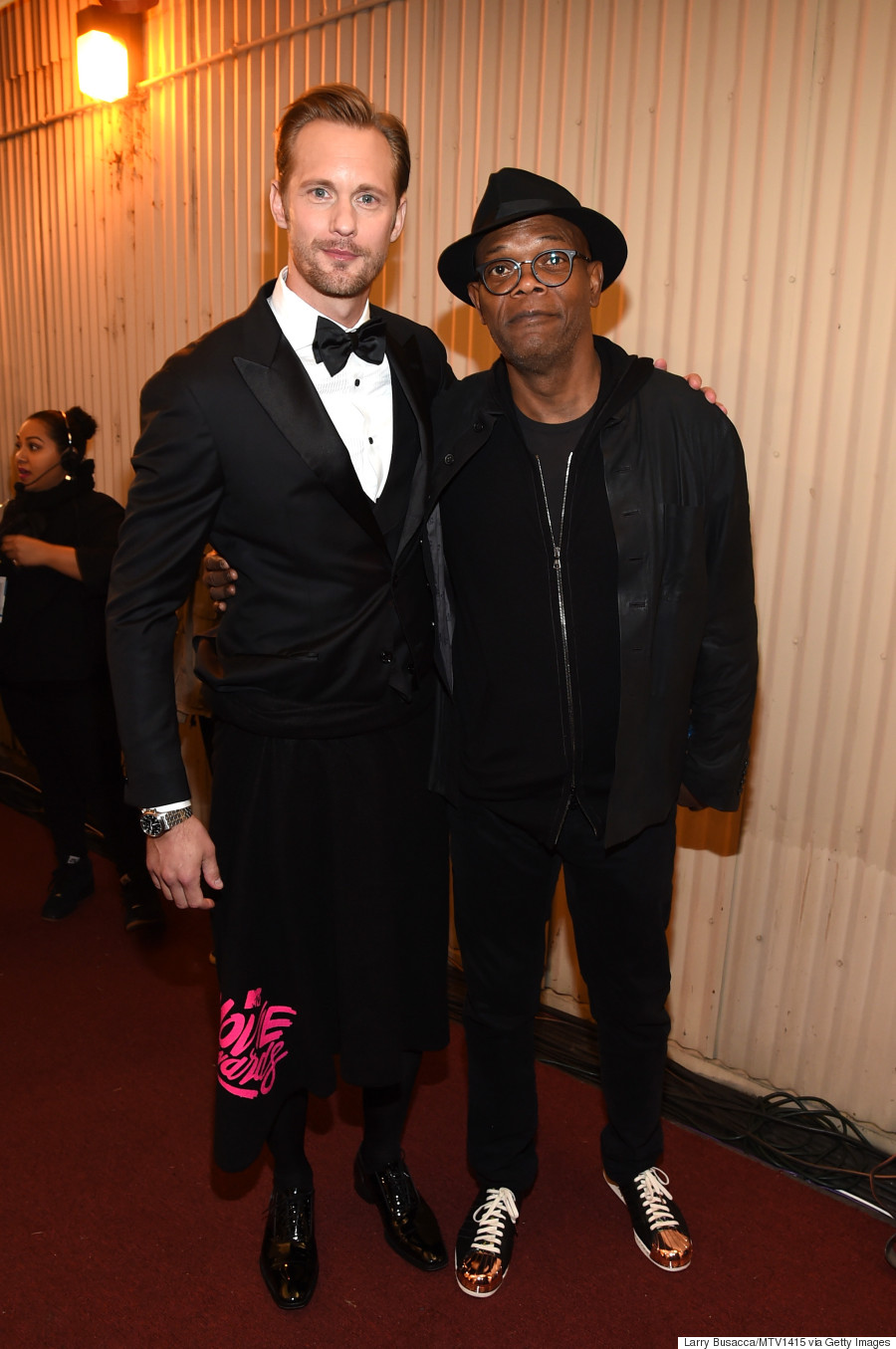 This isn't the first time Alexander has pulled some red carpet antics in public — back in August, he dressed in drag to the premiere of "The Diary Of A Teenage Girl" to pay homage to the drag queens of the famously gay-friendly Castro District in San Francisco, according to Vanity Fair.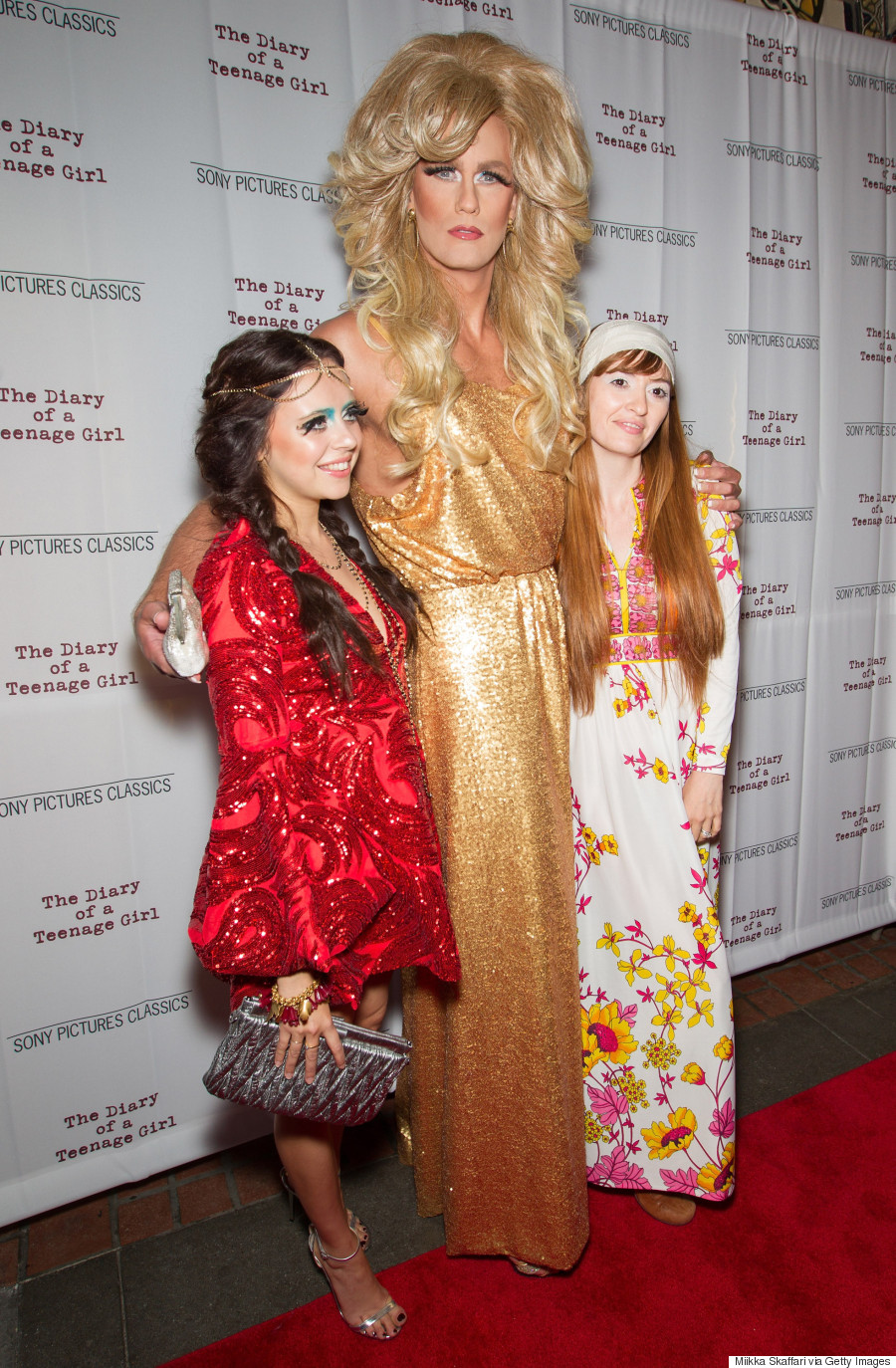 If he keeps this up, you can bet the "Legend of Tarzan" premiere red carpets will definitely be interesting.
But for now, we leave you all with this: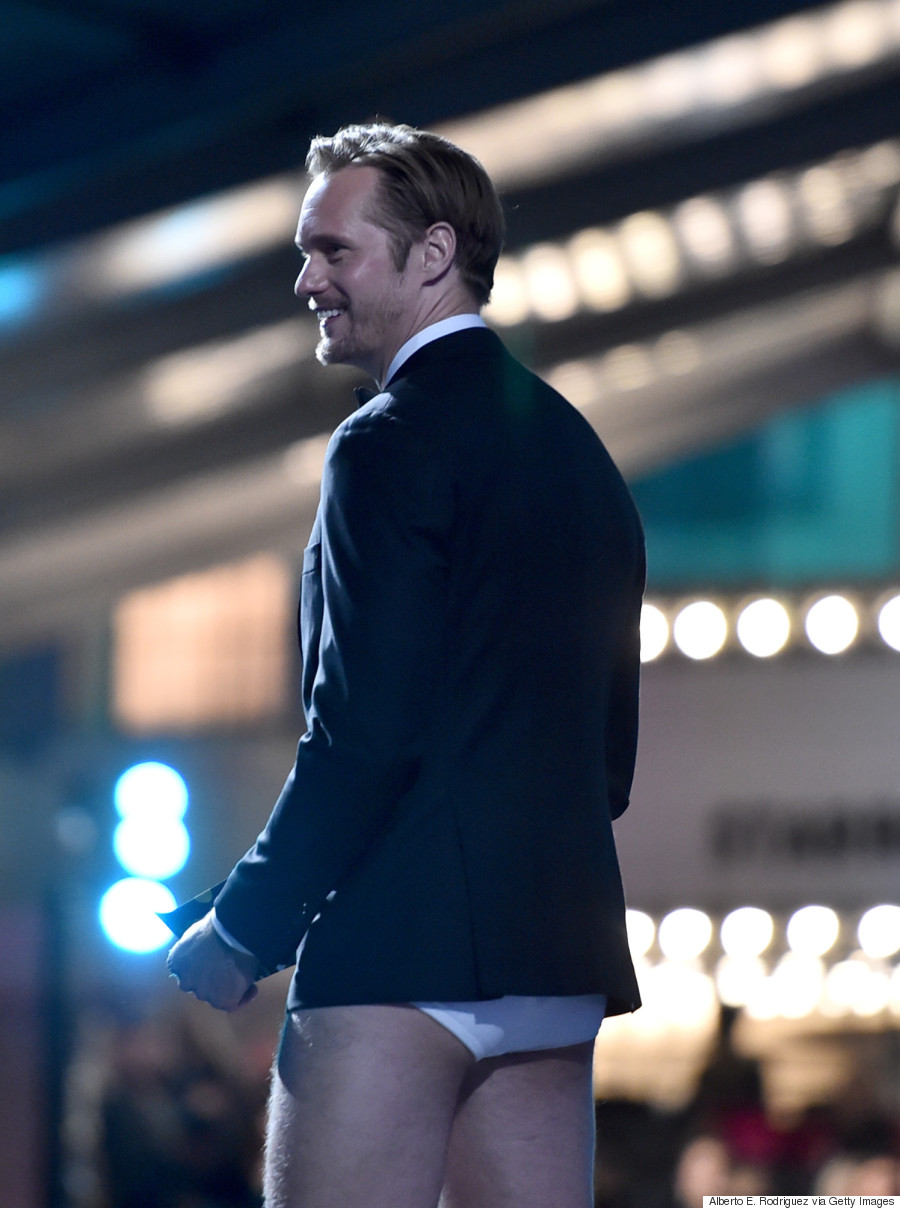 You're welcome.
Check out more red carpet pics from the 2016 MTV Movie Awards below:
2016 MTV Movie Awards Red Carpet
(L-R) Actors Anna Kendrick, Adam DeVine, Rebel Wilson, Brittany Snow and Chrissie Fit attend the 2016 MTV Movie Awards

For a different look, model Gigi Hadid wore a pinstriped pantsuit and yellow striped blouse, all by Versace.

Before her performance, the singer wore this baby pink bejeweled jacket, bustier and shorts set.

The model wowed in this velvet, cut-out jumpsuit.

Creating their own photo op! Hosts Kevin Hart and Dwayne Johnson take selfies backstage at the 2016 MTV Movie Awards.

Feminine as always, Ariana Grande wore a cotton candy pink floor-length gown, fur shawl and topped it off with diamonds to sing a new rendition of her single "Dangerous Woman" for the 2016 MTV Movie Awards.

Canadian YouTube comedian Lilly Singh AKA IISuperwomanII on the red carpet for the 2016 MTV Movie Awards.

Kendall Jenner showed off these strappy heels in this high-cut halter dress.

Charlize Theron showed up in a lace number by Alexander McQueen. The "Mad Max: Fury Road" star took home the award for Best Female Performance.

This uniquely patterned, plunge-neck dress looked great on the "Game of Thrones" actress.

(L-R) Actors O'Shea Jackson Jr., Corey Hawkins, Jason Mitchell, Common, Neil Brown Jr., and Aldis Hodge pose on the red carpet at the 2016 MTV Movie Awards

Nope, not Drake! Internet personality Brandon Wardell shows up to the 2016 MTV Movie Awards in the same OVO tracksuit Drake sported in his and Rihanna's "Work" music video

Veteran actress Halle Berry showed off her figure in this multi-strapped midi dress.

Mike Posner showed up ... but didn't show his face ... not really.

Actress Lizzy Caplan on the 2016 MTV Movie Awards red carpet.

The funnywoman looked simple and sophisticated in black.

What do you make of this floral maroon suit?

Sketch comics Jordan Peele (L) and Keegan-Michael Key attend the 2016 MTV Movie Awards

Producer Rafael Francisco pulls back his jacket to show off his T-shirt that reads "Hire Women" at the 2016 MTV Movie Awards

The "Vampire Diaries" actress set off alarms in this blush pink bustier number

Jessica Chastain came out in a beaded, black Givenchy gown.

Yes, that is a onesie, and no, we don't want to know what Posey plans to bare if he doesn't somehow get an MTV Award.

Chris Pratt arrived dressed-down in a navy leather jacket and jeans at the 2016 MTV Movie Awards.

The "Teen Mom" reality star turned heads in this sparkly, figure-hugging dress.
Follow Huffington Post Canada Style on Pinterest, Facebook and Twitter!