Women On Canadian Money Nominations Close Very Soon
Canadians are running out of time to have their say as to which woman will appear on a new bank note.
Last month, the Bank of Canada issued an open call to nominate women who should appear on a bill that will be issued in 2018.
Nominations close this Friday, April 15.
"As we know, women are and have always been instrumental in our country," Finance Minister Bill Morneau said when he announced the new bank note on International Women's Day last month.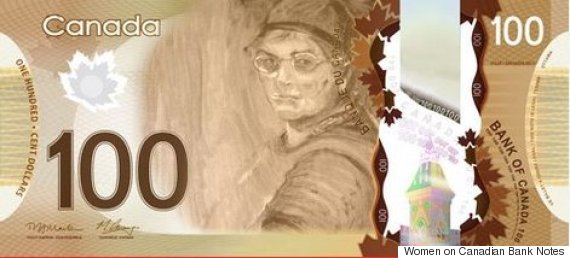 Artist Emily Carr on a $100 Canadian banknote. (Photo: Women on Canadian Bank Notes)
"We all agree — we meaning people in finance, obviously the prime minister, and all of our colleagues — agree that now is the time for us to move forward."
The nominees must be Canadian, either by birth or naturalization, and they must have shown "outstanding leadership, achievement or distinction in any field, benefiting the people of Canada, or in the service of Canada."
They must have been dead for at least 25 years, and they can't be fictional characters.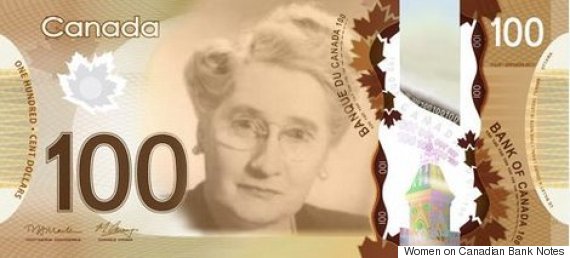 Agnes MacPhail, the first women ever elected to the House of Commons. (Photo: Women on Canadian Banknotes)
The open call follows years of activism by Canadians who have longed to see women besides Queen Elizabeth II appear on their country's currency.
It also comes after plans to display an image of the "Famous Five" and feminist Thérèse Casgrain on a $50 bank note were nixed in favour of an icebreaker, in 2011.
The push to put a woman on a bank note has been advanced by Merna Forster, a Victoria-based activist who created a Change.org petition and launched a website where the public can superimpose famous faces on Canadian $100 bills.
Here are some suggestions that people have made so far:
Women Who Could Be On New Canadian Bill
This gallery shows a series of photos of women that people have suggested should appear on Canadian currency. "Anne of Green Gables" is not a historical person, but is nevertheless an important one. She's the titular protagonist of Lucy Maud Montgomery's novel about an orphan girl who is sent to live on a farm on Prince Edward Island.

Former Supreme Court of Canada judge and High Commissioner for Human Rights at the United Nations.

Celebrated author behind works such as "The Handmaid's Tale" and the "MaddAddam Trilogy."

Canada's first female astronaut. Second Canadian astronaut in space.

Canada's first female prime minister.

One of Canada's most famous painters, responsible for works depicting Pacific Northwest settings such as "Big Raven."

Former auditor-general of Canada, responsible for a report on the Sponsorship Scandal which played a role in the eventual toppling of the Liberal government.

Former governor-general of Canada.

The first woman ever elected to Canada's House of Commons.

Chief Justice of the Supreme Court of Canada.

Canadian folk singer respected the world over for songs such as "Both Sides, Now."

Author of "Anne of Green Gables" and other literary works.

Former teenage dance-pop artist who would go on to record as an alternative musician, topping the charts with hits such as "You Oughta Know" and "Ironic."

Nobel and Giller Prize-winning author of short-story collections such as "Open Secrets," "Runaway" and "The View from Castle Rock."

This country music artist is the first ever Canadian woman to attain gold record status in the United States.

The first female to serve as governor-general of Canada.

A prominent figure in the War of 1812, Laura Secord is known for walking an enormous length to warn James FitzGibbon that the Americans planned a surprise attack on a British outpost.

The first woman to practise medicine in Canada, and a suffragette.

Known as a "conductor" of the Underground Railroad, Tubman escaped slavery in the U.S. and helped hundreds of slaves to freedom in Canada and the Northern states.

Canadian country and pop music star, famous for hits such as "Man! I Feel Like a Woman."

Four-time Olympic gold medal-winning hockey player.