Boycott McDonald's, Israeli Health Minister Urges
JERUSALEM — Israel's health minister has called on the country to downsize its consumption of junk food and boycott McDonald's.
Yakov Litzman told a cardiologists' conference that McDonald's is "out."
He says: "There is no need to eat junk food. Not in our country."
Litzman urged educating children not to eat junk food and sweets and stressed that the health ministry will focus on "prevention" medicine this year to curb disease.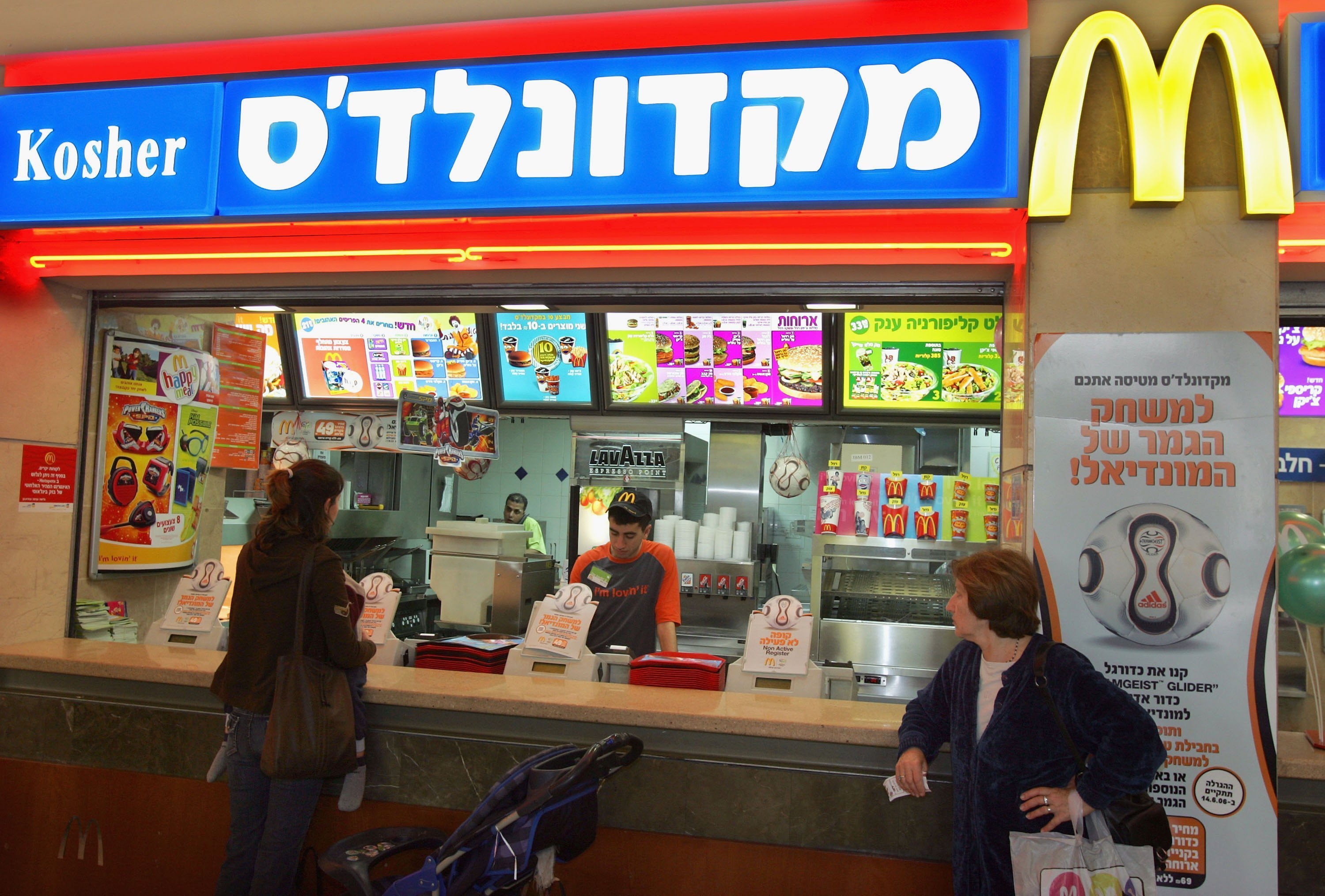 Israelis eat at a kosher McDonald's restaurant March 2, 2006 in Tel Aviv. (Getty Images)
Israeli cuisine is generally healthy with its traditional ingredients similar to the Mediterranean diet but junk food is also popular.
Litzman's comments, broadcast Tuesday evening on channel 10 TV, were unusual because he specifically named the burger chain.
Channel 10 says McDonald's has made healthy changes to its menu in Israel and relayed a statement from the chain condemning Litzman's remarks.
What Dietitians Would Eat At McDonald's
Calories: 280 Total Fat: 12 grams Sodium: 770 milligrams Sugar: 3 grams Protein: 27 grams Expert: Lalitha Taylor, registered dietitian and owner of Taylor Nutrition Consulting in Edmonton, AL. "This particular salad has the least amount of sodium and fat in comparison to all other McDonald's salads. Furthermore, this salad is a rich source of lean protein (27 grams), vitamin A (35%), C (70%) and iron (20%)."

Calories: 240 Total Fat: 8 grams Sodium: 510 milligrams Sugar: 7 grams Protein: 11 grams Expert: Andrea D'Ambrosio, registered dietitian and owner of Dietetic Directions in Waterloo, ON. "This plain and simple option has less than half the calories of a Big Mac (240 kcal), less than a third of the fat (8g) of a Big Mac as well as half the sodium (510mg)."

*Calories: 290 Total Fat: 11 grams Sodium: 720 milligrams Sugar: 7 grams Protein: 14 grams Expert: Melissa Baker, registered dietitian in Vancouver, BC. "I can't go to McDonald's without getting a burger and fries. But I chose mini fries, and a simple cheeseburger which is only 290 calories compared to the Double Big Mac sandwich at 680 calories! Adding an apple and garden salad pump up the nutrient density of this meal." *Nutrition information for cheeseburger only

*Calories: 530 Total Fat: 24 grams Sodium: 1250 milligrams Sugar: 13 grams Protein: 23 grams Expert: Shauna Lindzon, a registered dietitian in Toronto. "The Sweet Chili Signature McWrap with Grilled Chicken had what I was looking for. It is made with a whole wheat wrap, and has double the protein of the Mediterranean McWrap and half of the fat. This would therefore be my choice if I were ever to visit McDonald's."

*Calories: 290 Total Fat: 13 grams Sodium: 640 milligrams Sugar: 2 grams Protein: 14 grams Expert: Vanessa Yurchesyn, registered dietitian in Saint John, NB. "There are many items on this menu that are high in fat and sodium (including the Signature wraps and salads). I've chosen these three items that will provide a balanced meal." *Nutrition for snack wrap only

*Calories: 40 Total Fat: 2 grams Sodium: 70 milligrams Sugar: 1 gram Protein: 3 grams Expert: Christy Brissette, registered dietitian at 80 Twenty Nutrition in Toronto, ON. "They've finally moved beyond iceberg lettuce and added a little bit of baby kale. Finally, something green other than pickles!" *Nutrition for side salad only

*Calories: 200 Total Fat: 2 grams Sodium: 100 milligrams Sugar: 28 grams Protein: 6 grams Expert: Nicole Osinga, registered dietitian at Clarington Physiotherapy Health and Wellness Centre in Courtice, ON. "Ditch the sugary granola and add some almonds to the parfait. [Then] ask for a side of peanut butter to dip the apples in. These modifications decrease to sugar content and increase the protein and healthy fat content of your meal!" *Nutrition for McDonald's parfait only.