Advertising Watchdog Upheld Complaints Against Anti-Abortion Flyer, Climate-Change Billboards
TORONTO — Canada's advertising watchdog says it upheld 242 complaints against 50 ads last year.
The biggest number of complaints, by far, was levelled at a political flyer by the Canadian Centre for Bio-ethical Reform that featured images of aborted fetuses and the slogan "No2Trudeau." 
There were 105 complaints against the flyer, and Advertising Standards Canada agreed it was excessively shocking and upsetting.
The ASC also received and upheld 96 complaints against two billboards in the Montreal area posted by Friends of Science Society.
One of the billboards said "The Sun is The Main Driver of Climate Change. Not You. Not CO2" and the other said "Global Warming Stopped Naturally 16-Plus Years Ago." The ad council found they omitted relevant information.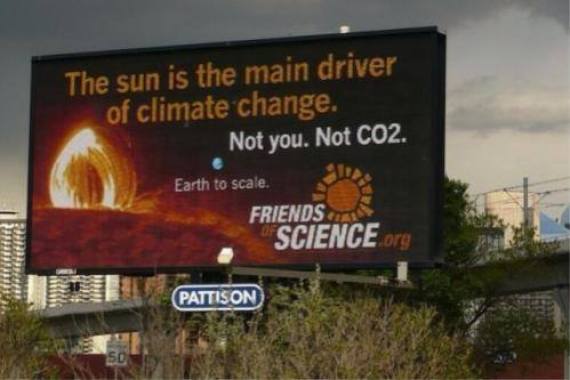 (Photo: Facebook/Friends of Science)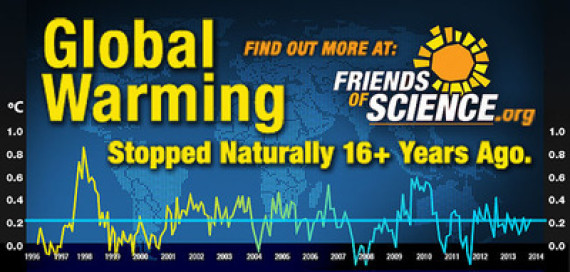 (Photo: CNW Group/Friends of Science)
The ads were among those cited in 1,774 complaints about 1,135 ads that the watchdog received in 2015. A majority of the complaints were about price claims and factual clarity or misrepresentation, which the standard body upheld regarding 43 ads.
One restaurant's advertisement received 62 complaints. The slogan "How Do You Like Your Meat?" and images of a masked young woman wearing black lingerie in front of chefs was deemed to demean women and undermine human dignity.
A television ad for the Kayak.com travel search engine received 20 complaints, which were upheld, for displaying "obvious indifference" to attitudes or conduct that offends a significant segment of the population.
Complainants alleged that the ads showed disregard for an elderly person's welfare, bordering on elder abuse, because it depicted a middle-aged man commandeering his mother's in-home stair lift while using his laptop to make travel bookings — ignoring the woman as she struggled to climb the stairs beside him.
Also On HuffPost:
Top YouTube Ads In Canada, 2015
Advertiser: Tim Hortons YouTube view count: 2.3 million Canadian pride resonated with YouTube viewers this year, as this Tim Hortons ad featuring hockey greats Sydney Crosby and Nathan MacKinnon shows.

Advertiser: Govt. of Ontario YouTube view count: 2.5 million "Social conscience messages landed big on this year's list of the Top 10 ads," YouTube says. This ad raises awareness of sexual violence issues.

Advertiser: Quaker Oats YouTube view count: 10.6 million A few of this year's top ads "tug at the heartstrings and highlight the magic of dads," YouTube says. Here is one such ad.

Advertiser: Duracell YouTube view count: 13.9 million Duracell's tie-in with the Star Wars franchise ahead of the release of The Force Awakens is probably keeping the Energizer bunny up at night.

Advertiser: Reebok YouTube view count: 11.8 million YouTube has become a favourite venue for Canadians to watch U.S. Super Bowl ads they can't see on Canadian TV. Here's one such ad.

Advertiser: Dove YouTube view count: 17.4 million "Millennial dads are turning to YouTube for answers to parenting questions and brands have taken note, producing ads that show appreciation for fathers," YouTube says.

Advertiser: Budweiser YouTube view count: 30.4 million Another SuperBowl commercial that Canadians took to YouTube to see.

Advertiser: Always YouTube view count: 38.1 million A sequel to last year's award-winning #LikeAGirl campaign. "Canadians are still interested in the conversation sparked by the original ad" about gender roles, YouTube says.

Advertiser: Boom Beach YouTube view count: 46 million Both of the top two video ads among Canadians were for video games this year. "YouTube has been a longtime destination for passionate gamers," the company says. "More than 20 of the top subscribed 100 YouTube channels are gaming-related."

Advertiser: Clash of Clans YouTube view count: 83.5 million This ad combines two things Canadians go to YouTube for: video game ads, and Super Bowl ads. It was guaranteed to be a winner.