Surrey Hydro Poles Sawed Down By Vandal
SURREY, B.C. — BC Hydro and Mounties in Surrey, B.C., want to find the vandal who used a chainsaw to topple four transmission poles in the city's Green Timbers neighbourhood.
The Crown utility says the poles were cut down at about 1 a.m. Wednesday, taking out power for 6,000 customers in nearby Whalley.
It's not known if more than one person was involved, but Hydro says whoever was responsible or anyone in the area faced immense danger from the fallen poles.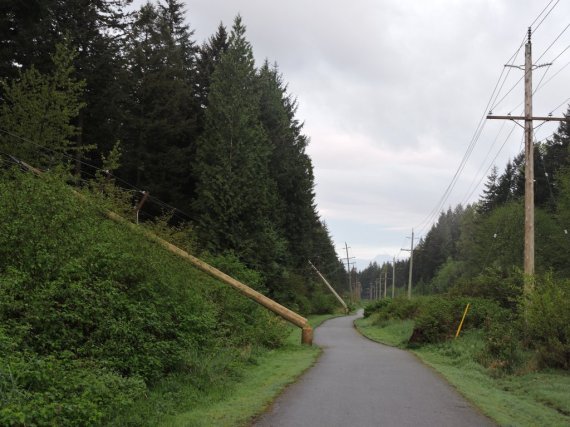 RCMP in Surrey, B.C. are searching for vandals who knocked down four transmission poles with a chainsaw on Wednesday. (Photo: Twitter/BC Hydro)
They supported a 60,000-volt transmission line and two sets of high-voltage distribution circuits, each carrying 25,000 volts.
Crews were expected to replace the damaged poles and transfer the conductors and circuits to the new poles by the end of the day.
Electricity has been restored to most of the affected customers, although their power has been switched to a different distribution circuit until the work is completed.
Also On HuffPost:
In one of the less appetizing cases of art vandalism, 22-year-old art student Jubal Brown vomited primary colors onto Mondrian's "Composition in Red, White and Blue" at the MoMA in 1996. The pre-digested medium was made of blue cake icing, blue Jell-O and blueberry yogurt, and was part of a three-part performance piece called "Responding to Art." For the second part Brown spewed some red onto a Raoul Dufy work in Ontario, but was stopped before a third work received an unexpected splash of yellow.

In 2001 artist Jacqueline Crofton had a dream, a dream that one day she would throw eggs at Martin Creed's Turner Prize winning work, "The Lights Going On and Off," a room where the lights go on and off. Crofton followed through with her dreams, tossing two eggs into the darkened room at the Tate, from which she was life banned. In a sea of male vandals Crofton represents the female minority. In her words: "What I object to fiercely is that we've got this cartel who control the top echelons of the art world in this country and leave no access for painters and sculptors with real creative talent."

Jake and Dinos Chapman were used to pissing off the public with their controversial artworks, including bronze dolls engaged in mutual oral sex. But nothing was quite as shocking as when the enfants terribles purchased and vandalized complete set of Goya's etchings, The Disasters of War. The beloved etchings were made even more horrifying with new faces including that of a sad-clown-Hitler and mutated Ronald McDonald. Although the brothers' mischievous audacity horrified many, many critics dubbed the statement "powerful." Jake explained his rationale to the Guardian, saying "To produce the law, one has to transgress it."

Perhaps the most beloved case of art vandalism occurred at the hands of an artist with no intention of becoming famous. Octogenarian Cecilia Gimenez was only trying to retouched a damaged 19th century fresco of Jesus when things got a little out of hand, resulting in the furry sci-fi creature that has launched a million memes. Whether or not this restoration fail is a work of vandalism, a work of postmodern genius, or a work of someone who needs glasses is up for debate. In the meantime, Gimenez wants her royalties.

Oftentimes when an artist disrupts an artwork, they have a clear artistic mission in mind. But sometimes they're just hungry. Ed Brzezinski was craving a snack when perusing the Paula Cooper gallery in 1989 when he stumbled across a lone donut and took a bite. Turns out the donut was part of Robert Gobers' exhibition, which also included a drain and a bag of kitty litter. Brzezinski ended up owing the gallery $8,000 for the sweet, which, turns out, was covered in preservative chemicals. This explains why Brzezinski thought it "tasted stale."

Uriel Landeros sauntered up to Picasso's 1929 painting "Femme au fauteuil rouge (Woman in a Red Armchair)" this summer and gave the painting a little retouch in the form of a bullfighter killing a bull with the word "conquista" beneath it. The whole thing was caught on tape in one of the most awkward YouTube videos ever. Landeros himself is an artist who was trying to honor Picasso's work; ArtInfo even did a review of his Facebook portfolio. Apparently his work "not only features the same Picasso-inspired image of a bull and bullfighter that he stenciled onto the de Menil canvas, but juxtaposes this primal, ritual duel with symbols of humanity's fundamental split between male and female traits."

In 1994 unemployed artist Mark Bridger approached Damien Hirst's 'Away from the Flock,' a white sheep floating in formaldehyde, and poured black ink into the tank. Bridger described his un-sheepish intervention as a "carpe diem moment," adding: "To live is to do things, I was providing an interesting addendum to his work.."

Although now a super swanky gallerist, back in the day Tony Shafrazi was a budding artist/ amateur vandal. In 1974 he spray painted "Kill Lies All" on Picasso's "Guernica" in the MOMA. He later told Art in America: "I wanted to bring the art absolutely up to date, to retrieve it from art history and give it life."

Marcel DuChamp's "Fountain" has served as the guiding light for many an art-prankster, often distantly and sometimes very tangibly. Chinese outsider artists Yuan Cai and Jian Jun Xi saw the work as an "invitation" to take the artwork further... and pee on it. "As Duchamp said himself, it's the artist's choice. He chooses what is art. We just added to it," said the artists who call themselves "ahead of their time."

Reginald Walker was a 21-year-old guard at the Whitney Museum when he felt the need to express his love, and ASAP. Walker took a felt-tipped pen to Roy Lichtenstein's "Curtain," and drew a heart surrounding the inscription "Reggie and Crystal, I Love you Tushee Love Buns." We love you, Reginald.