Rex Murphy: Donald Trump Is A Yuge 'Middle Finger' To American Politics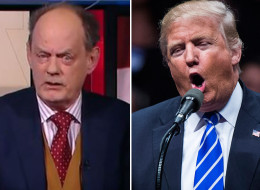 Rex Murphy is feeling the Bern.
In his latest Point of View segment on CBC, which you can watch above, the commentator hails U.S. presidential candidate Bernie Sanders as the "real miracle" in America's election campaign.
Murphy says the 74-year-old has proven to be a "class warrior of the old school," daring to take on the "entire Clinton owned and operated Democratic establishment."
But before he could start showering Sanders with praise, Murphy slides in a couple of jabs at the campaign's other surprise: Donald Trump.
"For a whole lot of people Trump is one yuge middle finger of how politics is and has been played in America for a generation," he says.
"And for a whole lot of others, he's just a vulgar, egotistical, shallow, rude shyster who's a stain on the very idea of democratic politics."
Some New Democrats looking to Sanders, too
Murphy's admiration of Sanders is just the latest praise from up north for the U.S. senator's campaign.
Just ahead of the NDP convention last week that saw leader Thomas Mulcair rejected by delegates, Ontario NDP MPP Cheri DiNovo said the party needed a leader like Sanders to inspire voters.
"The only place left is left," she told The Huffington Post Canada. "There is a real appetite for that."
And DiNovo's not alone. NDP MP Niki Ashton, who ran for leadership in 2012 and is considered a possible contender to run again, made it abundantly clear in December that she backs Sanders.
Like many Cdns, I'm inspired by the @BernieSanders campaign. Fighting against inequality+for justice #FeelTheBern pic.twitter.com/BQp6Mabiz6

— Niki Ashton (@nikiashton) December 22, 2015
Also On HuffPost:
Best Donald Trump Parodies
"SNL" has lampooned Trump many times over the years, such as this sketch that parodied his "Days of Our Lives" cameo.

A young Jon Stewart pokes fun at Donald Trump's first flirtation with running for president in 1999.

This clip of Donald Trump paying a visit to the Banks family to offer to buy their house is not embeddable, but you can watch the clip on YouTube.

Trump did a one-line cameo in the sequel to "Home Alone."

A frequent talk show guest, Trump allowed his ego to match with Letterman's disarming goofiness to great effect, as shown in this clip from 1987.

Conan's famous impersonation of Donald Trump has found its way into all of his talk shows.

Stand-up and "SNL" writer John Mulaney describes what Donald Trump reminds him of.

Watch how long it takes for Trump to realize he's been duped into doing an interview with one of Sacha Baron Cohen's bizarre characters.

The chameleon-like British comedian hysterically sends up "The Apprentice" on his BBC sketch show.

This commercial for Donald Trump's excess-celebrating 1988 board game falls into the "unintentional comedy" category.

This episode of Lewis Black's show asked comedians which was a greater blight on our culture: Donald Trump or Viagra?

The Colbert Report filed a "Difference Makers" segment on Trump's quest to test the zoning restrictions of a golf course he owned.

As Donald Trump, impression virtuoso Frank Caliendo teaches a seminar on how to get rich.