Bottled Water To Overtake Soda Among U.S. Consumers
Americans are on the verge of consuming more bottled water than sugary soft drinks per capita for the first time ever.
U.S. residents have steadily been drinking more bottled water concurrently with a drop in pop consumption, says data released by Euromonitor.
This year, Americans can be expected to drink approximately 102 litres of bottled water, compared to about 98 litres worth of soft drinks.
And that trend is only likely to continue, as these charts show.
Consumption of bottled water is set to overtake that of soda in the U.S. for 1st time https://t.co/AwXTrTuaCI pic.twitter.com/7gPXRx5a3y

— Bloomberg (@business) April 15, 2016
Soda is about to go under water https://t.co/s2mFBT7RB7 pic.twitter.com/TiSmCuabuD

— Quartz (@qz) April 18, 2016
Bloomberg noted that Nestle SA, which owns brands such as Perrier and Poland Spring, could see a nice profit from this trend.
But it also said prices for bottled water are falling. Price pressure reduced Nestle's first-quarter growth by half a percentage point, the business news outlet said.
The upward tick for bottled water comes as soft drink companies such as Pepsico turn to healthier beverages to boost their earnings, Quartz reported.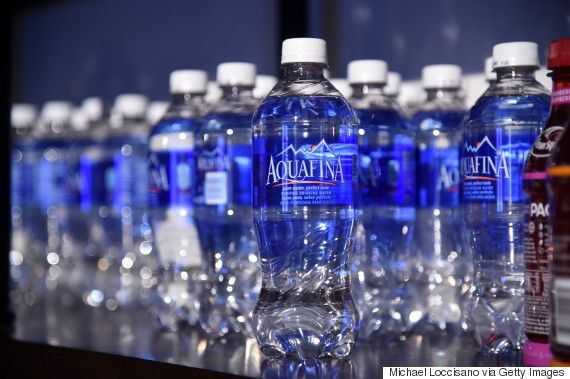 Pepsico's Aquafina bottled water. (Photo: Michael Loccisano/Getty Images)
Pepsico's Naked Juice products grew by 60 per cent in the first quarter of 2016, while its Lipton tea products grew by 10 per cent, CEO Indra Nooyi said in a Monday earnings call.
Only 12 per cent of Pepsico's North American beverage revenue comes from the Pepsi soft drink, she added.
The real cost of bottled water
But bottling water also comes with an environmental cost.
A 2009 study out of the Pacific Institute found that long-distance transport of bottled water can "lead to energy costs comparable to, or even larger than, the energy to produce the bottle."
The cost is also as much as 2,000 times larger than it is to produce tap water.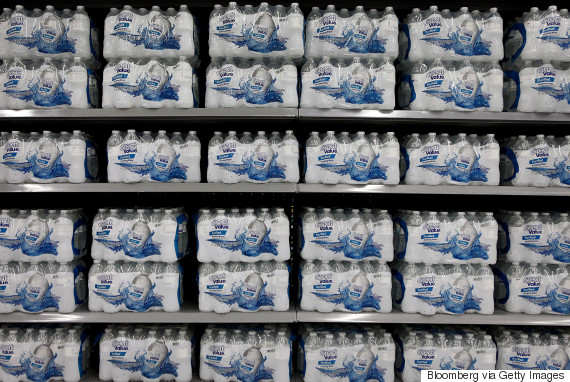 Cases of Great Value brand bottled water are displayed for sale at the grand opening of a new Wal-Mart Stores Inc. location in Torrance, Calif. on Sept. 12, 2012. (Photo: Patrick Fallon/Bloomberg via Getty Images)
Bottled water is restricted in over 80 Canadian cities and towns. The City of Toronto, for example, bans the distribution and sale of bottled water in all city facilities, parks and civic centres, with some exceptions.
"While water bottles are recyclable, they still require a significant amount of energy to manufacture, transport and eventually recycle," the city says.
Montreal is also looking at restricting bottled water. Mayor Denis Coderre says the city "needs to have that debate on plastic."
Also on HuffPost:
Tricks To Drink More Water
The trick to this is pouring yourself a glass of water before bed and then drinking it as soon as you get up. Even if the thought of pouring water down your throat right away feels overwhelming, try it for four days in a row and see if you don't start doing it automatically after that.

There's are plenty of apps out there to keep track of your water intake, if you like that kind of reminder (Daily Water Free, picture here, is a favourite). But a another option is to set an alarm on your phone or calendar to remind you to drink every two hours or so.

Yes, that's right — your caffeinated (or decaf, if you're so inclined) morning beverage also has plenty of water in it, so you can include that in your count. According to WebMD, their diuretic effects do not take away from also hydrating you.

There's no science here, just pure superficiality that somehow still works. If you have a nicer water bottle, you may just be more inclined to use it. We love this Lifefactory glass option that holds one-quarter of your daily water intake in one go!

There are plenty of fruits and veggies that contain a fair amount of water, including cucumbers, iceberg lettuce, watermelon (obviously), strawberries, grapefruit, zucchini, radish and celery. Plus, of course, the many other nutrients this produce contains.

When you're bogged down at work, even the 20-foot walk to the kitchen can feel too far, so set yourself up for the day with a big bottle — or even a pitcher — in the morning so you can dip into it all day.

We know, you've heard enough about "infusing" your water to last you a lifetime. But it really does make it taste better — and has the bonus effect of even more water, if you use some of those hydrating foods we mentioned. Some other good options: kiwi, lemon, strawberries or grapes.

It's so easy to make ice pops at home — all you need is a mold, some water, and the fruit of your choice. That way, you get to control what goes in it (i.e. the sugar), eat a delicious snack, and you're upping your water intake at the same time. Check out these recipes for homemade popsicles at Real Simple.

No one's expecting you to give up other drinks entirely in lieu of water, either sugar-filled or alcoholic. Instead, make yourself a deal — for every "other" kind of drink you have, drink a glass of water.

If you've gotten out of the habit of rinsing out your mouth after brushing your teeth, now's the time to start setting that glass by your sink again. A rinse, a refill, then a few gulps — and like that, you're hydrated before bed.