Hong Kong Micro Condo Design By LAAB Fits A Home Theatre And Guest Bed
A design firm has just proven that you don't have to give up perks like a home theatre system or a guest bedroom when you live in 309 sq. ft.
LAAB Architects, based in Hong Kong, has released a design that maximizes the space inside a tiny unit that, in less creative hands, would be barely big enough to fit a bedroom.
Apartment owners Michelle Tennant and Andy Knight live in Central, a pricey Hong Kong neighbourhood that is considered the "heart" of the city.
Earlier this month, the pair said they couldn't imagine living anywhere else, but they still wanted a big kitchen and bathtub.
So, instead of buying a bigger place, they contracted LAAB to do everything they could with the space they had.
The resulting design uses a "form follows time" philosophy — spaces in the apartment would open and close depending on the time of day.
The bathtub, for example, sits right behind the living room couch facing the kitchen. A screen comes down to let occupants shower in the morning.
At night, the screen can come up, boards can be placed across the tub, then a cushion can be laid over top of them to create a guest bedroom.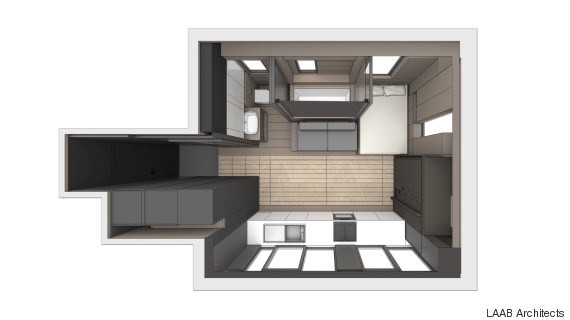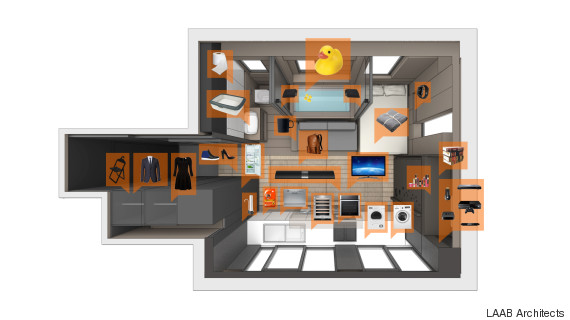 Meanwhile, the master bedroom is little more than a bed. The walls are a retractable screen and a closet that opens to reveal a bookcase.
As for the home theatre, that space has a 4K TV inside a sliding unit that lets residents watch shows at night.
The apartment also has storage space inside the floor and "cat runs" that allow their three pets to play throughout the space.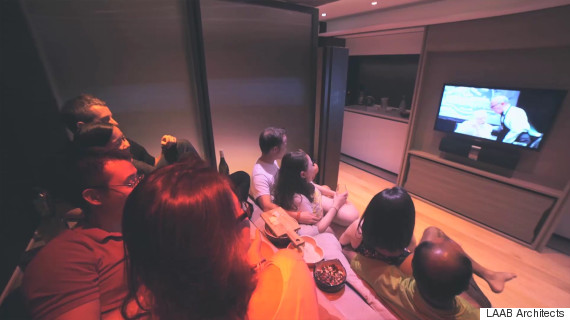 This isn't the first apartment to maximize the use of small spaces.
BosaSPACE homes, located in Surrey, B.C., allow occupants to turn their kitchen islands into dining room tables, change queen beds into couches, and even slide bedroom doors to maximize the size of a living room.
All of this in 560 sq. ft.
REST 1. 1 bedroom with queen bed DINE 2. Kitchen island prep station plus dining for 2 LOUNGE 3. Living room with flat screen and comfy seating for 5

DINE 1. Dining table extends to comfortably seat 8 2. Prep your meal at the kitchen island 3. Built-in shelves mean the bar's always open LOUNGE 4. Bedroom doors slide away to double size of dining room 5. Queen bed transforms into modern sofa; lounge now seats 7

DINE 1. Dining table tucks inside island and perfectly out of the way 2. Stack and tuck dining chairs out of sight—just like that! LOUNGE 3. Double the size of your living room in minutes 4. TV slides to reveal more space: a daybed-sofa to seat 3 or a spare bed for the overnight guest

Up Next: Vancouver Laneway Homes - Lanefab Design

Up Next: 20 Of The Tiniest Homes In The World

Andrew And Crystal Odom's 248-square-foot space also houses their baby daughter.

If you weren't already in the loop, Mayor Michael Bloomberg is building 300-square-foot apartments in New York City. And they're allegedly going for a pricy $2,000 each.

This authentic, 224-square-foot Yellowstone cabin may have been a place where President John F. Kennedy once hung out.

According to the Tiny House Blog, this 9 foot by 22 foot home was made from an old greenhouse foundation.

Macy Miller's 196-square-foot abode is really her dream come true.

When Elizabeth Turnbull got accepted to Yale's School of Forestry and Environmental Studies as a graduate student, she, like any other student, thought about where she would live. But unlike any other student, she decided to build her own 144 square foot home.

Chris and Malissa Tack say they would be willing to live in their 140-square-foot home "indefinitely."

A small Paris apartment has been the object of many a real estate fantasy thanks to the iconic Audrey Hepburn film, "Sabrina." Marc Baillargeon and Julie Nabucet designed an apartment in Paris that measures a tidy 130 square feet. Do you think this home is too tiny?

The compact, 128-square-foot house hit the market for an asking price of $23,000.

Peter King decided to build tiny homes because he was sick of being a slave to debt and mortgages, and wanted to indulge in life's small, 10 by 10 foot pleasures.

Jay Shafer's home, "Tumbleweed", is a mere 96 square feet. "I don't like to think that I'm spewing a bunch of extra greenhouse gasses into the environment or consuming a lot of non-renewable resources just for the sake of wasted space," Shafer said.

Dee Williams decided to downsize from a 1,500 square foot home to a 84 square foot home after a trip to Guatemala. She built her current home, "The Little House," herself for about $10,000. With a propane tank for heat and electricity coming from solar panels, Williams cost of living runs extremely low.

This 60-square-foot tiny home is apparently the country's smallest house ever. It's also known as the Quay house.

You'll never believe how slim this home in Poland is.

Just recently did Derek Dierdricken put the 32-square-foot tiny home up for sale -- for a mere $1,200.

This German architects claims his 11 square foot structure is the tiniest home yet. Do you agree?

Though we're not sure of it's exact size, this small structure has survived the unpredictable Serbian weather and has become a hot spot for tourists lucky enough to take a dip

Simon Saville's home looks like it came straight out of the Shire. The Woodland Home in Wales has a compost toilet and a fridge that is cooled by air coming from foundations underground, just a couple of the many eco-friendly attributes of this home.

Designer James Stuart's company Twelve3 makes 10 and 12 cubic meter homes that anyone can purchase. According to their Web site, their goal was "to produce the least amount of waste possible, and house two people in as small a space as would be practical and comfortable."

The mobile space, which can't be more than thirty square feet, has just enough room for a tiny kitchenette with a built-in bench, a sleeping loft and various drawers and shelves tucked into its nooks and crannies.
Talk about making the most of what you have!