Fort St. John Wildfires Force Evacuation Orders In Northern B.C.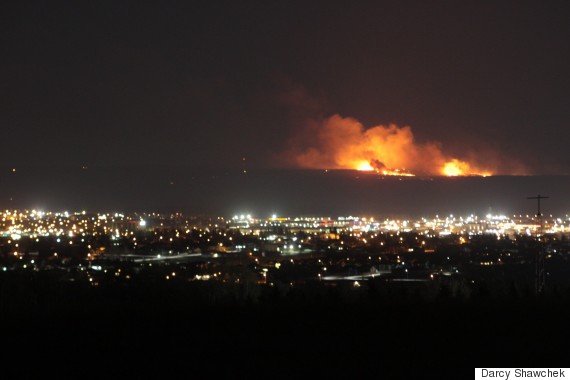 Wildfires burn outside Fort St. John, B.C. (Photo courtesy Darcy Shawchek Photography)
FORT ST. JOHN, B.C. - A state of emergency remains in effect, but residents forced from their homes by numerous wildfires around the northeastern B.C. city of Fort St. John may get a break from the weather.
Environment Canada says winds will continue to gust up to 50 kilometres per hour, but the nearly 30 degree temperatures recorded Monday are forecast to barely skim the mid-teens on Tuesday and rain should arrive by the end of the week.
Heat and wind are blamed for fanning fires that prompted evacuation orders in three areas around Fort St. John, including South Taylor Hill, Charlie Lake and Baldonnel.
A post on the city's Facebook page said three structures had been lost by Monday evening, but it also said the Baldonnel blaze was 50 per cent contained.
Prince George fire
In Prince George, a grassfire in the Valleyview subdivision forced the evacuation of about 40 properties Monday afternoon when flames jumped into the trees, but Deputy Fire Chief Cliff Warner said no homes were lost and the fire was under control by early evening.
Crews also had to rush in heavy equipment to build a guard around a blaze that broke out late Monday in the Foothills Landfill north of Prince George, but nearby roads remain open, despite heavy smoke.
Earlier on HuffPost:
The Rock Creek wildfire, east of Osoyoos, destroyed dozens of homes and put hundreds of people under evacuation orders.

Officials say the blaze was human-caused.

A fast-moving and aggressive wildfire forced residents near Oliver to evacuate.

Crews battle an 430-hectare wildfire

A firefighter works on the aftermath of a blaze that tore through an area of West Kelowna.

Premier Christy Clark and Prime Minister Stephen Harper visit West Kelowna. Clark said wildfires could cost the province an additional $300 million this year if they continue at this pace.

Prime Minister B.C>

A rapidly growing wildfire near Westside Road in the Shelter Cove subdivision led to evacuations.

The aggressive Puntzi Lake firegrew six times in size to about 80 square kilometres in just one weekend.

The Cariboo Regional District released a video that highlights the destruction from the Puntzi Lake wildfire. The aerial footage shows the ruins of Ferguson's home as well as what used to be the Woodland Caribou Resort on the lakeside.

The Puntzi Lake fire in B.C.'s central interior is seen from the airtanker base.

The aggressive Puntzi Lake firegrew to about 22 square kilometres, and forced residents from 50 properties from their homes.

The fire destroyed structures on four properties, including a resort, two permanent homes, one seasonal home and multiple out buildings.

This fire was considered dangerous as debris rolled down the mountain into the lake.

Some crews described trees shooting down "like torpedoes."

The normal view of Dog Mountain.

The Martin Mars water bomber will be back up in the air to fight the Sproat Lake fire.

Taken from Pemberton, B.C. on July 5, 2015.

Fires near Pemberton grew multiple times overnight.

Smoke and haze over parts of B.C. triggered air quality advisories.

A Coastal Fire Centre crew leader as views the Boulder Creek fire on July 2, 2015.

The Newby Lake wildfire in the Similkameen near the USA / Canada border was 180 hectares in size on July 4, 2015.

Thousands of messages of gratitude poured into a provincial website for firefighting crews.

As of early July, the province has exceeded its $63-million firefighting budget.

B.C. Premier Christy Clark meets with firefighting officials in Pemberton on July 8, 2015. She compared their efforts to playing a dangerous game of chess with a cheater.

A NASA satellite image shows the smoke from wildfires covering B.C. on July 5, 2015.

Sunset over Kokanee Creek Park on July 5, 2015.

Haze blankets Vancouver on July 5, 2015.

The wildfires created a smoky haze over the Vancouver region on July 5, 2015.

All the smoke triggered an air quality advisory.

The B.C. Wildfire Service said gusty winds and drought conditions are hampering efforts to contain dozens of wildfires in the province.

Haze blankets Vancouver on July 5, 2015.

Cambie/King Edward Streets

Other areas in B.C. saw very hazy skies too, like in Vancouver Island.

"Not filtered!"

The Huckleberry fire, which prompted an evacuation order and alert, was contained by July 5, 2015.

NEXT: Lytton, B.C. Wildfire in June 2015

A wildfire near Lytton, B.C. is believed to have been "human-caused."

Winds of 40 to 60 k/h fanned the wildfire which started on June 11, 2015 near Lytton, B.C. It grew from 600 hectares to 1,300 in four hours.

The wildfire grew to 1,500 hectares in size on the second day of the blaze.

The Rocky Mountaineer train gives tourists close-up view of the massive blaze.