French's Ketchup Unofficial Website Could See Profits Donated To Leamington
Some consumers who want to put their money where their patriotism is have had a hard time finding French's ketchup — made with Canadian tomatoes — on store shelves.
Now a new not-for-profit online retailer aims to solve the problem by selling directly to consumers.
And if the retailer does turn a profit, the founder says the money will be donated to Leamington, the Ontario tomato capital that has struggled in the wake of the shutdown of a Heinz plant.
The GetFrenchs.ca website is the brainchild of Joel Paglione, a Chicago-based entrepreneur and Leamington native whose mother worked at the plant, and who watched friends lose jobs when Heinz shut down its tomato operations in 2014.
Paglione says even in Leamington itself, it's difficult to find French's ketchup.
"People end up lobbying companies or complaining, but I thought, why not just do e-commerce?" Paglione said.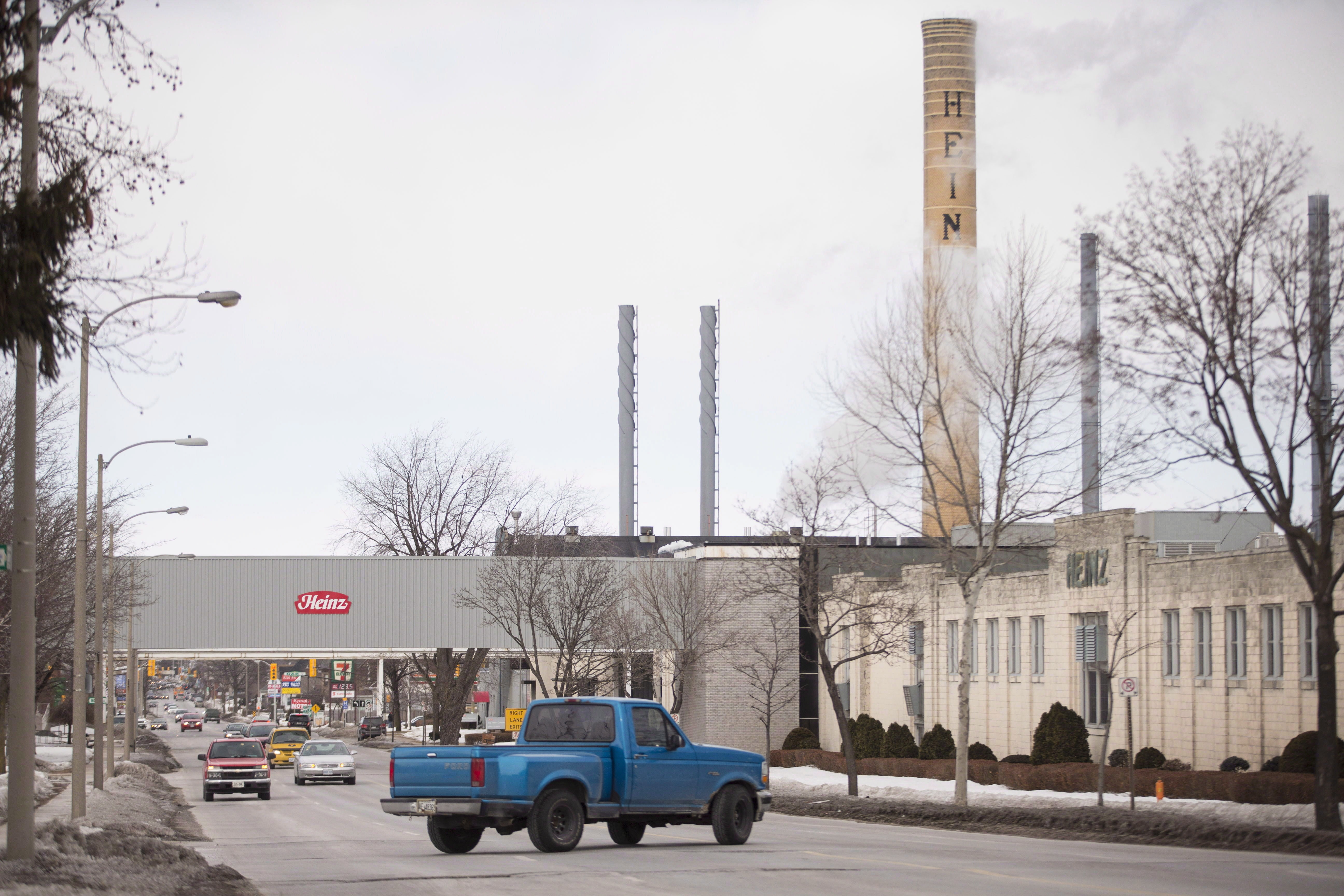 Cars drive past the Heinz plant in Leamington, Ont. on Feb. 27, 2014. Some 740 people lost their jobs when Heinz halted tomato operations at the plant. Highbury Canco now processes tomatoes there, but with about a third as much staff. (Photo: CP)
The website is selling 750-mL bottles of French's ketchup for $3.95, a typical retail price for ketchup. Paglione says he's buying the ketchup at retail prices and selling it at cost.
That French's ketchup is made entirely with Canadian tomatoes became a viral fact earlier this year, with many consumers — and even politicians — seeing an opportunity to reward a made-in-Canada alternative to the long-popular Heinz ketchup brand.
In one well-publicized incident, grocery giant Loblaws removed French's ketchup from its shelves, before quickly reversing that decision after public criticism.
Loblaws said demand for French's ketchup was low, but an internal memo said the brand was "cannibalizing the sales of PC ketchup [Loblaws' house brand] and has had little impact [on] Heinz ketchup."
Paglione thinks grocery retailers may just be "pacifying everyone" by stocking the ketchup while its profile is high. He suspects grocers will start removing it from shelves again in the future.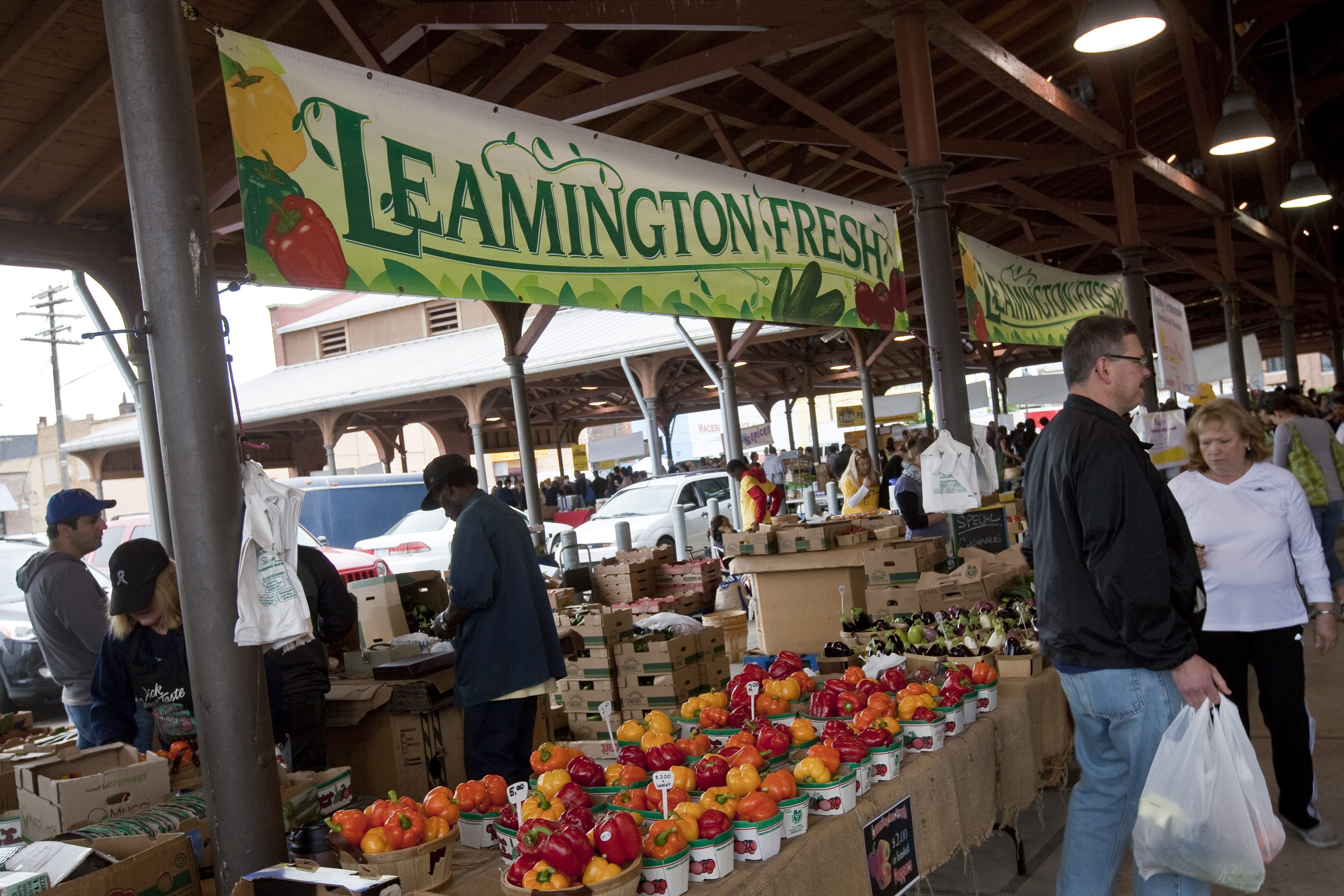 A stall of peppers from Leamington is seen at the Detroit Eastern Farmers market in Detroit, Mich., Saturday, June 8, 2013. (Photo: CP)
If his website turns a profit, Paglione says he will cut a cheque to Leamington, either to support its schools or to help the city grow its tomato culture. He would like to see the money help ensure the city's tomato festival continues, and help rehabilitate the city's tomato-shaped tourist information booth.
French's itself is also racing to capitalize on its sudden made-in-Canada reputation. The condiment maker announced last month it plans to bottle its ketchup in Canada as well, on top of using Canadian tomatoes.
Sun-Brite Foods' Primo brand ketchup jumped into the made-in-Canada race last week as well, promoting the fact that its ketchup is already made from Canadian tomatoes and bottled in Canada.
Correction: An earlier version of this article suggested Leamington had removed its tomato-shaped tourist information booth. According to Paglione, the booth remains but is in disuse and in need of repair. HuffPost Canada regrets the error.
Also on HuffPost:
Signs You're A Ketchup Addict
Because what a wasted opportunity to eat more ketchup.

It was the greatest day of your life.

And you can't stop looking at it.

(Seriously, you might want to get help.)

And we're here to tell you that THIS IS DISGUSTING.

Because you mean it. And if you don't have it, you wish you did.

The two go together like a horse and carriage.

You don't discriminate when it comes to ketchup. It's all freaking amazing.

And it only set you back $34.95.

What better way to profess your love for someone?

(But seriously people, ketchup on steak?!)

Knowing you have all that ketchup in your home would make you sleep better at night.

Once you've committed this culinary crime, you know you have a serious problem.

And Uma Thurman will forever be your favorite actress. Don't remember it? It goes something like this: "Three tomatoes are walkin' down the street. Papa Tomato, Mama Tomato and Baby Tomato. Baby Tomato starts lagging behind, and Papa Tomato gets really angry. Goes back and squishes him and says: 'Ketchup.' Ketchup." You LOVE it.

You

(GROSS.)

(But it's not really. You know that, right?)

Waste.

Because you just really, really, really, love ketchup. Like a lot. A lot, a lot, a lot. So much so that it even hurts inside.