Kate Middleton's India And Bhutan Royal Tour Wardrobe Reportedly Cost $50,000
Last week, we mere mortals were gifted with an array of brand new Kate Middleton outfits (at last!) during her seven-day tour of India and Bhutan. All in all, the Duchess of Cambridge wore 18 different outfits (and 40 different designer labels) in public, and we must admit, she nailed each one of them.
But according to E!, the "East-meets-West" tour wardrobe didn't come cheap. They're reporting Catherine's Indian and Bhutan royal tour ensembles cost a whopping $50,000 in total.
We mean, what do you expect from a future queen?
Here's five of the Duchess' most expensive outfits:

1. When Kate met Bollywood's royalty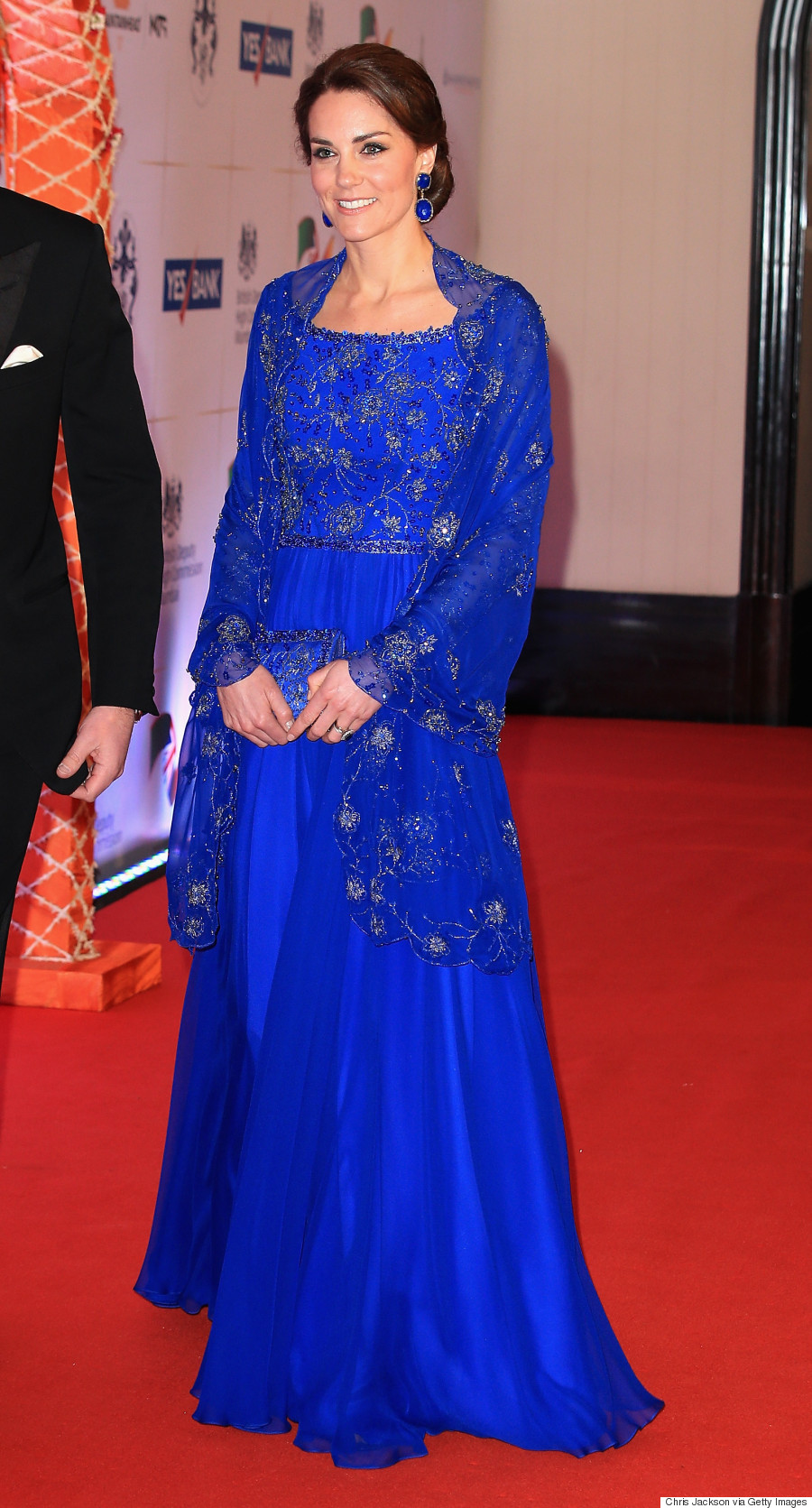 Cost: $8,675
It is reported that the beaded Jenny Packham gown donned by the mother of Prince George and Princess Charlotte cost $6,000. And those Amrapali Jewels blue lapis earrings upped the cost with their $1,925 price tag.

2. The Katniss Everdeen look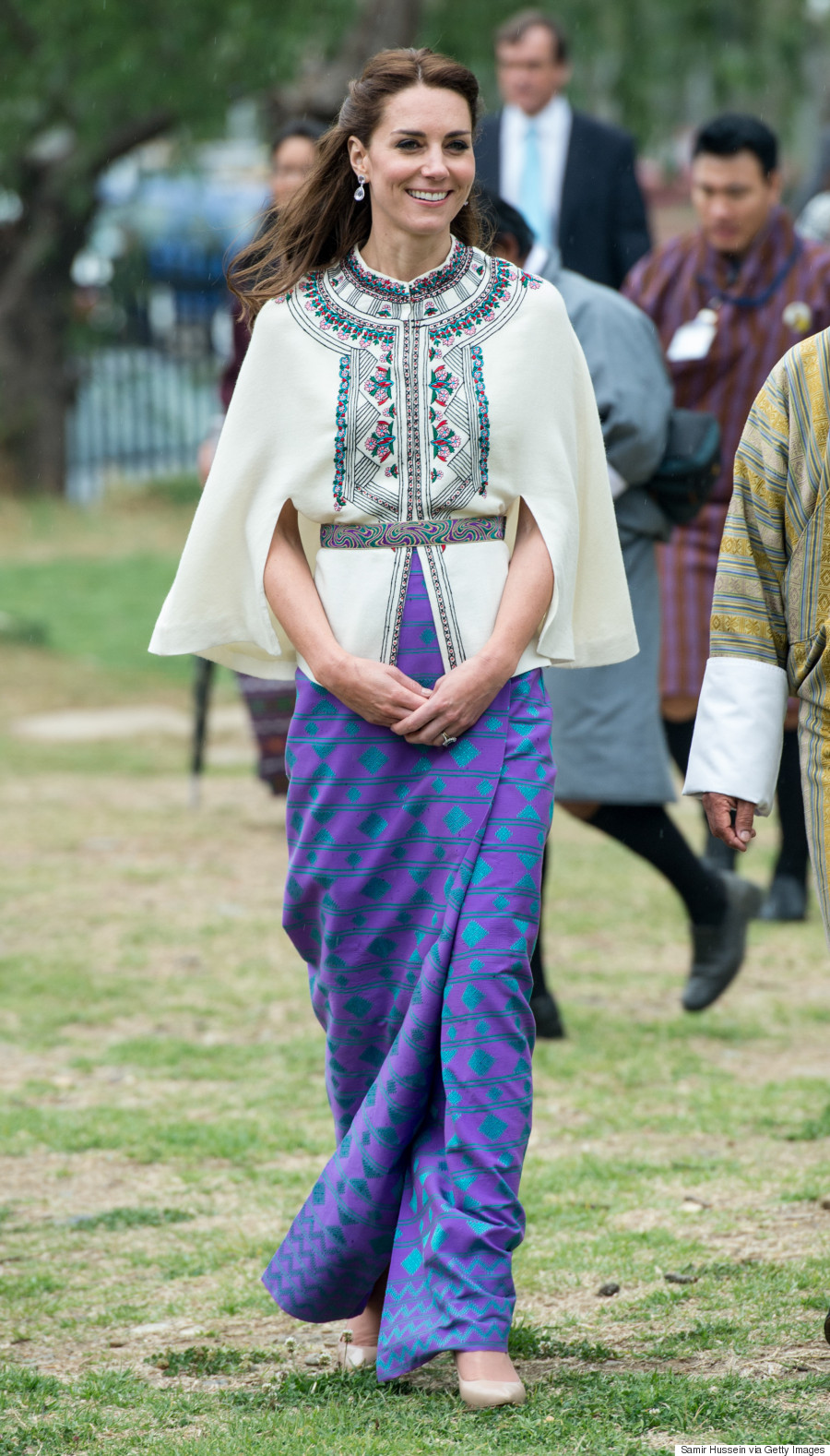 Cost: $7,875
In thanks to the pricey Kiki McDonough Lavender Amethyst Pear and Oval Drop earrings ($5,500), the 34-year-old's archery outfit was also up there in terms of cost. The ensemble also consisted of a fabric hand-woven by Mrs. Kelzang Wang Mo of Bhutan, which E! is reporting took five people and more than three months to tailor it for Kate.

3. Meeting the Prime Minister of India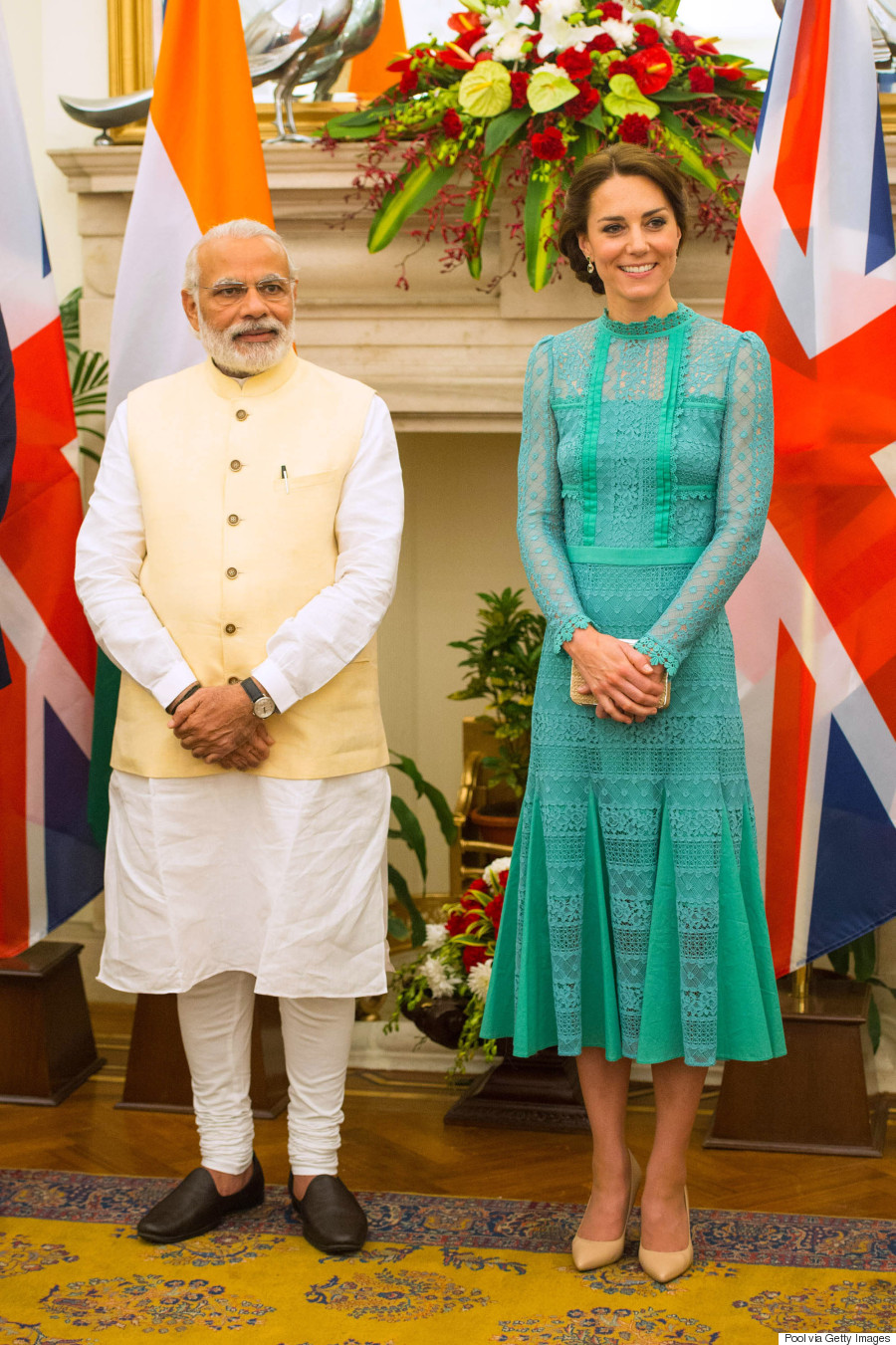 Cost: $6,985
While meeting the world leader, Kate made sure to don something special. For the occasion, Middleton sported a $1,395 Alice Temperley Desdemona lace dress and another pair of expensive Kiki McDonough earrings, this time costing $4,950 in thanks to it being custom-made to commemorate the birth of Princess Charlotte.

4. The Queen's party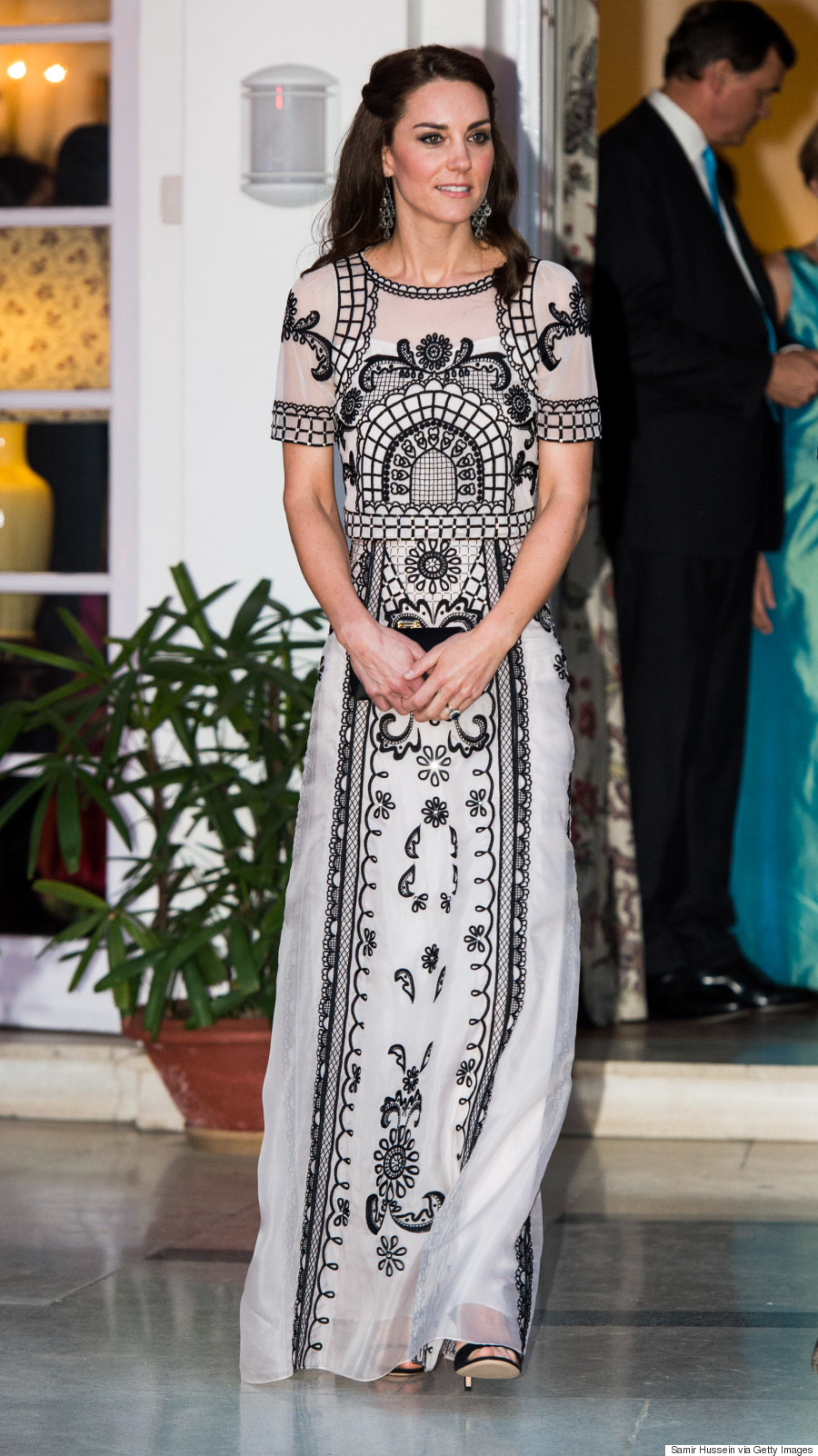 Cost: $6,695
In celebration of the Queen's upcoming birthday, the Duchess donned a beautiful Alice Temperley Delphia skirt and matching crop top that cost $4,520. The Prada bag in hand upped the price by $1,340.

5. The Marilyn Monroe Dress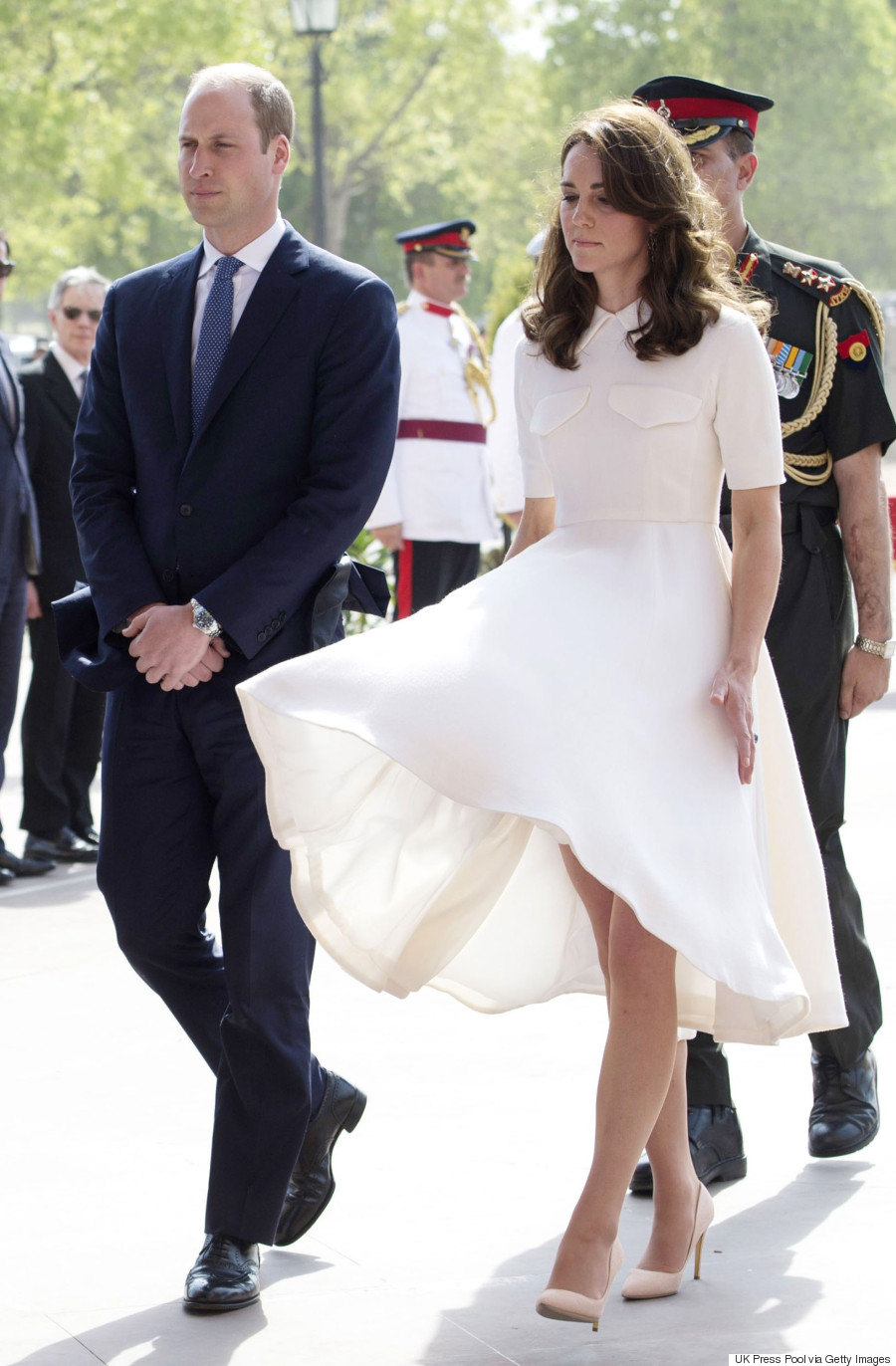 Cost: $5,385
Kate almost suffered a Marilyn Monroe moment in her free-flowing Emilia Wickstead gown which rang in at $2,500. She paired the look with Rupert Sanderson pink pumps ($600) and Temple of Heaven earrings ($1,495).
And if you're wondering what Kate's cheapest outfit looked like, it's the printed dress she wore to feed baby elephants and rhinos. It's a Topshop steal for $140. The whole outfit, with recycled wedges and Accessorize earrings, comes in at smooth $208.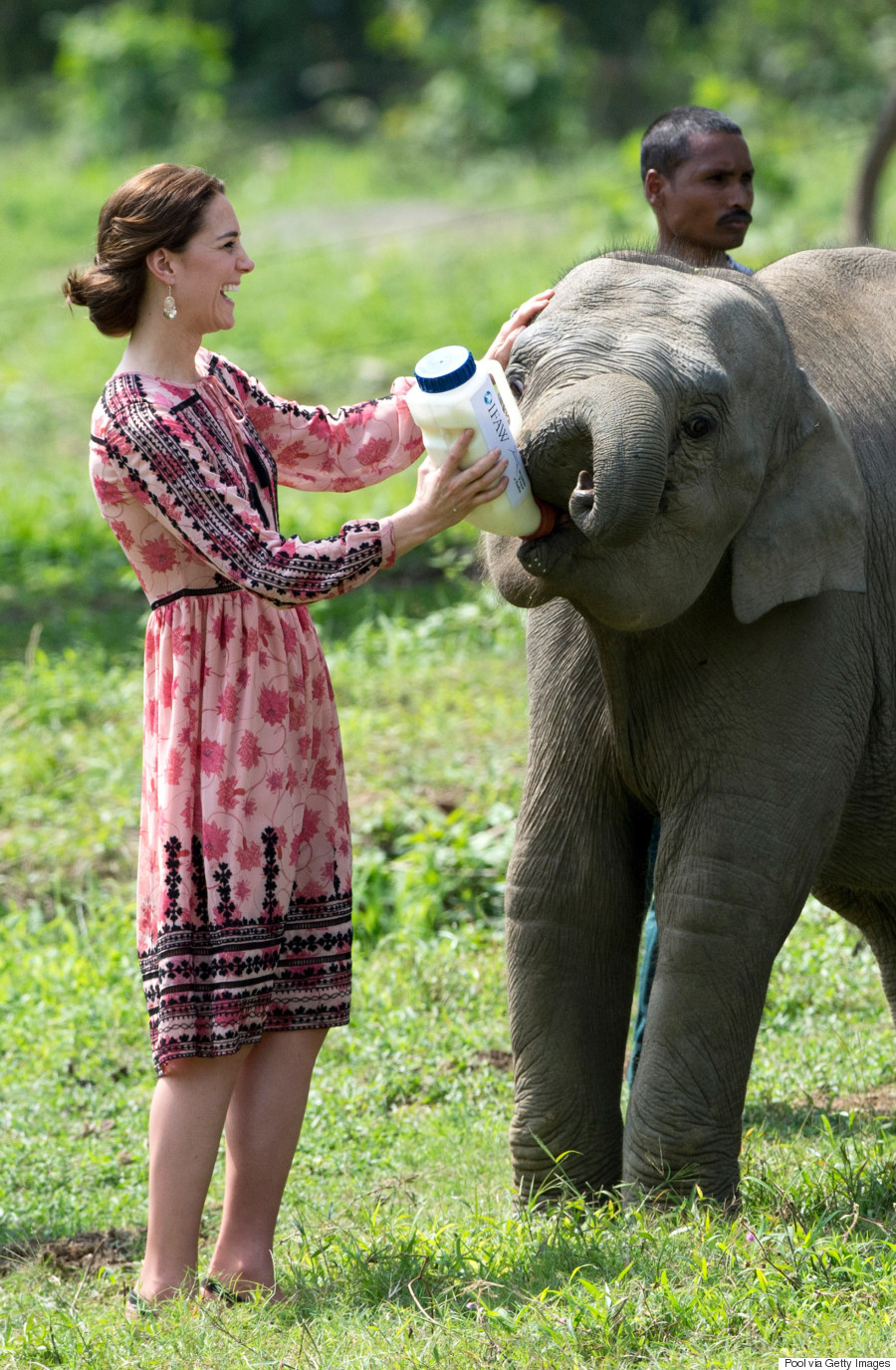 What have we learned here? Looking good doesn't come cheap...but we'll always have Topshop.
Check out the slideshow below for all of Kate Middleton's royal tour looks:
Kate Middleton's Outfits From The Royal Visit 2016 - India And Bhutan
The royal couple's first stop was at their hotel, the Taj Mahal Palace Hotel to lay a wreath to honour the victims of the 2008 terror attacks. Kate wore a stunning crimson peplum blouse and mid-length skirt with paisley accents by Alexander McQueen. She accessorized with her favourite LK Bennett Fern nude pumps, a clutch by Russell and Bromley and earrings by Temple of Heaven.

Later that day, Kate switched over to a turquoise and coral flowing sundress by Anita Dongre for a cricket and football (soccer) match.

She managed to get in a few serves and kicks wearing a pair of nude espadrille wedges from Monsoon, another budget-friendly U.K. brand.

For the grand finale of their first day, the Duke and Duchess attended a Bollywood-inspired charity dinner where Kate dressed in a lapis-coloured gown and matching shawl, both by Jenny Packham. The beading on the two garments was done in India, a fitting nod to the local culture and artisans.

Kate completed the look with a pair of matching statement earrings by Indian jeweller Amrapali, and heeled Prada sandals.

Prince William and Kate spent their second day touring Mumbai with a stop at India's national war memorial as well as the Gandhi Smiriti museum. For the occasion, the Duchess picked a collared midi dress with a swing skirt by Emilia Wickstead, a blush-toned clutch by Mulberry, and matching Rupert Sanderson pumps.

That night, Kate swapped her daytime threads for an evening look for the Queen's garden party. She wore a ornate floor skimming skirt and matching silk crop top by Alice Temperley, plus a pair of statement earrings and Gianvito Rossi open-toe shoes.

Kate kept it casual on day three, sporting nude flats and this patterned maxi dress by U.K. retailer Glamorous to visit a centre for homeless children in New Delhi.

Next, the Duke and Duchess met India's Prime Minister Narendra Modi for lunch. The Duchess changed into a mint green lace high-neck frock by Alice Temperley, and pulled her hair back to polish off the look.

She carried a LK Bennett straw clutch along with her, wore nude pumps by the same designer. For accessories, she wore custom Kiki McDonough earrings, which were made to celebrate Princess Charlotte's birth.

The two closed the night enjoying fireside dancing and drum performances for the Bihu Festival Celebration at Diphlu River Lodge Kate again opted for a flowing blue and green printed tunic dress from Anna Sui and finished the look with simple, black Pied a Terre wedges.

Will and Kate both sported their most casual looks for a safari through Kaziranga National Park on the fourth day of their visit. The mum of two dressed down in a pair of Zara skinnies, a polka-dot RM Williams shirt and Ray Ban sunglasses.

The royal couple were gifted with hand-woven scarves upon their arrival.

Still at the park, the Duchess of Cambridge completely overhauled her look for a slightly dressier vibe. Catherine slipped into a pink, embroidered frock from Topshop, and — you guessed it — it's already sold out.

She got repeat wear out of her black wedges and these $11 earrings from Accessorize to finish the look before heading off to meet the rhinos and elephants!

On day five of their international trip, Prince Willam and the Duchess arrived in Bhutan, for a two-day visit.

Kate stepped off the plane in Paro, Bhutan donning a sunshine yellow, coat-dress by Emily Wickstead. And she brought along the same straw purse and nude heels that she wore earlier to meet the Prime Minister of India.

Their first stop of the day was to meet the King and Queen of Bhutan, and the plans included a round of archery. Kate tried her hand at the sport and managed to keep her balance while wearing heels! Bravo!

The Duchess wore a Paul & Joe top with draped sleeves and intricate beading down the front, with a purple and teal skirt (called a Throngdrel). The skirt was custom-made in London from Bhutanese fabric.

That evening, Catherine unknowingly twinned with Drew Barrymore on the same day, halfway around the world! The Duchess of Cambridge wore this floor-length Tory Burch embellished dress with an orange shawl and black strappy sandals for dinner with Bhutan's royal couple.

The next day, Kate brought out another pair of Zara pants, an army green vest from Really Wild Clothing, white collared shirt and a pair of riding boots that have been in her closet for more than a decade. The activity of the day was a hike up to Tiger's Nest Monastery, tucked in the Himalayan mountainside.

For the Britsh royals' last night in Bhutan, Kate stepped out in a flowing poppy-printed gown from Beulah.

The Duke and Duchess jetted back to Agra, India for the final day of their trip. Kate wore white Alexander McQueen suit, her nude pumps once again and a necklace gifted to her by the Queen of Bhutan.

Before their departure, Kate and Will made a visit to the Taj Mahal. The two recreated a famous photo of Willam's late mother, Princess Diana, sitting alone on a marble bench in front of the "Monument of Love". Kate closed the trip in an ornately patterned, royal blue and white Naeem Khan dress, her nude heels and a pair of $7 earrings she bought on the mountainside in Bhutan.
Follow Huffington Post Canada Style on Pinterest, Facebook and Twitter!