Oilsands To Determine Whether Canada Meets Its GHG Goals: Minister
OTTAWA — Market conditions in the oil patch will largely determine whether Canada's emissions of greenhouse gases decline this year, says federal Environment Minister Catherine McKenna.
Prime Minister Justin Trudeau is poised to sign the Paris climate agreement later this week at the United Nations in New York, after making the fight against climate change a central theme of his new Liberal government.
But Trudeau carries with him to New York the latest official government inventory of Canadian carbon emissions, which shows a slow but steady increase from 2009 through 2014 — with no specified end date in sight.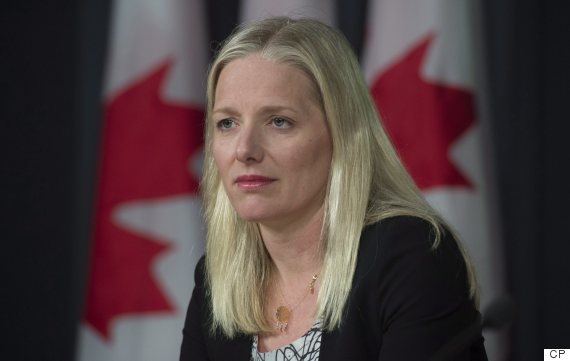 Environment and Climate Change Minister Catherine McKenna. (Photo: Adrian Wyld/CP)
While Canada contributes only about 1.6 per cent of global emissions, according to Environment Canada, it is among the highest per capita emitters on the planet.
"You're absolutely right, emissions are going up and they need to go down,'' McKenna told reporters following a two-hour appearance Tuesday at the Commons environment committee.
She could provide no assurances that the trajectory will change in the Liberals' first frenetic year in office.
"A lot of that will depend actually this year on the market,'' said McKenna.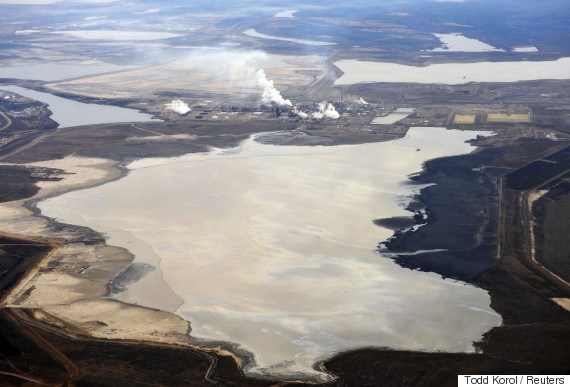 The Syncrude oilsands plant and tailings pond at their operation north of Fort McMurray, Alta. on Nov. 3, 2011. (Photo: Todd Korol/Reuters)
The McKenna-led Canadian delegation is widely credited with helping the international Paris conference find consensus last December on a goal to limit average global warming to less than two degrees Celsius above pre-industrial levels. She's now part of a government that's desperately trying to find a policy path to back up its aspirations.
Four federal-provincial working groups are examining policy areas and will report back next fall, after which provincial and territorial leaders will convene again with Trudeau to hammer out a pan-Canadian plan.
McKenna's two-hour grilling by opposition MPs at committee Tuesday was heavily larded with references to consultations with the provinces and only a few specifics.
The minister cited the recent agreement between Canada and the United States to cut methane emissions by 40 to 45 per cent over the next decade as "a big deal,'' the equivalent of taking all Ontario and Quebec cars off the road for a year.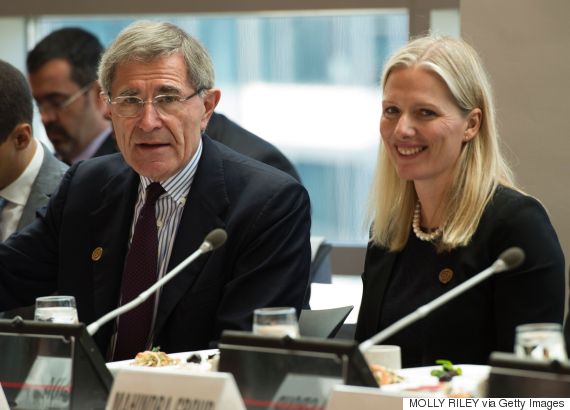 Gerard Mestrallet, Eigne CEO, chats with Catherine McKenna, Canada's minister of environment and climate change, at the Carbon Pricing Leadership Coalition Assembly during the IMF and World Bank Group 2016 Spring Meetings on April 15, 2016 in Washington, D.C. (Photo: Molly Riley/AFP via Getty Images)
On Thursday, the government will launch a new web portal where Canadians can make suggestions about how to combat climate change and McKenna is promising that all the responses will be viewable in full on the site.
That could turn the exercise into a national version of the vitriolic flame wars that typify the comment boards below stories on news sites.
McKenna may have received a taste of what's to come when Conservative MP Marilyn Gladu asked one of those pointed questions that are impossible to answer: "What tangible temperature decrease do we expect to see from the billions of dollars being spent on climate change?''
Conservative Ed Fast wanted McKenna to explain how the Liberals will protect Canadian businesses from unfair foreign competition under McKenna's preferred option of carbon pricing.
New Democrat Nathan Cullen wanted to know why the first Liberal budget failed to address fossil fuel subsidies.
It's complicated and the government's looking at it, McKenna replied to both.
Outside the committee room, Cullen accused the Liberals of going to Paris and making commitments with no plan to back them up.
"It was this hopeful thing that the world celebrated, that many Canadians celebrated, but behind it was nothing,'' said the northern B.C. New Democrat.
Canada's formal ratification of the Paris deal won't come until after the first ministers meet again next fall, McKenna said.
"We want to go do the hard work to figure out how we can meet or exceed our current commitments and then we'll be in a position to ratify.''
Also on HuffPost:
Celebrities Who've Visited The Alberta Oilsands
The singer cause quite a stir when his visited the oilsands earlier this year, survey developments by air. He compared what he saw with the disaster left by the Hiroshima atomic bomb.

He went on to slam the Harper government, saying: "Canada is trading integrity for money. That's what's happening under the current leadership in Canada, which is a very poor imitation of the George Bush administration in the United States and is lagging behind on the world stage. It's an embarrassment to any Canadians."

Listen to his full address.

Actor Leonardo DiCaprio was in Fort McMurray this week researching for a documentary about the oil sands and climate change.

DiCaprio is the voice behind a four-part series that focuses on climate change challenges and solutions. The first part, "Carbon," explores how governments worldwide are putting a price on carbon through carbon trading or carbon taxes.

While in Fort Chipewyan, he participated in the ALS Ice Bucket Challenge, alongside First Nation chiefs. DiCaprio nominated Stephen Harper.

The human rights leader visited the oilsands in May of this year. After a Suncor-sponsored flyover of some of the developments, Tutu called the area "filth."

"The fact that this filth is being created now, when the link between carbon emissions and global warming is so obvious, reflects negligence and greed," Tutu told more than 200 rapt attendees at a conference on oilsands development and treaty rights in Fort McMurray. "Oilsands development not only devastates our shared climate, it is also stripping away the rights of First Nations and affected communities to protect their children, land and water from being poisoned."

The Canadian director, director of the pro-environment film Avatar and many other blockbuster movies, visited the oilsands in 2010, as well as visiting with then-Premier Ed Stelmach. He was not vocally against the oilsands, but said "it will be a curse if it's not managed properly."

"It can also be a great gift to Canada and to Alberta. I'm pragmatic enough to understand the powerful economic forces that are driving this development."

Listen to James Cameron speak following his oilsands tour in 2010.

Fort Chipewyan residents emotionally voice their concerns of cancer and pollution to James Cameron on September 28, 2010.

Campbell toured the oilsands in 2008, and said she was "horrified by the pace and scale of development in the tar sands, and the weak response by our federal and provincial governments,"

Campbell also backed Neil Young's fight to get major oil companies to respect Canadian First Nation treaties, by signing a letter of support for the Athabasca Chipewyan First Nation.

Although he didn't techincally visit the Alberta oilsands, U.S. actor Robert Redford spoke out in a video last year, calling Alberta's oil "the dirtiest oil on the planet."

"Developing the Canadian tarsands is destroying our great northern forest at a terrifying rate. It is producing enough carbon pollution to wreak havoc with our climate for decades to come. And the pipelines that carry this toxic tarsands fuel are a direct threat to our own drinking water supplies."

Watch the video.

U.S. actor Darryl Hannah has also been a vocal opponent of the Alberta oilsands and has protested against various pipelines. She has even been arrested for blocking the construction of the Keystone XL pipeline.

She has called Alberta's oilsands an "atrocious environmental travesty."

Actress takes a stance. Fox News: Hannity http://www.foxnews.com/hannity/index.html Fox News: Hannity - The Great American Blog http://hannity.blogs.foxnews....

Diana Krall was the second act on Neil Young's Honour the Treaties tour.

Read more here.

work in the oilsands are fiercely proud of their region" width="52" height="52"/>

When Neil Young compared the Fort McMurray area to Hiroshima, northern Albertans were quick to defend with the #myhiroshima

First Nations in the region" width="52" height="52"/>

When Greenpeace co-founder and, and its former leader, came out in support of the oilsands, Patrick Moore's comments certainly created some ripples among watchers but the impact of his endorsement was negligible. Whether speaking in favour or against the oilsands, environmentalists just don't have the pull that A-list celebrities do.

In response to Neil Young's comments that the oilsands is the ugliest thing he's ever seen.

NEXT ----> Facts About The Oilsands

Fort McMurray, Alberta, has seen its population grow from 926 in 1951, to more than 60,000 today -- a growth rate of 70,000 per cent over 60 years. The city grew by 14,000 people, or 29 per cent, in just the 2006 to 2011 period. Source: StatsCan

Whereas in Alberta in general there are approximately 99 to 104 men for every 100 women, in Fort McMurray, where male-dominated oil jobs dominate, that ratio is skewed well towards men. There are 110 to 140 men for every 100 women in Fort McMurray, depending on the neighbourhood. Source: Kevin Correia This caption has been corrected from an earlier version.

The average price of a two-bedroom apartment in April, 2011, was $2,152 -- comparable to major Canadian cities like Toronto and Vancouver. For those rates to be affordable, you'd need to earn at least $80,000 per year. But given that oil workers can earn as much as $120,000, that is, actually, affordable by Fort McMurray standards. Source: Wood Buffalo Regional Municipality

Fort McMurray sits at the centre of what is now recognized as the third-largest proven supply of oil in the world. Alberta has 170.8 billion barrels of oil in the ground, about 12 per cent of the world's total. By comparison, Saudi Arabia has 260 billion barrels, and Venezuela 211 billion. The oil sands' share of that total continues to grow, and with it, Fort McMurray's importance to the industry. The city is expected to quadruple in size, to about 231,000, within 20 years. Source: Government of Alberta

There are 140,000 people employed in Alberta's oil and gas extraction industry -- a very large number, considering the province's total population of 3.6 million. In all, energy counts for 23.4 per cent of Alberta's economy. Source: Government of Alberta

Classified as a sub-Arctic zone, Fort McMurray is bitingly cold, even by Canadians' standards. The average night-time low in January is minus-24 Celsius, or minus-11 Fahrenheit, though the average daytime high in July does reach a decent 23 Celsius (73 Fahrenheit). Source: The Weather Network

When Neil Young visited the oilsands last year, he was given the opportunity to meet with representatives from the industry but turned them down.

Neil Young was then invited to sit down with the Canadian Association of Petroleum Producers when he was in Calgary last week but again refused.

The day after Neil Young wrapped up his Honour the Treaties tour in Calgary, 23 celebrities - actors, musicians, authors and environmentalists - signed a letter of support for Young's fight. Among those who signed are actress Neve Campbell and Gord Downie from The Tragically Hip.