Trudeau Says He's Listening To Michelle Rempel's Complaints About Sexism
OTTAWA — Prime Minister Justin Trudeau says he is paying attention to a Conservative MP's complaint about the sexism she routinely faces in her work as a parliamentarian.
Calgary MP Michelle Rempel's recent op-ed in the National Post outlines how she has faced unwanted touching, catcalls, gender slurs and online abuse since she entered Parliament in 2011.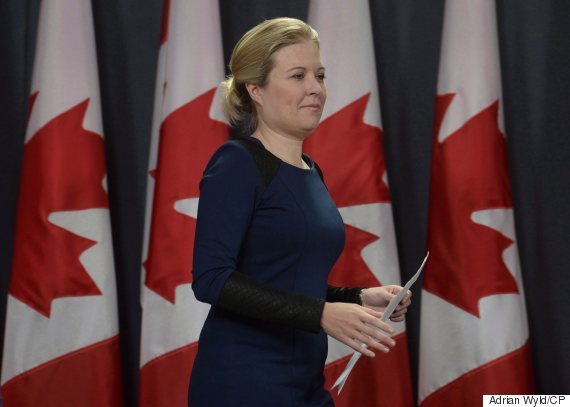 Conservative MP Michelle Rempel arrives at a news conference about proposed government changes to immigration legislation, Thursday February 25, 2016 in Ottawa. (Photo: Adrian Wyld/CP)
She is calling on perpetrators to confront biases against woman.
She mentions an MP and a cabinet minister as making questionable remarks, although she does not name them.
Trudeau says he is talking to his people about Rempel's complaints.
In the last Parliament, Trudeau expelled two MPs from his caucus after they were accused of misconduct by colleagues.
ALSO ON HUFFPOST:
Liberal Women Appointed To Cabinet
Minister of Justice and Attorney General of Canada Wilson-Raybould is a former Crown prosecutor and regional chief of the B.C. Assembly of First Nations.

Minister of Indigenous and Northern Affairs A family physician who has been an MP since 1997, Bennett was Canada's first minister of state for public health and oversaw the 2003 response to the SARS epidemic. In recent years, Bennett has served as the party's vocal critic on aboriginal affairs.

Government House Leader and Minister of Small Business and Tourism Chagger, 36, worked for the Kitchener-Waterloo Multicultural Centre. She also worked on Trudeau's leadership campaign.

Minister of Public Services and Procurement An MP since 2008, and the party whip, Foote previously held several cabinet portfolios in Brian Tobin's provincial government.

Minister of International Trade An MP since 2013, Freeland was courted by Trudeau's team when she was a senior editor at Thomson Reuters in New York City.A Rhodes scholar, she is a well-known author and journalist. She was part of Trudeau's team of economic advisers.

Minister of Health Philpott is a family physician, associate professor at the University of Toronto, and former chief of the department of family medicine at Markham Stouffville Hospital.

Minister of International Development and La Francophonie Bibeau worked for the Canadian International Development Agency (CIDA) in Ottawa, Montréal, Morocco and Benin, Africa, before settling and launching her own business in her riding.

Minister of Canadian Heritage Joly, 36, made a name for herself by finishing second to ex-Liberal cabinet minister Denis Coderre in the Montreal mayoral race in 2013. She's a lawyer and communications expert.

Minister of National Revenue A small business owner who has been an elected warden for the Regional County Municipality of Rocher Percé since 2010, Lebouthillier won a seat in Gaspé that the Liberals haven't held in more than a decade.

Minister of the Environment and Climate Change McKenna, a human rights lawer, was a former legal adviser for the United Nations peacekeeping mission in East Timor and founded Canadian Lawyers Abroad (now known as Level), a charity focused on global justice issues.

Minister of Employment, Workforce Development, and Labour Mihychuk was an NDP MLA in Manitoba from 1995 to 2004, serving as minister of industry, trade, and mines, and later minister of intergovernmental affairs. She ran an unsuccessful Winnipeg mayoral campaign in 2004.

Minister of Democratic Institutions Monsef, a community organizer, was born in Afghanistan. She fled the Taliban and came to Canada as a refugee with her widowed mother and sisters in 1996.

Minister of Sport and Persons with Disabilities Qualtrough is a lawyer and former Paralympian. Legally blind, she won three Paralympic and four World Championship medals for Canada in swimming and was president of the Canadian Paralympic Committee.

Minister of Science Elected in 2008, Duncan taught meteorology, climatology, climate change, and medical geography at the university level.

Minister of Status of Women Hajdu was executive director of Thunder Bay's largest homeless shelter.