Trudeau: Feds 'Only Beginning' To See Effects Of Mental Health Problems
OTTAWA — Canada has yet to feel the full effects of mental-health issues gripping people across the country, Prime Minister Justin Trudeau said Tuesday as he pledged support to lower levels of government in combating the problem.
"Whether we're talking about its impact on young people, its impact on workplaces around the country, whether its impact on servicemen and women, we are only beginning to realize the scale, the scope of the problem," Trudeau said as he met members of the Canadian Teachers Federation.
The prime minister said his government would work with the provinces and territories to build the ranks of the counsellors, psychiatrists and psychologists who work with people facing mental-health struggles.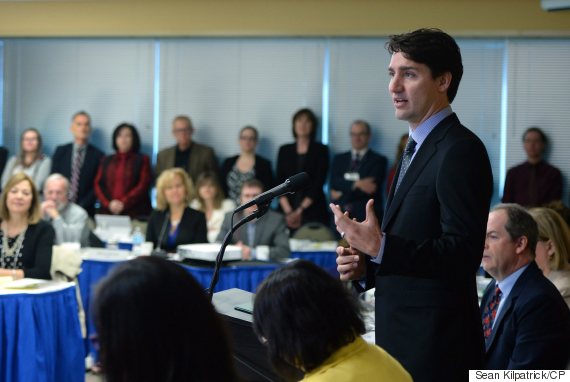 Prime Minister Justin Trudeau meets with members of the Canadian Teacher's Federation in Ottawa on Tuesday, April 19, 2016. (Photo: Sean Kilpatrick/CP)

"I wouldn't be my mother's son if I wasn't a strong advocate for mental-health and de-stigmatization of mental health," Trudeau said as he marked his six-month anniversary since being elected to power.
His mother, Margaret, underwent decades of treatment for bipolar disorder, recounting her personal struggles in her book, Changing My Mind.
The prime minister acknowledged there is no easy solution to mental-health problems, particularly in indigenous communities.
But he suggested the recent spate of suicides and attempted suicides by First Nations young people is linked to what he described as generational neglect of indigenous issues by successive past governments.
"I wouldn't be my mother's son if I wasn't a strong advocate for mental-health and de-stigmatization of mental health."
"We know the challenges are massive," Trudeau said about correcting the disconnect between federal governments and First Nations.
But there are solutions out there, he said, referring to a study pointed out to him by former prime minister Paul Martin.
"In indigenous communities where there has been the support and an ability to do language and cultural teaching to an extremely high level, suicide rates have plummeted," said Trudeau.
"So much of it is about a sense of identity, of who they are, how they fit in."
Bennet visits Attawapiskat
Indigenous Affairs Minister Carolyn Bennett on Monday visited Attawapiskat, the remote northern Ontario community that declared a state of emergency last week over a youth suicide crisis.
Several young people expressed frustration to Bennett over the lack of basic support for the James Bay community.
New Democrat MP Charlie Angus, who travelled with Bennett, said he hoped meetings with the Attawapiskat Youth Council and supports pledged by the federal government, marked a "turning point" in the crisis.
ALSO ON HUFFPOST:
9 People Who Have Changed The Conversation Around Mental Health
Don't be fooled by Terry Bradshaw's demeanour on NFL broadcasts; even tough guys like the Super Bowl-winning former quarterback have struggled with depression. The ex-Pittsburgh Steeler opened up about his struggle with the illness in 2004, and how he had difficulty "bouncing back" after a divorce. "With any bad situations I'd experienced before — a bad game or my two previous divorces — I got over them. This time I just could not get out of the hole." He has also talked openly about his struggles with memory loss, which resulted from concussions he sustained in his playing days.

In "Silver Linings Playbook," Bradley Cooper played Pat Solitano, a Philadelphia man struggling with bipolar disorder after being released from an institution. Cooper admitted to knowing very little about the illness before the role, but he has since spoken openly about mental health, talking about veterans dealing with PTSD in a speech at the MTV Movie Awards, and attending the White House's National Conference on Mental Health in 2013. At the conference, he talked about how a friend was diagnosed with bipolar disorder, and how people dealt with it by not talking about it. Cooper encouraged delegates to "[help] people understand that they're not alone, that the thing they're feeling, it probably has a name."

Last year, as Robert De Niro's film "Silver Linings Playbook" was in theatres, he broke down crying while talking to Katie Couric about his father's difficulties with bipolar disorder. "I don't like to get emotional, but I know exactly what he goes through," he said of the film's character Pat Solitano (played by Bradley Cooper). De Niro's public discussion helped to show how families also suffer when people close to them experience mental illness.

Canadian Olympic medallist Clara Hughes is among the most prominent voices speaking out about mental health in the Great White North. The speed skater and cyclist, who is the only person to ever win multiple medals in both the Summer and Winter Olympics, has been open about her struggles with depression, which have been present throughout her athletic career. Hughes took that experience and channeled it into a job as spokesperson for Bell Let's Talk, an initiative that aims to end the stigma around mental illness. She cycled across Canada for 11,000 kilometres as part of "Clara's Big Ride for Bell Let's Talk," which triggered a conversation around mental health from coast to coast to coast. Hughes visited 105 communities and 80 schools and youth groups as part of the ride.

Michael Landsberg, host of TSN's Off the Record, cuts an energetic figure on TV. But in 2010, he went public about his struggles with depression in a TSN special alongside ex-NHLer Stephane Richer in an effort to let men know that it's OK to talk about it. The special triggered as many as 30 emails, all of them from men, Landsberg told The Toronto Star. Years later, he helped a woman who tweeted at him about her plans to kill herself. Landsberg found the woman and sought help for her from the police.

Actress and singer Demi Lovato did not have a strong relationship with her father, but when he died, she went public about both his and her own struggles with mental illness. She also established the Lovato Treatment Scholarship, which helps to pay for people's treatment.

As a figure skater, Elizabeth Manley did Canada proud by winning a silver medal in ladies' singles at the 1988 Winter Olympics in Calgary. Prior to the 1984 Sarajevo Olympics, she experienced a series of unfortunate events. Her coach left her, she ended up training in the U.S. away from those closest to her, and her parents divorced. Manley gained weight and her hair fell out. She was diagnosed with a nervous breakdown and depression. Manley has since become a spokeswoman on mental health issues. She told her story in her 1990 autobiography "Thumbs Up!" and organized "Elizabeth Manley and Friends," a 2012 benefit show whose proceeds went to teen mental health initiatives.

Who can forget Amanda? The 15-year-old from Port Coquitlam, B.C. jumpstarted a whole new discussion on bullying and mental health after she went public with allegations of harassment in a heartbreaking video that was posted on YouTube. Then on Oct. 10, just over a month later, she killed herself. Her death sparked an outpouring of emotion from around the world, and prominent voices such as B.C. Premier Christy Clark cited her in speeches at We Day 2012 in Vancouver. Her mother Carol Todd also set up a trust fund at Royal Bank of Canada, which would raise money for young people living with mental health issues.

In 2006, Margaret Trudeau, ex-wife of former prime minister Pierre Trudeau, went public over her struggle with bipolar disorder, and how she used marijuana to cope with it. She has spent subsequent years since giving speeches about the condition, telling packed audiences about her highs and lows. Her book "Changing My Mind" details her life as it's been affected by the disorder and offers advice to others who live with it.