Oil Price Crash Hit Canada Hard, But Nowhere Near As Hard As These Countries
Cheaper oil has been rough on Canada's producers.
But at least they're not dealing with militant sabotage, extraordinary inflation or finances so dire they can't pay public workers.
These are just three challenges facing other oil-producing countries, says Helima Croft, global head of commodity strategy with RBC Capital Markets.
She issued a report Monday after a conference of OPEC and non-OPEC oil producers in Doha, Qatar failed to produce a deal to cap oil production and, hopefully, stem declines in oil prices. (The failed talks took a temporary toll on the loonie.)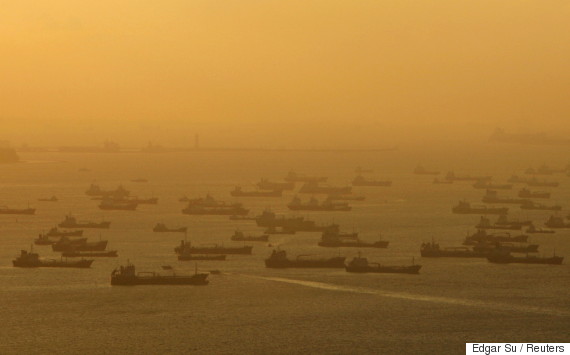 Shipping vessels and oil tankers line up on the eastern coast of Singapore in this July 22, 2015 file photo. (Photo: Edgar Su/Reuters)
Croft assigned geopolitical risk ratings to a number of OPEC countries post-Doha to evaluate how they're coping amidst low oil prices and other forms of instability.
And many are doing much worse than Canada is right now.
Here's how oil prices and other factors are affecting OPEC producers:
Venezuela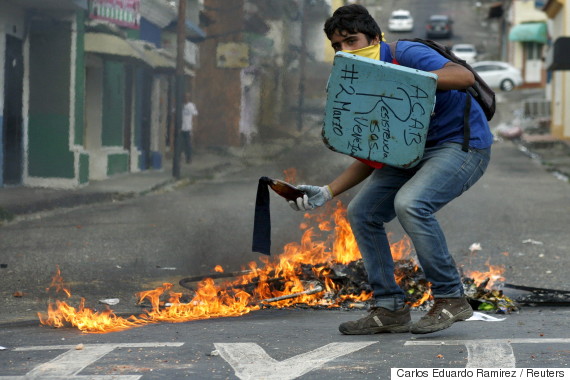 A student demonstrator prepares to throw a Molotov cocktail as he clashes with the police during a protest against President Nicolas Maduro's government in San Cristobal, Venezuela on March 2. (Carlos Eduardo Ramirez/Reuters)
Risk Rating: 10 (up from 8 last year)
Venezuela is on the verge of a "humanitarian catastrophe."
Residents are dealing with shortages at grocery stores, as lower oil prices have made it difficult for the government to afford food imports. Inflation could soon hit 720 per cent and the economy is primed to contract by eight per cent.
President Nicolas Maduro's government has taken measures such as bringing in a four-day work week and even changing the time zone just so it can save electricity. Soon, it may not have enough money to pay oil workers.
Nigeria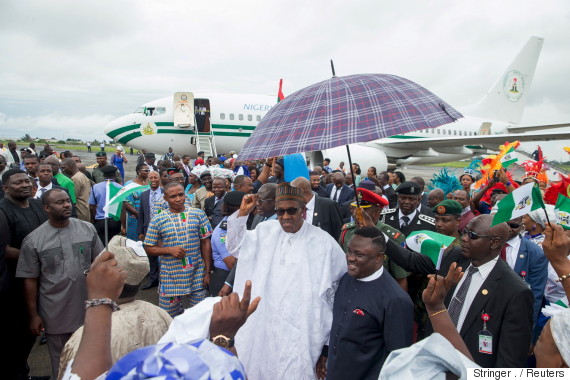 Nigerian President Muhammadu Buhari, centre. (Photo: Reuters)
Risk Rating: 10 (up from 8 last year)
Nigeria has more than just low prices to deal with — it also has militant groups attacking facilities in the oil-producing Niger Delta region.
Oil production has effectively been shut down after divers attacked an underwater pipeline that feeds Shell's Forcados export terminal (which produces 250,000 barrels per day). Pipeline damage at a facility on the Brass River has also robbed the country of an additional 140,000 barrels per day.
Meanwhile, President Muhammadu Buhari is also dealing with calls to devalue the country's currency, the Naira, as Nigeria faces goods shortages and issues paying public servants and military members. He has reached out to China for financial help.
Iraq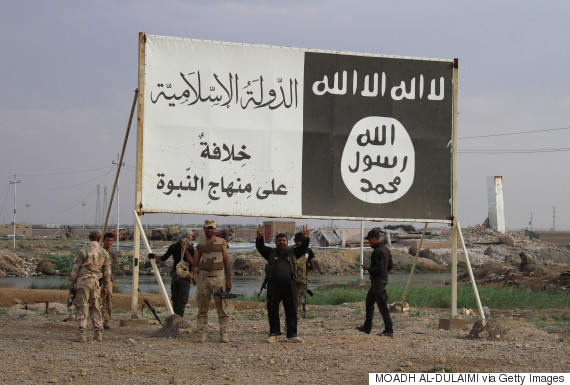 Risk Rating: 10 (unchanged from 2015)
"Iraq has had the twin troubles of both a security and economic crisis at the same time," Croft wrote in a February report cited by Business Insider.
She didn't have much more to say about the war-torn country this month, except that she wonders how long the country's oil production can remain "immune from rising instability."
Libya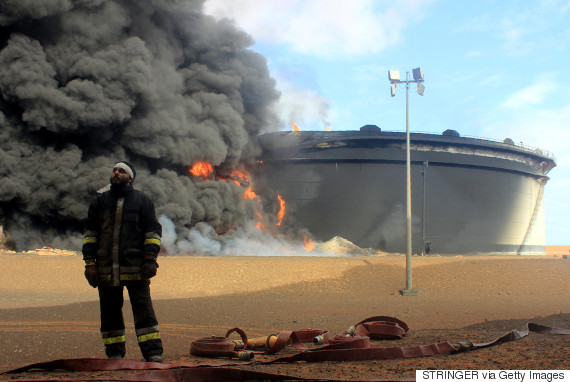 A Libyan fireman stands in front of smoke and flames rising from an oil storage tank at an oil facility in northern Libya's Ras Lanouf region on January 23, 2016. It was set ablaze earlier in the week following attacks launched by Islamic State (IS) group jihadists to seize key port terminals. (Photo: AFP/Getty Images)
Risk Rating: 9 (down from 10 last year)
Libya's security situation has not yet deteriorated, but the potential is there. Croft remains concerned that the northern African country could become a "fallback option" for ISIS if they lose ground in Iraq and Syria.
Angola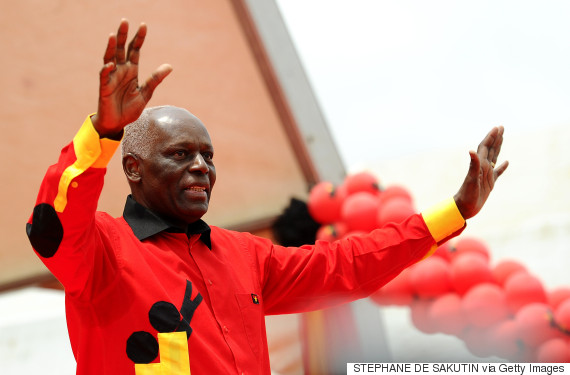 Angolan President Jose Eduardo dos Santos, in 2012. (Photo: Stephane de Sakutin/AFP via Getty Images)
Risk Rating: 6 (up from 5 last year)
The southwestern African nation has turned to the International Monetary Fund (IMF) for help as it struggles to pay public servants' salaries. President Jose Eduardo dos Santos has also had to tap into a sovereign wealth fund, an investment fund owned by the government.
Adding to its woes, the country is also coping with accusations of government corruption and economic mismanagement.
Angola is Africa's second biggest producer of oil. But despite that, the people there live on less than $1.25 per day.
Also on HuffPost:
Unexpected Consequences Of Falling Oil Prices
More people are dying in road accidents, as falling oil costs translate into cheaper prices at the pump - increasing the number of journeys. "A $2 drop in gasoline price can translate into about 9,000 road fatalities a year in the US," sociology professor Guangqing Chi said last month. Chi told The Huffington Post that it typically takes almost a year for drivers to adopt new driving habits in response to changes in gas prices. Last year, US road deaths rose by 9.3% in the first six months of 2015. In the UK, while road deaths have fallen almost every year since 2004, provisional data suggests that fatalities increased in 2015 by 3%, alongside a 2.2% increase in traffic. Research has yet to reveal a link between these in the UK.

Pirates are unlikely victims of the global reduction in oil prices. Piracy in West Africa's Gulf of Guinea is now at its lowest level since 2002. Speaking to Bloomberg, Florentina Adenike Ukonga, executive secretary of the Gulf of Guinea Commission, said: "With oil at a low bottom price of below $30 per barrel, piracy is no longer such a profitable business as it was when prices hit $106 a barrel a few years ago." Attacks on oil transported declined by around a third last year, according to a report. Dyrad Maritime found sea crime figures for 2015 "painted a picture of optimism" - although the threat to vessels not carrying oil remains high.

Falling oil prices have translated into rock-bottom "bunker" fuel costs for shipping firms - reducing their incentive to take economical shortcuts. Rather than use routes via the Suez Canal, huge container ships are returning to ports in Asia via the "long way around" the southern cape of Africa. As prices tumble, burning more fuel is cheaper than paying passage rates through the waterway. For one-way passage, an oil transporter can pay as much as $325,000 (2008) to travel through the Suez canal. "For many services it is cheaper to sail south of Africa on the [return journey] than to use the canal routings," SeaIntel, a shipping monitor, said.

Thousands of oil workers have been sacked as a result of dwindling oil prices. In the UK alone, 70,000 oil-related jobs are feared to have been lost since the price war began 12 months ago. Last month, oil giant BP shed 3,000 jobs on top of previously announced redundancies. An estimated 250,000 jobs have been lost across the oil industry as a whole worldwide.

The plunging oil price has added to turmoil on stock markets the world over, affecting many of the world's biggest pension funds. According to Reuters, shares fell sharply this week as oil prices dropped after Saudi Arabia effectively ruled out reducing the output of oil by its producers. Oil prices, lowered by increased production, are one of a number of factors worrying investors. The FTSE 100 index of Britain's biggest traded companies was down 15.38% on a year ago as of Wednesday. The index holds millions of Brit's pension pots. "The markets are really worried that we are missing something here, that the global slowdown may be more significant than we are recognizing and that slowdown could be causing oil prices to drop, and commodities prices in general," Tracie McMillion of Wells Fargo Private Bank told Reuters.

Perhaps the most surprising effect of diving oil prices has been that demand hasn't risen significantly. Despite costs plunging, European economies remain weak, China is decelerating and growing energy efficiencies mean vehicles need less fuel. So the overall effect has been a flatlining of demand, rather than an increase, according to PwC (PDF).

And despite all of this, airfares for passengers flying in and out of Britain jumped 46% from November to December 2015, the Office of National Statistics found. The increase in fares was the highest since 2002. The "highly variable" changes were a result of increased consumer demand for air travel, the ONS said. In America, air passengers were more likely to benefit from tumbling costs - airfares there were lower throughout most of last year.