Real Estate Report Offers Reason Why Canadians Don't Want To Sell Their Homes
TORONTO — A new report suggests the red hot real estate markets in Vancouver and Toronto are discouraging some potential sellers from listing their homes because they're afraid of becoming buyers themselves.
The spring market trends report by real estate firm Re/Max on Thursday says while homeowners in those cities know their homes will sell quickly, many are reluctant to become buyers in the highly competitive market.
Read more: Homes Available For Sale In Toronto, Vancouver Reach Record Low
Re/Max says some are also reluctant to list their homes because they believe that prices could move even higher.
Vancouver and Toronto have been the hottest real estate markets in the country, raising questions about affordability, the role of speculators and the influence of foreign buyers.
The average residential sale price in Vancouver in the first quarter was $1,103,586, up 24 per cent from a year ago, according to Re/Max.
The average price in Toronto was $675,492, up 14 per cent.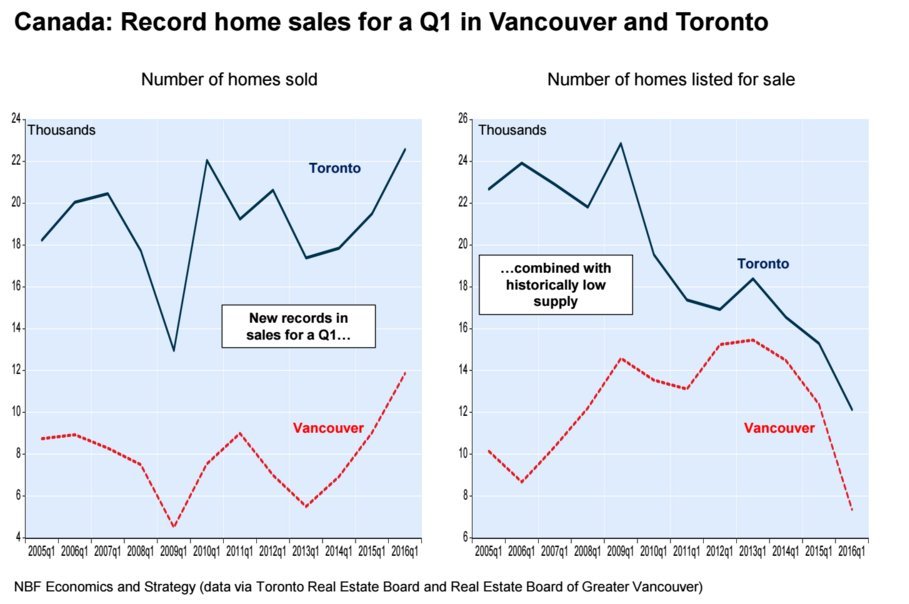 The number of homes for sale has dropped to record lows in Toronto and Vancouver even as prices reach record highs. Re/Max says it's partly because homeowners are afraid to become buyers themselves in a highly competitive market. (Chart: National Bank Financial)
The report suggested the strength of Toronto and Vancouver are helping drive prices in neighbouring regions as buyers move further out in search of an affordable home.
The report noted that Hamilton-Burlington and Barrie in Ontario as well as Victoria have seen prices rise 10 per cent or more compared with a year ago.
"The population growth in these regions, driven by housing demand, is growing local economies as restaurants, shops and services expand," the report said.
What $5 Million Will Buy You Across Canada
This five-bedroom, five-bath house in Montreal's ritiziest neighbourhood has a large (almost 19,000-square-foot) lot featuring an amazing rock formation that makes the back yard entirely unique. The realtor boasts of spectacular views of the city as well. Listing.

This house in Coyote Valley, northwest of Calgary, features five bedrooms and three full baths in more than 6,000 square feet of living space. The property features an exercise room, a rec room and a media area, as well as a four-car garage. Listing.

This two-bedroom, two-bath condo in Coal Harbour features a 221-square-foot patio on the lower level and a master-bedroom balcony on the upper level. Which is helpful, because the views are not to be missed. Listing.

This four-bedroom, four-bath property sits in one of Canada's ritziest urban neighbourhoods and features a "smart home" automation system and an elevator. And the view from bedroom windows is of trees, which is sort of incredible for downtown Toronto. Listing.

This 9,200-square-foot house in the Greater Toronto suburb of Oakville was built around 1888, and features seven bedrooms and nine baths, and no fewer than six fireplaces. The realtor says the home was recently entirely renovated. Listing.

This 20-acre private island in swanky Lake of Bays, some 200 km north of Toronto, features five separate summer cottages and a three-bedroom boathouse, with parking for five boats. Great place for an extended family -- a rich extended family. Listing.

The realtor's boast that this is "one of the most beautiful waterfront settings on the Continental Eastern Seaboard" was a little difficult for us to verify, but it sounds good. Five bedrooms and seven baths in this 12,000-square-foot house that also features a library, a gym and a "hidden wine cellar." Listing.