Trudeau Signs UN Climate Treaty, But The Hard Part Will Be Respecting It
Prime Minister Justin Trudeau joined world leaders Friday to help formally ratify a global treaty on climate change.
Putting his signature to the Paris accord was the easy part. The hard part comes next: reducing Canada's greenhouse-gas emissions by 30 per cent over the coming decades.
Canada is nowhere near that target — emissions continue to rise, and a national plan has yet to be worked out. But the prime minister promised his peers he'd remain committed to it.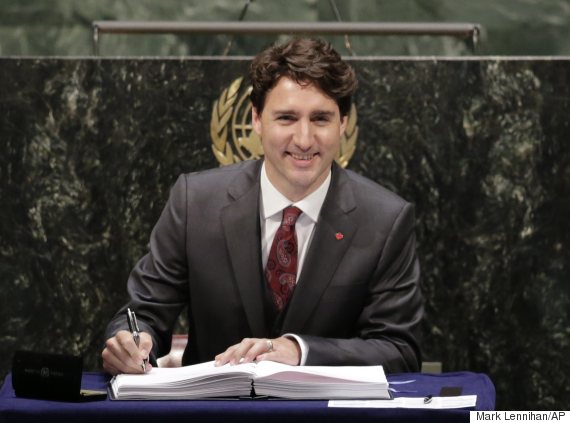 Prime Minister Justin Trudeau signs the Paris Agreement on climate change, Friday, April 22, 2016 at U.N. headquarters. (Photo: Mark Lennihan/AP)
"Today, with my signature, I give you our word that Canada's efforts will not cease," Trudeau told the UN's General Assembly hall, with dozens of other leaders seated in the crowd.
"Climate change will test our intelligence, our compassion and our will. But we are equal to that challenge. I encourage other signatories to move swiftly to follow through on their commitments."
The agreement enters into force once it's signed by 55 countries accounting for 55 per cent of global emissions, a threshold it appeared to have clearly surpassed Friday.
The new pact differs from the old Kyoto accord in several important ways:
— Every major emitter has set individual targets under this one — unlike Kyoto which included fast-developing countries.
— It does not include broad global emissions targets, nor is it binding.
— It does include a mechanism that will report on each country's progress.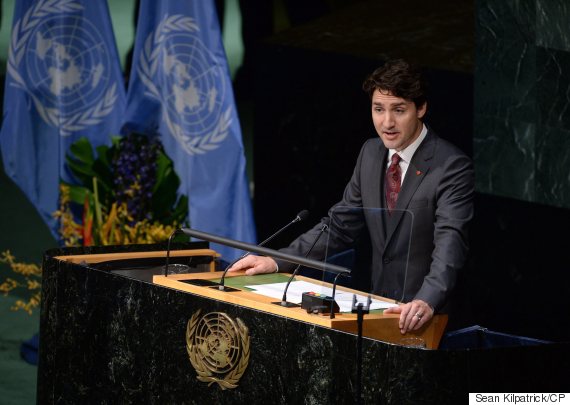 Prime Minister Justin Trudeau speaks at the signing ceremony for the Paris Agreement on climate change at the United Nations headquarters in New York on Friday, April 22, 2016. (Photo: Sean Kilpatrick/CP)
The broad goal of the agreement is to keep global temperatures from rising less than 2 C from pre-industrial levels, in an effort to stave off the most catastrophic effects of rising sea levels.
Trudeau received warmer-than-normal applause from the hall when he spoke about the particular challenge facing poorer countries: How to cut emissions, when their economies are growing fastest?
"They shouldn't be punished for a problem they didn't create, nor should they be deprived the opportunities for clean growth that developed nations are now pursuing," he said.
"Today, with my signature, I give you our word that Canada's efforts will not cease."
He drew more applause upon mentioning the $2.65 billion his government budgeted for international-assistance programs geared towards clean-energy programs.
Trudeau's domestic opponents said they're worried about those costs.
'Liberals misleading Canadians': Tories
The Conservatives said they're not opposing the actual emissions target — which they actually set when they were in power. But they say Trudeau hasn't been straight with people. They pointed to the Parliamentary Budget Officer's finding that hitting that target could shave one to three per cent off the national economy by 2030.
"The Liberals are misleading Canadians by saying everything is a win-win, while not accounting for the true economic costs," said a statement from critic Ed Fast.
"Fighting climate change is serious business and Canadians need to be prepared to have a frank discussion about who pays for it."
During his New York trip, the prime minister was pressed about the challenge Canada faces as an oil producer. At a question-and-answer session at New York University, one student asked why he campaigned on climate change but appeared to be supporting oil.
Flexibility is key, Trudeau replied, saying a strong economy means more wealth, which can be invested in policies that lead to a clean-energy future.
The prime minister's New York trip concludes Friday with a press conference and bilateral meetings with the presidents of Colombia and France.
ALSO ON HUFFPOST:
Drone Images Highlight Climate Change
This windmill pair was shot in the early morning hours. The shallow fog had been around for days because of no wind, high humidity and cold temperatures.

The city of Paracatu was vanished by a river of mud, after a mining dam burst at Mariana, Minas Gerais. It was the biggest environmental accident in Brazil's history.

Palangkaraya – The most polluted place on earth! This photo was taken on October 4th, 2015 when my friends and I did a campaign called "Kalteng with Love" where we gave free masks, milk and vitamin for the people in the city of Palangkaraya, Central Kalimantan, Indonesia. Thick smoke was hovering over where we live. The particulate meter that day showed that the air was so poluted and reached over 2000 psi. The smoke was caused by the fires in Borneo peatlands that was started from the end of July. For almost three months the people in Borneo had to breathe such toxicating air. There are lots of people who suffered from respiratory problems. Schools off. Flights could not operate. Economic system became paralyzed. Borneo is known as the lungs of the world and the fifth largest greenhouse gas emitter in the world, and these fires are not helping. We were even labelled as the most polluted place on earth. Through this photo, I would like to raise the world's awareness that this matter is a huge problem for all of us. This challenge is addressed not only to people in Borneo and Indonesia, but also to the entire world. Could you imagine if all of the forests in Borneo disappear and there is limitied source of oxygen left for over 7 billion people?

Wind power from approx. 120m height.

Energy ACTIVE office building, about 1100m² floorspace : produce yearly more energy then it consumes ( better then passive house results !). Heating & cooling by deep geothermal heatpump with electric compensation of full integrated PV-solarpanels (BIPV) in 45°-roof. Owner : www.stebo.be Building designed by www.burob.be & www.geertdebruyn.be , construction : www.i3.be BIPV solar roof : http://solar.golden-glass.com/c465.html Drone : Yuneec Typhoon Q500 4K

Taken in between two banks of fog in a 2 minute window. Showing the tanks and stacks of Fawley Refinery.

The tiny island in the lake of Galvė looks like a continent and shows us how small our world really is. One tree cut on this island, one nest pulled apart or another kind of intervention will change it beyond our recognition. It is up to us all to make our planet clean and green

This is a picture of the king high tide crashing against this restaurant on the sand in la jolla shores. the king tide was at the peak in this photo at +7feet . is this a result of higher tides due to global warning.Today many coastal communities are seeing more frequent flooding during high tides. As sea level rises higher over the next 15 to 30 years, tidal flooding is expected to occur more often, cause more disruption, and even render some areas unusable .

A playing field I grew up playing football on… It\'s now acquired by the real estate company and they are killed the green of the field, trees providing shadow and building the grey houses on it. It\'s a typical depiction of the impact of growing real estate companies in Bangladesh.

After a mining dam bursts, it took almost 3 hours for the mud to reach Paracatu. Fortunately, it gave time for people to abandon their houses and run. The cemitery of Paracatu stays on a small hill, and it was there where many people rushed to protect themselves. And it was from there, that they saw their city being destroyed. There were no fatal victims in the city but the city itself.