World's Most Expensive City To Rent Is Not What You May Think It Is
When people think of the world's most expensive cities, places like New York and Hong Kong (and Vancouver) come to mind.
There are lots of ways to measure how difficult it is afford city living. And these cities certainly rank near the top when it comes to the price of real estate alone.
But that doesn't tell the whole story. Many people, particularly in large cities, rent their homes. So sometimes it's better to look at what it costs to rent versus incomes in a given area.
That's precisely what Global Cities Business Alliance (GCBA) has done in a discussion paper on global housing costs that was released this month. The London-based non-profit looked at how much it cost to rent in 15 cities as a portion of net earnings.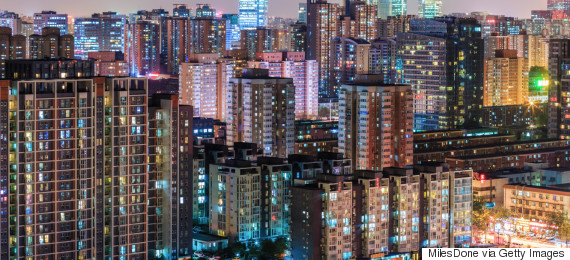 Apartments in Beijing. (Photo: Milesdone/Getty Images)
And Beijing took the cake.
The cost to rent in the capital of the People's Republic of China took up 122.9 per cent of people's earnings last year. In other words, for every $100 earned, on average, they owed $122.90 in rent.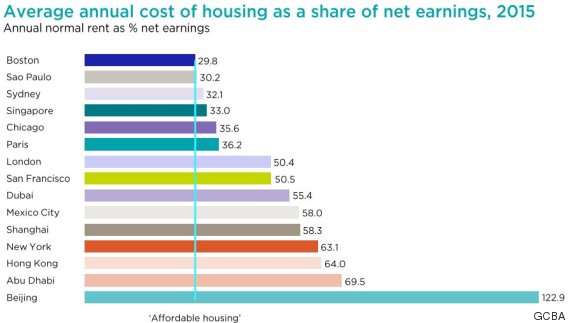 "Big cities like Beijing are victims of their own success: rapid growth has magnetised workers, but they now need to deliver enough houses so that workers enjoy living there," GCBA CEO Lesley Saville said in a news release.
"The problems facing Beijing are the same as facing other global cities, only more pronounced."
Beijing's rent as a share of net earnings was three to four times higher than what's considered "affordable housing" (30 to 40 per cent of your net income).
The cost to rent in the city has pushed people to outlying areas, forcing commutes that take as long as 104 minutes per round trip, according to the GCBA.
But it has also forced them to live in underground, windowless units with no air conditioning, Reuters reported.
About a fifth of the approximately 7.7 million migrants in Beijing live underground or at their workplaces, said Xinhua, China's state news agency.

What's Canada complaining about?
These numbers ought to seem staggering to Canadians who complain about the high cost of living in certain cities.
In Toronto, for example, renters only spend an average of 23 per cent of their income (~$1,026) on housing and utilities, according to the Canadian Rental Housing Index.
And in Vancouver, they only spend about 24 per cent.
But the cost to buy in these cities tells a different story. The cost of a single-family home took up about 109 per cent of Vancouver incomes at the end of last year, according to Royal Bank of Canada.
Single-detached homes in Toronto, meanwhile, represented about 60.6 per cent of earnings.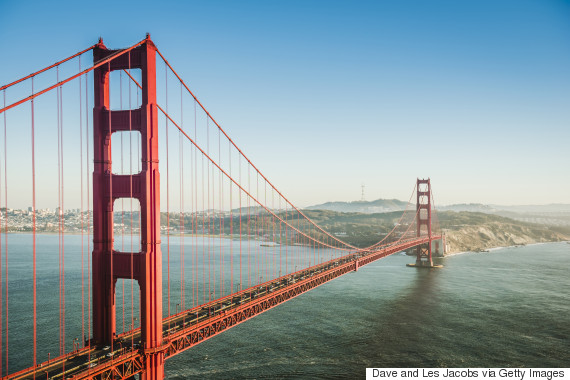 The Golden Gate Bridge over San Francisco Bay. (Photo: Dave and Les Jacobs/Getty Images)
While Beijing was the most expensive place to rent when compared with local incomes, San Francisco was top of the list in terms of the cost of renting costs alone, at US$2,824.
Its placement wasn't surprising. Housing costs have skyrocketed in the area amid a booming tech scene in Silicon Valley.
It's so expensive that one man was literally living in a box until he was ordered to vacate.
San Francisco man forced to vacate box in friend's apartment https://t.co/ERxYBqQg7X #Rent pic.twitter.com/7u0j1csR0J

— geret (@fegeret) April 13, 2016
Saville said that many cities are dealing with housing costs by looking at new funding and financing models.
San Francisco, for example, has an affordable housing bond and trust fund. And Boston has an innovation lab looking at housing solutions, Saville pointed out.
So maybe there's a little perspective for Canadians in this. And perhaps some solutions, too.
Also on HuffPost:
The World's Most Expensive Streets Look Like This
This four-bedroom home in Hong Kong's Peak area is 4,600 square feet of luxury. The unit receives plenty of daylight thanks to floor-to-ceiling windows and a view overlooking the harbour. Every bedroom has its own bathroom, while the master has its own balcony. The second floor bedrooms also have a terrace.

There aren't many real estate opportunities on London's Kensington Palace Gardens. But this one offers buyers a chance at a mansion with six bedrooms, a reception and dining room, double garage, terrace and private garden. The listing is so exclusive that prospective buyers have to submit background information with the realtor before learning any more about it.

A penthouse fit for royalty, this unit comes with five rooms in almost 4,000 square feet of living space. It has two entrances, a dining room that opens on to a terrace and four bedrooms, each with their own bathroom.

Finding real estate proved challenging on this French street. It was easier to find the Four Seasons Grand-Hotel du Cap-Ferrat, luxurious accommodation that would be perfectly at home in a James Bond film. The hotel has a Michelin-starred restaurant, an 8,000-square-foot spa, and gorgeous views of the French Riviera.

A corner unit at The Marq on Paterson Hill, a project residing in one of Singapore's priciest areas. The apartment is 3,089 square feet, and it has park views in a building that also boasts a lap pool.

This villa offers you a panoramic view of the Mediterranean from the shores of Costa Smeralda, Sardinia. It has covered terraces, a pool, and five bedrooms.

Ostozhenka is known as "Moscow's Golden Mile," and it's easy to see why. A statue of Friedrich Engels, co-author of "The Communist Manifesto," overlooks this street where you can find buildings raised before the Russian Revolution and Art Nouveau architecture. To hit home its upscale nature, there's even a restaurant called "Snobs." A four-bedroom apartment at Ostozhenka, 7 has almost 2,000 square feet of space, with pastel-coloured walls, a fenced yard and security around the clock.

Largely known as a shopping district, New York's Fifth Avenue is also the site of some ritzy real estate that has been home to famous figures including entrepreneur David Koch and fashion designer Vera Wang. Sotheby's International Realty is pitching a "simplex" of 12 rooms for just under C$27 million at 1060 Park Avenue. It's a corner suite that gives residents a gorgeous view of Central Park. Interior features include a library, classy dining room and a corner living room with a wood-burning fireplace. This is high living.

Another shopping district that doubles as a neighbourhood for the very wealthiest. Actress Marlene Dietrich once called Avenue Montaigne home. This listing is more a pied-a-terre than a full-time residence, but it does have four bedrooms on the fifth floor of an old stone building. You know, for the richest among us, who can afford a weekend jaunt to Paris.