Liberals Mull Public Pension Funds To Help Pay For Infrastructure
OTTAWA — The federal government has identified a potential source of cash to help pay for Canada's mounting infrastructure costs — and it could involve leasing or selling stakes in major public assets such as highways, rail lines, and ports.
A line tucked into last month's federal budget reveals the Liberals are considering making public assets available to non-government investors, like public pension funds.
The sentence mentions "asset recycling," a system designed to raise money to help governments bankroll improvements to existing public infrastructure and, possibly, to build new projects.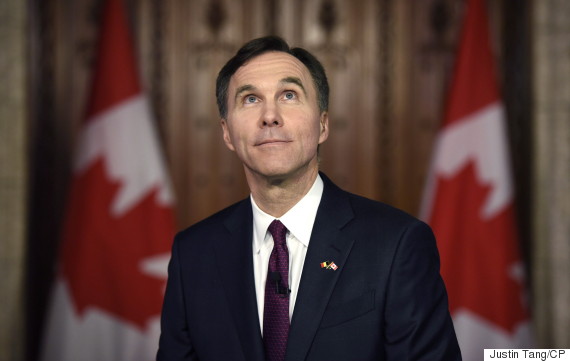 Finance Minister Bill Morneau looks up in the foyer of parliament as he participates in TV interviews after tabling the federal budget on Parliament Hill in Ottawa on Tuesday, March 22, 2016. (Photo: Justin Tang/CP)
For massive, deep-pocketed investors like pension funds, asset recycling offers access to reliable investments with predictable returns through revenue streams that could include user fees such as tolls.
"Where it is in the public interest, engage public pension plans and other innovative sources of funding — such as demand management initiatives and asset recycling — to increase the long-term affordability and sustainability of infrastructure in Canada," reads the sentence in the new Liberal government's first budget.
Asset recycling is gaining an increasing amount of international attention and one of the best-known, large-scale examples is found in Australia. The Australian government launched a plan to attract billions of dollars in capital by offering incentives to its states and territories that sell stakes in public assets.
Asset recycling explained
Like the Australian example, experts believe monetizing Canadian public assets could generate much-needed funds for a country faced with significant infrastructure needs.
The Liberal budget paid considerable attention to infrastructure investment, which it sees as way to create jobs and boost long-term economic growth. The Liberals have committed more than $120 billion toward infrastructure over the next decade.
Proponents of asset recycling say enticing deep-pocketed investors to join in can help governments avoid amassing debt or raising taxes.
"Asset recycling is a way to attract private-sector investment into activities that were formerly, exclusively, in the public realm," said Michael Fenn, a former Ontario deputy minister and management consultant who specializes in the public sector.
"It's something that we should pay a lot of attention to and I'm really pleased to see the federal government is looking seriously at it."
"Asset recycling is a way to attract private-sector investment into activities that were formerly, exclusively, in the public realm."
Fenn serves as a board member for OMERS pension fund, which invests in public infrastructure around the world. He stressed he was not speaking on behalf of OMERS or its investments.
Two years ago, Fenn wrote a research paper for the Toronto-based Mowat Centre think-tank titled, "Recycling Ontario's Assets: A New Framework for Managing Public Finances."
In Canada, he said there have been a few examples that resemble asset recycling, including Ontario's partnership with Teranet to manage its land registry system and the province's more recent move to sell part of the Hydro One power company.
For the most part, Canada's big pension funds have been focused on international infrastructure investments because few domestic opportunities have been of the magnitude they tend to look for.

Strategy used by Ontario Liberals
"That money is going offshore, it's returning good returns for Canadians in the sense that the pension funds are making good returns, but it would be nice to be able to invest more of those funds in infrastructure in Canada," Fenn said.
Australia's asset recycling model has been praised by influential Canadians such as Mark Wiseman, president and CEO of the Canada Pension Plan Investment Board.
"With growing infrastructure deficits worldwide ... we often reference this model with our own government and others as one to follow to incent and attract long-term capital," Wiseman said in prepared remarks of a September speech in Sydney to the Canadian Australian Chamber of Commerce.
The massive CPP Fund had $282.6 billion worth of assets at the end of 2015. Wiseman's speech noted more than 75 per cent of its investments were made outside Canada, including about $7 billion in Australia.
Story continues after slideshow:
Federal Budget 2016 Highlights
The Liberal government delivered its maiden budget Tuesday, March 22. A deficit of $29.4 billion in 2016-17, nearly three times the $10 billion promised during the fall election campaign, and a projected deficit of $17.7 billion in 2019-20 rather than the balanced budget that was promised in October. (Source: The Canadian Press)

One of the earmarks of the budget is a commitment to spending on aboriginal issues. This includes: - $2.6 billion over five years for primary and secondary education on First Nations reserves, including language and cultural programs, plus $969.4 million over five years for education infrastructure. - $1.2 billion over five years for social infrastructure for Aboriginal Peoples, including First Nations, Inuit and northern communities. - $10.4 million over three years for new women's shelters in First Nations communities, and $33.6 million over five years and $8.3 million ongoing for support services. - $40 million over two years for the inquiry into missing and murdered aboriginal women and girls. Read more here (Source: The Canadian Press)

The Liberals will be changing the structure of Canada's child benefits, ending income splitting and other tax credits for families and parents. This means: - $10 billion more over two years for a new Canada child benefit, absorbing and replacing both the Canada child tax benefit and the universal child care benefit. Targeted to low and middle-income families, the government says the new benefit provides an average increase of nearly $2,300 in 2016-17. - An end to income splitting for couples with children, the children's fitness tax credit and the children's arts tax credit. Read more here (Source: The Canadian Press)

The government will spend $2.5 billion over two years on a suite of changes, including reducing the required work experience for new entrants and re-entrants; halving the two-week waiting period; extending a pilot project to allow claimants to work while collecting benefits; simplifying job-search requirements; and extending the benefit eligibility window in specific regions with a higher unemployment rate. (Source: The Canadian Press)

- $5.6 billion more in benefits to veterans and their families over five years, including a disability award that increases to $360,000, retroactive to 2006, and an earnings loss benefit to injured vets of 90 per cent of pre-release salary. The government is also re-opening nine veterans' service offices across the country and adding a 10th. - Planned National Defence purchases worth $3.7 billion — ships, planes and vehicles — are being deferred indefinitely. Read more here (Source: The Canadian Press)

Planned National Defence purchases worth $3.7 billion — ships, planes and vehicles — are being deferred indefinitely. Read more here (Source: The Canadian Press)

The budget includes $3.4 billion over five years to increase the guaranteed income supplement top-up benefit by up to $947 annually for single seniors, and restore the old age security eligibility age to 65 from 67. Read more here (Source: The Canadian Press)

The Liberals broke a major campaign promise to cut the small business tax rate. Instead, the rate will remain at the current 10.5 per cent on the first $500,000 of active business income. Read more here (Source: The Canadian Press)

The Liberals will spend $1.53 billion over five years to increase Canada student grants to $3,000 from $2,000 for low-income students, to $1,200 from $800 for middle-income students and to $1,800 from $1,200 for part-time students. $2 billion over three years is also earmarked for a new strategic investment fund for infrastructure improvements at colleges and universities, in partnership with provinces and territories.

The Liberals' green infrastructure plan includes: - $2.2 billion over five years in water and wastewater treatment and waste management - $2 billion over two years for a low-carbon economy fund - Over $1 billion over four years to support future clean technology investments - $345.3 million over five years to Environment and Climate Change Canada, Health Canada and the National Research Council to take action to address air pollution. (Source: The Canadian Press)

The Liberals will spend $500,000 to help understand the role of foreign homebuyers in the country's housing market. The government says comprehensive and reliable data on the number of homes sold to foreign buyers does not exist right now. Read more here. (Source: The Canadian Press)

The marquee Liberal commitment to Syrian refugee resettlement could end up costing taxpayers close to $1 billion. The budget provided an additional $245 million over five years to bring in the remaining 10,000 people needed to meet the Liberal promise to resettle 25,000 Syrian refugees by the end of 2016. Read more here (Source: The Canadian Press)

$142.3 million over five years will be spent to add new national parks and improve access during the 150th anniversary of Confederation. (Source: The Canadian Press

The Grits will provide up to $178 million over two years for the provinces for urgent affordable housing needs. Read more here (Source: The Canadian Press)

The budget earmarks $38.5 million over two years to strengthen and modernize Canada's food safety system. (Source: The Canadian Press)
Last month, Wiseman was named to Finance Minister Bill Morneau's economic advisory council, which is tasked with helping the government map out a long-term growth plan. The council also includes Michael Sabia, the CEO of Quebec's largest public pension fund, the Caisse de depot et placement du Quebec.
In a prepared speech last month in Toronto, Sabia said financial institutions like pension plans have tremendous potential to drive growth through infrastructure investment. For the investor, Sabia added that infrastructure offers stable, predictable, low-risk returns of seven to nine per cent.
Asset recycling has also raised concerns.
Just another word for privatization?
Andrew McNeill, a researcher for one of Canada's biggest unions, believes it's basically another name for privatization, which he says has negative connotations.
Australia's asset recycling model is being pushed "very aggressively by companies that profit from privatization," said McNeill, who works for the National Union of Public and General Employees.
He has concerns governments will use the scheme to generate short-term financial injections for political gain. McNeill also said the model could eventually mean lower wages for workers.
A spokeswoman for Morneau's office was asked about Ottawa's interest in asset recycling, but she referred back to the budget and said there was nothing new to add on the issue, for the moment.