This One Thought Makes Men More Likely To Support Donald Trump
Men are more likely to support Hillary Clinton than Donald Trump for president of the United States — unless they're prompted to think about gender, a recent study shows.
Decades of research show that men often react "in surprisingly strong ways" to what they think are threats to their masculinity, wrote the study's author Dan Cassino in the Harvard Business Review last week. And the mere thought of a female president could end up costing Clinton eight per cent of the vote, the study says.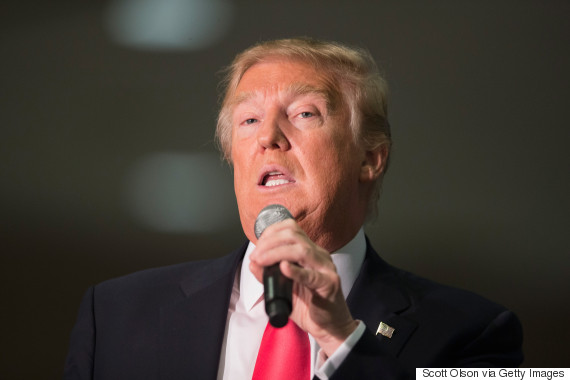 Republican presidential candidate Donald Trump speaks to guests during a campaign stop on April 4, 2016 in La Crosse, Wis. (Photo: Scott Olson/Getty Images)
Voters in New Jersey were asked who they would pick for commander-in-chief. However, half were first asked who the primary breadwinner is in their home. Those respondents chose Republican Trump over Democrat Clinton by an eight-point-margin.
Men who were not presented with that question first preferred Clinton over Trump by a 16-point margin.
The query had no effect on support for Bernie Sanders.
"Being the breadwinner has been a linchpin of U.S. men's masculinity for decades, so even the potential of making less than one's spouse threatens accepted gender roles," Cassino wrote. "Merely asking the question" about income caused "enormous shifts" in men's choice for president, he said.
The question had the opposite effect on female voters, according to the full study published by Fairleigh Dickinson University. About 36 per cent of women supported Trump when not asked the gender question. This fell to only 26 per cent when women were asked who earns the most in their home.

Only about 15 per cent of American men earn less than their spouses do, Cassino noted. And this is highly dependent on their stage of life — as men age, they become much more likely to make the same or more than their spouse.

Also On HuffPost:
7 Things Every Donald Trump Supporter Should Know
Launching his Presidential bid last June, Donald Trump held up his financial statement to prove he had assets worth a total of $9 billion. In a tasteless boast, Trump went on to reveal he refused a bank's loan of $4bn. He said: "I don't need it. I don't want it. And I've been there." While millions of Americans continue to suffer the effects of sluggish economic growth, Trump is blissfully unaffected. Well, that's how he makes it sound.

Trump says he's never had to withdraw cash from a cashpoint. During an appearance on 'Late Night with Conan O'Brien', Trump said that he'd never seen the need to use ATMs, all the while hinting at his extraordinary wealth.

Like many of his voters, money is always on Trump's mind. But unlike those struggling to make ends meet, Trump is more concerned with the perception of his wealth, which he says is "more than $9 bn". When an author suggested Trump had a net worth of less than $300m, the property tycoon sued him for libel. Yet during testimony, Trump admitted his own estimations depend on his "feelings". It was reported Trump said: "Yes, even my own feelings (guide estimates of my wealth), as to where the world is, where the world is going, and that can change rapidly from day to day." Trump lost the libel case.

Despite pretending to offer something different from the tired-old ways of Washington, Trump has admitted that he's more than willing to use dubious non-facts and statistics in an effort to further his White House ambitions. In a remarkable exchange with FOX News host Bill O'Reilly, the famously impertinent presenter took exception to flawed statistics banded about by Trump. O'Reilly: This bothered me, I gotta tell ya. You tweeted out that whites killed by blacks — these are statistics you picked out from somewhere — at a rate of 81 percent. And that's totally wrong. Whites killed by blacks is 15 percent, yet you tweeted it was 81 percent. Now 
 Trump: Bill, I didn't tweet, I retweeted somebody that was supposedly an expert, and it was also a radio show. O'Reilly: Yeah, but you don't wanna be. 
 Why do you want to be in that zone? Trump: Hey, Bill, Bill, am I gonna check every statistic? I get millions and millions of people, @RealDonaldTrump, by the way. O'Reilly: You gotta, you're a presidential contender, you gotta check 'em.

Trump once told a reporter: "I'm running for office in a country that's essentially bankrupt, and it needs a successful businessman." Yet it's not always been plain sailing for all of Trump's businesses. In the 1980s, Trump entered into the highly competitive casino market in Atlantic City, taking out huge loans on his investments and risking everything when the deals went into bankruptcy. More recently, Trump has seen his name attached to failing properties, including hotels and casinos. Trump Plaza and Trump Taj Mahal in Atlantic City both closed in 2014, while Trump Soho in Manhattan ran into foreclosure. Speaking to the Washington Post, Trump said of the deals: "I didn't want to have any personal liability, so I used junk bonds. I accept the blame for that, but I would do it again," he said. But Trump vehemently denied that the deal represented a personal failing or affected his personal wealth. He continued: "This was not personal. This was a corporate deal. If you write this one, I'm suing you."

He's so obsessed with his image that when a "cybersquatter" took control of hundreds of online domain names, including those using the name "Trump", Donald went on the defensive. J. Taikwok Yung, a self-described "domainer" from Brooklyn, NY, was hauled before judges after Trump noticed he'd bought up a huge amount of his brand online. Trump sought the maximum damages allowed - $100,000 for each of the four Trump-related domain names bought by Yung. And he had legal grounds: Trump is a trademark with the United States Patent and Trademark Organisation and is adorned on many a high-stakes casino, and several hotels.

Evidence of more concerning delusion came last month, when Trump played the theme to Harrison Ford's 'Air Force One' to signal his private jet's arrival in Iowa. Trump even ordered his private Boeing 757 jet to "buzz" the control tower of a local airport, swooping low and thrilling supporters below. Trump even ensured the score to the 1997 film was playing as the jet landed and taxied into position. If that weren't enough, Trump shamelessly stood in perfect place to ensure the jet's huge "TRUMP" logo was captured by TV cameras.