Charlie Angus, NDP MP, Says CRA Mailed SIN Numbers To Wrong People -- Twice
OTTAWA — A New Democrat MP says the Canada Revenue Agency twice mailed batches of private information — including names and social insurance numbers — to the wrong people in his riding.
Charlie Angus has asked the office of federal privacy commissioner Daniel Therrien to investigate the apparent violations.
In a letter to the commissioner's office, Angus says the revenue agency mailed a package April 6 to several constituents in Kirkland Lake, Ont., containing the names, SINs, addresses and phone numbers of five people.
Five days later, the same constituents were mailed a second package with similar personal information about 11 people.
"I think what's really disturbing is, when it comes to data breaches, CRA is a repeat offender."
"They were pretty stunned when they received them," said Angus, who has often criticized the federal agency over privacy lapses.
He called the latest incidents completely unacceptable, saying they involved the sort of information that — if it fell into the wrong hands — could lead to fraud and identity theft.
"Why would you be sending this out to anybody? This is the kind of breach that makes no sense," Angus said.
"I think what's really disturbing is, when it comes to data breaches, CRA is a repeat offender."
The revenue agency had no immediate comment.
Privacy watchdog urged for more safeguards
In his latest annual report, Therrien urged federal agencies to put more rigorous safeguards in place to protect sensitive personal information.
The commissioner underscored a record-high number of federal government data breaches disclosed to his office.
Federal institutions reported 256 breaches in 2014-2015, up from 228 the year before. It marked the first time institutions were required to report significant data breaches to the commissioner.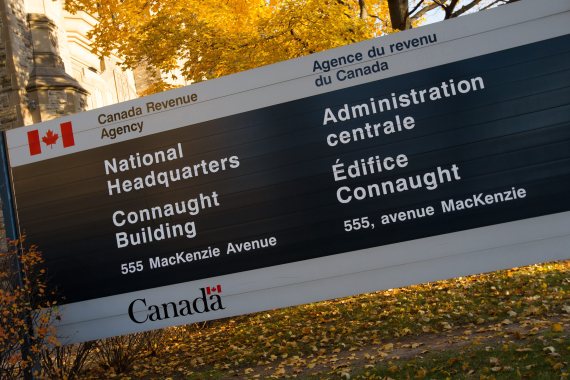 The Canada Revenue Agency in Ottawa, Ont. (Photo: Lars Hagberg/CP)
As in previous years, the leading cause of breaches was accidental disclosure, a risk Therrien said can often be managed by following proper procedures.
In 2013 the privacy commissioner's office audited the Canada Revenue Agency, focusing on its access controls to personal information.
The privacy watchdog made 13 recommendations in areas including monitoring of employee access rights, threat and risk assessments for information-technology systems and ensuring the privacy impacts of new programs are assessed.
The agency agreed with the commissioner's recommendations, and the watchdog made plans to follow up on progress this year.
Angus said the revenue agency needs to implement better training of personnel and impose stricter controls over information.
Also on HuffPost:
7 Household Items That Pose Privacy Problems
If you have a color laser printer, then the documents you print may have imperceptible yellow tracking dots that reveal the printer's serial number and the date and time of printing. The dots are used as part of an effort to track counterfeiters, but the Electronic Frontier Foundation reports that there's nothing stopping the government from tracking any document you print, whether or not its related to currency.

According to the book Brandwashed by Martin Lindstrom, coupon providers often encode your personal information in the bar codes of digital coupons you print. The information can include your computer's IP address, when you found the coupon, where you redeemed it, and the search terms you used to find it.

According to a chart compiled by the Electronic Frontier Foundation, ebook companies often retain your book searches, book purchases and even information on how you're reading the book.

In an interview with Charles Duhigg about his article in The New York Times called "What Does Your Credit-Card Company Know About You?" the reporter said that many credit card companies now have "massive laboratories where they can track what you buy with your card and sort of deduce a lot of things about you, based on those patterns."

Next time you shop at Target, you might want to leave that discount card at home. Many retailers' discount and loyalty cards cards collect purchasing data on customers who use them. The data isn't just used to inundate you with coupons, it may also be used against you by insurance companies.

The Electronic Frontier Foundation warns that many new "smart" electricity meters let utility companies track your power usage "moment by moment." That means your utility company could potentially learn what time you wake up, when you go on vacation, or even more minute details -- like when you run the dishwasher or take a hot bath.

Companies like Verizon and Microsoft have sought to patent processes for monitoring TV watchers. There has also been speculation that Microsoft's soon-to-be-released Xbox One will spy on you via the Kinect, a motion-sensing camera. But that doesn't mean your TV watching habits haven't already been monitored. The Wall Street Journal in 2011 reported that cable companies target ads using TV watchers' personal data.