10 Ingredients We Could All Probably Live Without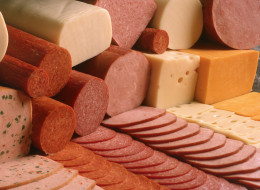 While most of us try to read food labels as a precaution, sometimes a product can have way too many ingredients.
"If it reads more like a science experiment than a recipe, give it a pass," says registered dietitian Desiree Nielsen. "Ingredients that exist simply to extend shelf life or enhance flavour are the hallmark of our ultra-processed food system."
The foundation of a healthy diet, Nielsen adds, is focusing on one ingredients foods — like vegetables and fruits. But of course, this isn't ideal for everyone, and even when we're looking for snacks, dressings or anything packaged, sometimes you may be unintentionally adding unhealthy ingredients to your diet.
When you're shopping, other experts recommend avoiding foods with 10 to 15 ingredients. holistic nutritionist Danielle Felip notes, keep an eye on the ingredients mentioned at the top of the list — these are the most used ingredients in a product.
Below, Nielsen lists some of the most harmful ingredients out there, giving us a good reminder to always read labels. Which ones would you add to the list? Let us know in the comments below:
10 Ingredients You Should Avoid
High fructose corn syrup (HFCS) is one of the most ubiquitous sweeteners because it's cheaper than real sugar, says registered dietitian Desiree Nielsen. HFCS is an enzyme-produced mix of 55 per cent free fructose and 45 per cent free glucose, which is why it's also called glucose-fructose in Canada. "Research is mixed, but suggests that any increase in fructose content over table sugar may lead to dysfunction in liver metabolism," she adds.

Agave has long worn a health halo for being "less refined" than table sugar and "low glycemic," Nielsen says. However, she adds, agave typically contains much more fructose (65 to 85 per cent) than HFCS.

Nielsen says some animal studies hint potential risks of artificial sweeteners like increased cancer risk or alterations in the intestinal flora. But for her, she says the bigger issue is how sweet they are compared to natural sugars. "Eating artificial sweeteners create taste preferences that once habituated, lead you away from choosing healthier whole foods."

"Anything refined is devoid of the original nutrition and white flour contains none of the beneficial fats or minerals that whole grains offer," Nielsen says. Refined flour also lacks fibre, and for the most part, foods with this type of flour are easy to overeat.

"Food dyes such as tartrazine have been linked to chromosomal abnormalities, food sensitivities and hyperactivity in children," Nielsen says. Artificial colours are mostly found in hyper-processed foods.

Nielsen says her main concern with MSG is that it is largely added to foods that aren't good for you. "MSG is responsible for the 'umami' note in food," she says. She adds some research suggests that it may enhance appetite and some may be sensitive to the ingredient altogether.

"Industrial trans fat [produced by hydrogenation] is still the worst kind of fat you could possibly eat," Nielsen says. It tanks good cholesterol in your body, and in return, raises the bad kind.

Nitrates and nitrites are used to preserve and boost colour in deli meats, Nielsen says. "Nitrates may also alter blood glucose levels." Experts also say nitrates and nitrites can affect the way your body uses sugar and may increase the risk of diabetes and colorectal cancer.

"A compound called 4-MEI is formed during the manufacture of caramel colour, commonly found in soft drinks," Nielsen says. This compound has been a suspected carcinogen, she adds. A 2015 study from Johns Hopkins University in Maryland and US Consumer Reports found drinking a sufficient amount of soft drinks with caramel colour could increase the risk of developing cancer.

Nielsen says non-organic soy foods are typically extracted with hexane, a known neurotoxin, and almost always GMO. "Whole soy can be a healthy addition to the diet for those without an allergy but I recommend organic."