Moose Knuckles Made-In-Canada Claim Is Misleading: Competition Bureau
OTTAWA — The Competition Bureau has accused Moose Knuckles of misleading marketing over a claim by the company that its winter parkas are made in Canada.
In an application to the Competition Tribunal, the regulator alleges the parkas marketed as made-in-Canada are mostly made in Vietnam and elsewhere in Asia.
The bureau alleges that only the finishing touches to the jackets, such as adding the trim, zippers and snaps, are done in Canada.
Moose Knuckles was not immediately available for comment.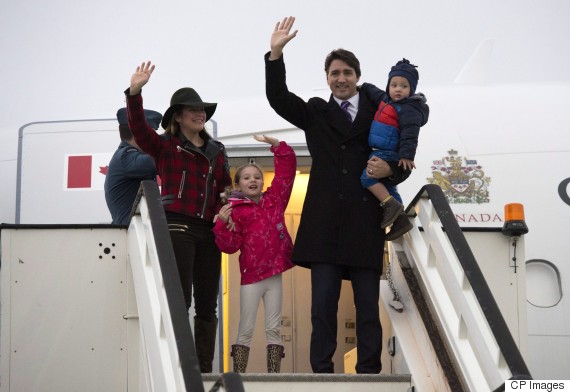 Sophie Gregoire Trudeau, left, wears a Moose Knuckles jacket in London. (Photo: CP)
The bureau declined an interview request but said in a statement Wednesday it is seeking an end to what it believes to be the false or misleading claim. It also said it is seeking an administrative penalty and restitution for consumers.
"Consumers are willing to pay a premium for 'Made in Canada' products, and manufacturers know this,'' said Matthew Boswell, senior deputy commissioner of competition.
"The bureau has taken action in order to ensure that consumers — and retailers — have the correct information to allow them to make informed purchases.''
The Moose Knuckles brand recently received a publicity boost after Sophie Gregoire Trudeau, Prime Minister Justin Trudeau's wife, wore one of its red and black plaid jackets while stepping off a government plane last November in London.
The company's coats are sold in a variety of stores.
Also On HuffPost:
Celebrities Wearing Canadian Designers
Nikki Reed wears a Smythe top to the PeopleStyle Watch Denim Awards.

Kate Middleton in a Tara Jarmon coat.

Kate Middleton in an Erdem floral dress.

Coco Rocha in Greta Constantine at the Met's opening night performance of "Eugene Onegin."

Blake Lively wearing a nautical double breasted Smythe blazer.

Katy Perry wearing a VAWK design at the 2013 MMVAs.

Elisha Cuthbert wears a VAWK gown to the 2011 People's Choice Awards.

Julianne Moore attends the premier of "Don Jon" in a Jason Wu gown.

Rosie Huntington-Whiteley in a chic Jason Wu dress at the Samsung Galazy Note II launch party.