Quebec Long-Gun Registry A Popular Idea, Poll Suggests
MONTREAL — A new survey conducted for a gun-control advocacy group suggests that two-thirds of Quebecers are in favour of the registration of long guns.
Leger's poll for PolySeSouvient comes as provincial lawmakers study Bill 64, which, if passed, would create Canada's only provincial long-gun registry.
The survey, a copy of which was provided to The Canadian Press, found that 69 per cent of those polled were in favour of a registry, versus 26 per cent who were opposed. Five per cent had no opinion.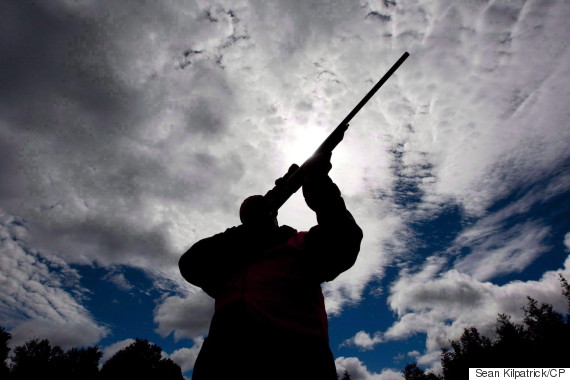 A rifle owner checks the sight of his rifle at a hunting camp property in rural Ontario, west of Ottawa, on Wednesday Sept. 15, 2010. (Photo: Sean Kilpatrick/CP)
The online poll surveyed 1,004 Quebecers between April 15 and April 17.
Respondents were asked: "Do you agree with the implementation of a firearms registry (the registration of long guns) in Quebec so as to be able to link each weapon to its legal owner?"
The results, to be made public Wednesday, also found that 90 per cent of Quebecers were in favour of an obligatory verification of firearms permits to ensure they are valid before a weapon is sold. Proponents argued during recently concluded public hearings it is a necessary amendment
Advocacy group wanted to make point

"There was more and more talk coming from the opponents (of the registry) that the majority of Quebecers don't support registration," said PolySeSouvient spokeswoman Heidi Rathjen.
"We wanted to get the latest measurements of public opinion regarding the registry in Quebec and one of the main amendments that has been called for by us and expert groups is the mandatory inspection of the permit at time of sale."
Quebec is looking to set up its own registry after the former Conservative government abolished the federal database for non-restricted guns in 2012.
The province fought Ottawa in court to save the Quebec data, ultimately losing at the Supreme Court before moving forward on its own last December. 
Hunters, sport shooters arguing against bill
But the debate surrounding the Quebec bill has caused political wedges and ideological divides.
Grassroots opposition to the bill has emerged, with much of it coming from hunters and sport shooters. They argue Canadian licensing regulations are sufficient, while gun-control advocates counter most Quebecers want a registry and that licences aren't enough.
Rathjen says her goal is an effective registry minus "loopholes" and "grey areas."
A spokesman for grassroots group Tous contre un registre quebecois des armes a feu (All Against a Quebec Firearms Registry) says the poll results are not surprising given who commissioned the survey and the way the questions were asked.
"But if we asked the questions in a different way — looking at cost versus utility, for example — it could completely change those results," Guy Morin said. "The survey at some level is leading, giving them the numbers they were looking for."
Rural politicians targeted
Some rural politicians have been targeted in the past because many voters in their ridings are opposed to the bill. There are also concerns about the costs of the registry and Morin says the protests will continue.
"We're here to make sure this bill doesn't pass," said Morin.
The polling industry's professional body, the Marketing Research and Intelligence Association, says online surveys cannot be assigned a margin of error because they do not randomly sample the population.
ALSO ON HUFFPOST:
Prime Minister Stephen Harper shoots .303 Lee Enfield rifle in Gjoa Haven, Nunavut on Tuesday, August 20, 2013. The prime minister, who was on his annual tour of the North, is no stranger to the rifles. During a previous visit, Harper got down on the ground, sniper-style, and fired off a few shots during target practice with the Rangers.

Former NDP Leader Jack Layton poses on a naval vessel.

FILE - In this Sept. 1, 1994 file photo, George W. Bush looks to the sky during a dove hunt in Hockley, Texas during his first Texas gubernatorial campaign. (AP Photo/File, David J. Phillip, File)

In this photo released by the White House, President Barack Obama shoots clay targets on the range at Camp David, Md., Saturday, Aug. 4, 2012. (AP Photo/The White House, Pete Souza)

Democratic presidential candidate Senator John Kerry (D-MA) checks out a shotgun before trap shooting September 4, 2004 in Edinburg, Ohio. (Photo by Mark Wilson/Getty Images)

Sen. Ted Cruz, R-Texas, walks through tall grass during a pheasant hunt hosted by Rep. Steve King, R-Iowa, on Saturday, Oct. 26, 2013, in Akron, Iowa. (AP Photo/Nati Harnik)

Texas Governor Rick Perry fires a six-shooter revolver in downtown Fort Worth during a promotional event with Texas Motor Speedway on April 15, 2010 in Fort Worth, Texas. (Photo by Tom Pennington/Getty Images)

Sen. Ted Cruz, R-Texas, right, talks with Rep. Steve King, R-Iowa, after a pheasant hunt hosted by King on Saturday, Oct. 26, 2013, in Akron, Iowa. Cruz attended the Iowa GOP's annual fundraising dinner in Des Moines, Iowa, on Friday. (AP Photo/Nati Harnik)

US Senator Tom Coburn (R) holds a gun given to him by US Senate Minority Leader Senator Mitch McConnell during the American Conservative Union Conference on March 6, 2014 in National Harbor, Maryland. (BRENDAN SMIALOWSKI/AFP/Getty Images)

U.S. Senator Dianne Feinstein (D-CA) grabs an AK-47 during a press conference at the Los Angeles Police Department headquarters in downtown Los Angeles 21 August 2003. Senator Feinstein, Governor Gray Davis and Los Angeles law enforcement officials urged the U.S. Congress to extend the ban on assault weapons. (HECTOR MATA/AFP/Getty Images)

Republican presidential candidate, former Pennsylvania Sen. Rick Santorum celebrates after he shot a bird during a hunt at Doc's Hunt Club in Adel, Iowa, Monday, Dec. 26, 2011. (AP Photo/Chris Carlson)

Republican presidential candidate, former House Speaker Newt Gingrich (R) holds a Ruger rifle that he signed as Ruger's Vice President Tom Sullivan (2ndR) looks on during a tour of the Ruger Firearms manufacturing facility January 06, 2012 in Newport, New Hampshire. (Photo by Matthew Cavanaugh/Getty Images)

NEXT: U.S. Chains That Have Banned Guns

Whole Foods has a national policy that bans guns in stores, but not in parking lots, a spokeswoman told The Huffington Post. The policy extends at least as far back as 2001, but may be even older, she said.

Ikea has a no arms policy that's posted in its stores, according to a company spokesperson.

Starbucks' competitor Peet's Coffee doesn't allow guns in stores or in its outside seating areas, a spokesperson told HuffPost.

The movie theater chain bans patrons from bringing guns in theaters, a spokesperson told HuffPost in August.

California Pizza Kitchen prohibits patrons from having guns in restaurants unless they're uniformed officers, a spokesperson told the San Francisco Chronicle earlier this year.

The toy chain prohibits customers from bringing guns to stores, according to CNN.

Buffalo Wild Wings doesn't allow customers to carry guns in its restaurants, a spokesman told HuffPost. They first enacted the policy in 2009.

Weapons of any kind are banned at Disney World and Disney Land, a spokesman confirmed to HuffPost.

NEXT: U.S. Places That Also Sell Guns

Hopefully both are far away from the day school.

We're not sure what's weirder: the fact that there's a drive-thru or that liquor/gun gift baskets exist.

Because nothing says "I love you" more than this.

So THAT'S why RadioShack is still in business.

For all your shotgun wedding needs.

Sadly, the asterisk next to Free Handgun* doesn't lead to a message at the bottom that says, "Just kidding."

A dozen roses can only say so much.

Which of these things is not like the others?

Because nothing goes together like whiffle ball, two-by-fours and guns.

Dont' forget your free tickets to the magic show!

In a rustic barn setting no less.

Sorry, if you need your liquor and guns BEFORE 10:00 a.m., you're out of luck.

If you want a gun with a terrible history, this is your place.

They used to have a lot more guitars, but they had to sell them for more guns.

He was going to go with "Semi-Automatic Supermarket" but it didn't fit on the sign.

Now you can put all your dangerous impulses to good use in one place.

Yeah, but do they have a gun made out of gold though?