Canada's Oil And Gas Will Remain In The Red This Year.. But Maybe Not 2017
CALGARY — A pair of forecasts released Thursday see little in the way of good news for Canada's ailing oil and gas sector.
The Petroleum Services Association of Canada (PSAC) predicts drilling activity will be 36 per cent lower than what it anticipated just six months ago, with only 3,315 wells drilled in 2016. It's the second time the forecast has been revised downward since November.
In 2014, before the oil price collapse hit full force, more than 11,000 wells were drilled.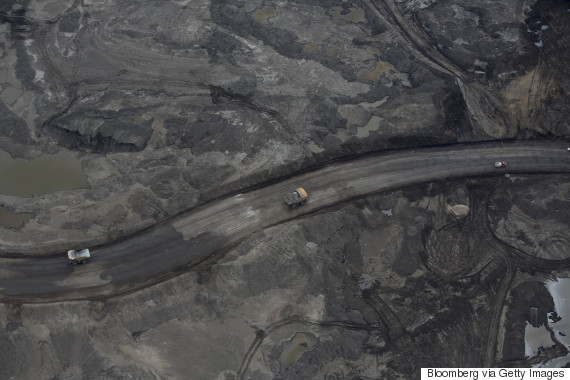 Material is trucked at a Suncor Energy Inc. oilsands mining operation near Fort McMurray, Alta. on Tuesday, Aug. 13, 2013. (Photo: Brent Lewin/Bloomberg via Getty Images)
PSAC CEO Mark Salkeld called the situation "dire'' and said conditions are the worst he's seen in his 35-year career.
"We're sitting under a cloud right now,'' he said.
The PSAC had 265 members going into the Great Recession eight years ago and now it's down to 175 as the tough times force companies to merge, gobble up smaller competitors or even close their doors.
The employee count across the PSAC's membership has been slashed by about half, Salkeld said.
"We're talking tens of thousands of people unemployed with no end in sight, no indicators that we're going to come out of this any time soon.''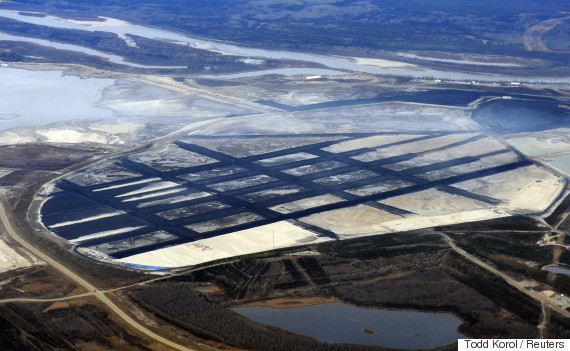 The Suncor oilsands mining operation north of Fort McMurray, Alta. on Nov. 3, 2011. (Photo: Todd Korol/Reuters)
PSAC officials met with the federal environment and natural resources ministers earlier this week to push for pipeline approvals and for infrastructure money to speed the cleanup of inactive oil wells. There were no promises, but Salkeld said the discussions were positive.
Meanwhile, a new report from the Conference Board of Canada says the country's oil and gas industry is expected to be in the red for the second year in a row.
But the pre-tax losses for 2016 aren't expected to be as severe as last year and the sector is on track to return to profitability in 2017.
The Ottawa-based economic think-tank predicts Canadian oil producers will collectively lose more than $3 billion this year, an improvement from last year's record $7-billion loss.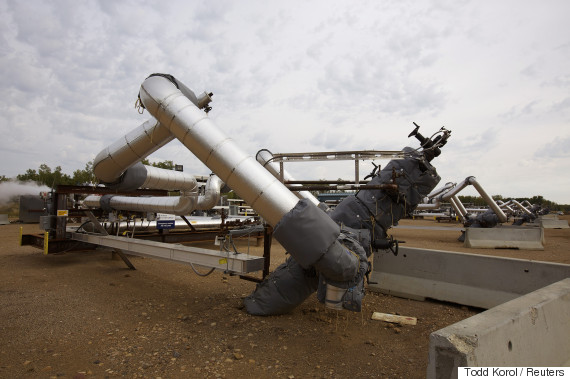 Well heads at the McKay River Suncor oil sands in-situ operations near Fort McMurray, Alta. on Sept. 17, 2014. (Photo: Todd Korol/Reuters)
The price of West Texas Intermediate crude, the key U.S. benchmark, is projected to rise from US$39 a barrel this year to around $65 a barrel in 2020.
The natural gas extraction industry is expected to incur losses of $1 billion this year, slightly better than the $1.1 billion hole last year.
In 2017, the Conference Board sees oil producers turning a profit of $809 million and gas producers eking out $172 million in earnings.
Also on HuffPost:
The Oil Sands and Canada's Environment
Twenty four hours a day the oil sands eats into the most carbon rich forest ecosystem on the planet. Storing almost twice as much carbon per hectare as tropical rainforests, the boreal forest is the planet's greatest terrestrial carbon storehouse. To the industry, these diverse and ecologically significant forests and wetlands are referred to as overburden, the forest to be stripped and the wetlands dredged and replaced by mines and tailings ponds so vast they can be seen from outer space.

This area, located in the extreme northwest of British Columbia, marks the western boundary of the Boreal region. On the border of the Yukon and Southeast Alaska, the western flank of these mountains descends into Alaska's Tongass Rainforest and British Columbia's Great Bear Rainforest. Far from the oil sands, the greatest remaining coastal temperate and marine ecosystem is imminently threatened by the proposal to build a 750-mile pipeline to pump 550,000 barrels per day of oil sands crude to the coast. Once there, it would be shipped through some of the most treacherous waters, virtually assuring an ecological disaster at some point in the future.

Even in the extreme cold of the winter, the toxic tailings ponds do not freeze. On one particularly cold morning, the partially frozen tailings, sand, liquid tailings and oil residue, combined to produce abstractions that reminded me of a Jackson Pollock canvas.

Photographed in late autumn in softly falling snow, a solitary spruce is set against a sea of aspen. The Boreal Forest of northern Canada is perhaps the best and largest example of a largely intact forest ecosystem. Canada's Boreal Forest alone stores an amount of carbon equal to ten times the total annual global emissions from all fossil fuel consumption.

The refining or upgrading of the tarry bitumen which lies under the oil sands consumes far more oil and energy than conventional oil and produces almost twice as much carbon. Each barrel of oil requires 3-5 barrels of fresh water from the neighboring Athabasca River. About 90% of this is returned as toxic tailings into the vast unlined tailings ponds that dot the landscape. Syncrude alone dumps 500,000 tons of toxic tailings into just one of their tailings ponds everyday.

In an effort to deal with the problem of tailings ponds, Suncor is experimenting with dry tailings technology. This has the potential to limit, or eliminate, the need for vast tailings ponds in the future and lessen this aspect of the oil sands' impact.

So large are the Alberta Tar Sands tailings ponds that they can be seen from space. It has been estimated by Natural Resources Canada that the industry to date has produced enough toxic waste to fill a canal 32 feet deep by 65 feet wide from Fort McMurray to Edmonton, and on to Ottawa, a distance of over 2,000 miles. In this image, the sky is reflected in the toxic and oily waste of a tailings pond.

The Caracajou River winds back and forth creating this oxbow of wetlands as it joins the Mackenzie flowing north to the Beaufort Sea. This region, almost entirely pristine, and the third largest watershed basin in the world, will be directly impacted by the proposed Mackenzie Valley National Gas Pipeline to fuel the energy needs of the Alberta Oil Sands mega-project.

Oil sands pit mining is done in benches or steps. These benches are each approximately 12-15 meters high. Giant shovels dig the oil sand and place it into heavy hauler trucks that range in size from 240 tons to the largest trucks, which have a 400-ton capacity.

The Alberta oil sands are Canada's single largest source of carbon. They produce about as much annually as the nation of Denmark. The refining of the tar-like bitumen requires more water and uses almost twice as much energy as the production of conventional oil. Particularly visible in winter, vast plumes of toxic pollution fill the skies. The oil sands are so large they create their own weather systems.

Located just 70 miles downstream from the Alberta oil sands, the Athabasca Delta is the world's largest freshwater delta. It lies at the convergence of North America's four major flyways and is a critical stopover for migrating waterfowl and considered one of the most globally significant wetlands. It is threatened both by the massive water consumption of the tar sands and its toxic tailings ponds.

This network of roads reminded me of a claw or tentacles. It represents for me the way in which the tentacles of the tar sands reach out and wreak havoc and destruction. Proposed pipelines to American Midwest, Mackenzie Valley, and through the Great Bear Rainforest will bring new threats to these regions while the pipelines fuel new markets and ensure the proposed five fold expansion of the oil sands.

Here's a look at oil spills since the Gulf Disaster:

In Nigeria's Akwa Ibom State, an ExxonMobil pipeline ruptured on May 1 and spilled over a million gallons of oil, reported the Guardian. The leak continued for seven days before it was stopped. HuffPost blogger Omoyele Sowore explained in July 2010 that an oil spill from ExxonMobil operations was nothing new to the country. He wrote that an "environmental catastrophe [had] been going on since December 2009." He described the toll on Nigeria: "There's oil on the surface of the ocean, wildlife coated in crude, fishermen losing their businesses."

In May 2010, several thousand barrels of oil spilled from the Trans-Alaska pipeline "during a scheduled pipeline shutdown at a pump station near Fort Greely," explained AP. No injuries were reported and officials said the spill was likely "limited to the gravel on top of the containment area's line."

In June 2010, a Chevron pipeline ruptured and spilled oil into a creek near Salt Lake City, Utah. It was first estimated that over 400 to 500 barrels spilled into the creek, which leads into the Great Salt Lake, reported AP. Around 150 birds were "identified for rehabilitation." The oil did not reach the Great Salt Lake, however. Chevron was later cited for the spill, which released an estimated 33,000 gallons in total. In March 2012, a group of 66 residents of a Salt Lake City neighborhood sued Chevron for damage caused by the Red Butte Creek spill and a smaller spill in December 2011.

In late July 2010, an Enbridge pipeline in southwestern Michigan sprung a leak and spilled over 800,000 gallons of oil into a creek which flows into the Kalamazoo River. By August, a regional EPA administrator said that significant progress had been made at the site, but "the agency cautioned that it will take months to complete the cleanup," reported AP. By the end of September, the pipeline -- which travels from Ontario to Indiana -- was back in operation. The EPA later reported that about 1.1 million gallons of oil were recovered, but pipeline operator Enbridge said that it would stick with previous estimates that only about 843,000 gallons were spilled.

In July 2010, China experienced what was reported as the "country's largest reported oil spill" after a pipeline rupture near the northeastern port city of Dailan. Several days after the spill, cleanup efforts were underway over a 165 square mile (430 square kilometer) area of the Yellow Sea. The Chinese government reported that about 1,500 tons or 461,790 gallons of oil had spilled, but experts contended that the spill could have been "dozens of times larger," reported AP.

In late April 2011, a pipeline in northwestern Alberta began leaking, and created the worst spill in the province in 36 years, reported the Calgary Herald. About 28,000 barrels of oil were reportedly spilled from the Rainbow pipeline, which is operated by Plains Midstream Canada. The Globe and Mail revealed that the pipeline operators "detected a potential problem nearly eight hours before halting the flow of crude." A nearby school in a First Nation community was closed after residents reported "nausea, burning eyes and other symptoms," and several animals were found dead. In late July, Plains Midstream requested to re-open the pipeline and begin to ship oil to Edmonton again.

In June 2011, an oil spill occurred about 25 miles off the coast of China's Shandong province in Bohai Bay. A second spill followed in July. In late August, it was reported that ConocoPhillips had discovered more oil seeps in Bohai Bay, although only "1 to 2 liters (a quarter to a half-gallon) of oil and drilling mud were being released each day." The company reported that the 2011 spills released 700 barrels of oil and 2,500 barrels of drilling mud into the bay and that most of it was recovered. In September, China's State Oceanic Administration claimed that oil was still seeping underwater. In early 2012, Texas-based ConocoPhillips reached a settlement deal with the Chinese government for $160 million.

In July 2011, a pipeline beneath Montana's Yellowstone River ruptured and sent an oil plume 25 miles downstream, reported AP. Despite reassurances from ExxonMobil that the pipeline was safe, the July spill released what was originally estimated to be 42,000 gallons of oil. With other 1,000 workers assisting the cleanup, ExxonMobil estimated that it would cost $135 million to clean the river. In January 2012, it was reported that ExxonMobil had increased its estimate of the spill size by 500 barrels. AP later reported the estimated spill size as 63,000 gallons. CORRECTION: A previous version of this slide stated the estimated spill size as 63,000 barrels instead of gallons.

In August 2011, an oil rig off the eastern coast of Scotland began leaking oil into the North Sea. Royal Dutch Shell, which operates the Gannet Alpha oil rig, initially reported that 54,600 gallons of oil were spilled. A second leak soon occurred, turning the spill into the worst in the North Sea in a decade, reported AP. Several days later, Shell announced that it had "closed a valve from which oil was spilling into the North Sea," according to AP. The spill released about 1,300 barrels of oil, which spread out over a 2.5 square mile (6.7 square kilometer) area.

In mid-November 2011, Brazilian authorities began investigating an offshore spill near Rio de Janeiro, reported AP. Chevron initially reported that between 400 and 650 barrels of oil had spilled into the Atlantic, while a nonprofit environmental group using satellite imagery estimated that the spill rate was at least 3,738 barrels per day. Chevron soon claimed full responsibility for the spill. The brazilian division's COO said, Chevron "takes full responsibility for this incident," and that "any oil on the surface of the ocean is unacceptable to Chevron," reported AP. In December, Brazilian prosecutors announced that they were seeking $10.6 billion in damages from Chevron for the spill that leaked nearly 3,000 barrels of oil. In March 2012, a Brazilian federal judge allowed prosecutors to file criminal charges against Chevron and Transocean and 17 executives from both companies were barred from leaving Brazil.

In October 2011, a Liberian-flagged cargo ship ran aground on a reef in Northern New Zealand and began leaking oil. With oil washing up on shore, a government minister deemed it the country's largest maritime environmental disaster a week later. Although over 2,000 sea birds were killed by the spill that spilled about 400 tons of fuel oil, 343 little blue penguins were rescued and cleaned of oil. [Watch video of the penguins' release into the wild here.] In January, half of the stricken Rena began sinking into the sea after breaking apart and spilling over 100 cargo containers.

The spill, which took place near the coast of Nigeria, was reported as "likely the worst to hit those waters in a decade," according to AP. After two days, the spill had affected 115 miles (185 kilometers) of Nigerian coastline. Several days after the December 20 spill, Shell reported that the leak -- which occurred about 75 miles offshore -- had been contained before it reached the Nigerian coast. The spill, which covered 350 square miles of ocean at its peak, was reported as having released less than "40,000 barrels -- or 1.68 million gallons" of oil.