Bank Of Canada Releases List Of 12 Women Who Could Be On New Banknote
OTTAWA — The Bank of Canada says it now has a list of a dozen women who could be featured on a new banknote.
The list, selected by an advisory council from public submissions, includes artists Emily Carr and Pitseolak Ashoona and authors Lucy Maud Montgomery, Pauline Johnson and Gabrielle Roy.
Also included are pioneering feminists Nellie McClung, Idola Saint-Jean and Therese Casgrain.
Story continues after slideshow:
List Of Canadian Women For New Bank Note
The Bank of Canada released a list of 12 women who could be on the new banknote. An Inuit graphic artist, Pitseolak Ashoona is known for lively prints and drawings showing "the things we did long ago before there were many white men" and for imaginative renderings of spirits and monsters. Based in Cape Dorset, Northwest Territories (now Nunavut), she created several thousand drawings reflecting her love and intimate knowledge of traditional Inuit life. She was elected a member of the Royal Canadian Academy of Arts in 1974.

Emily Carr was one of the pre-eminent Canadian painters in the first half of the 20th century—and perhaps the most original. Her bold canvases feature totem poles set in forests or on the sites of abandoned Aboriginal villages on Canada's northwest coast and record the heritage of the Haida, Gitksan and Tsimshian peoples. She is also recognized for her nature paintings of Western forests, beaches and expansive skies. Based in Victoria, B.C., Carr was one of only a few major women artists in North America and Europe during that period. She was also a celebrated author, winning a Governor General's Award for her first book of short stories, Klee Wyck (1941).

Best remembered for leading the campaign for women's suffrage in Quebec, Thérèse Casgrain was also the first Canadian woman to head a political party in Canada, the Quebec wing of what is today the New Democratic Party. Casgrain was a vigorous defender of social causes and founded a number of organizations: the Quebec branch of the Voice of Women to promote disarmament and peace, the League for Human Rights and the Fédération des femmes du Québec. She was appointed to the Senate in 1970. Today, the Thérèse Casgrain medal honours the efforts of outstanding volunteers.

A businesswoman turned civil libertarian, Viola Desmond built a business as a beautician and, through her beauty school, was a mentor to young Black women in Nova Scotia. She is best known, however, for her courageous refusal, in 1946, to accept racial discrimination by sitting in a whites-only section of a New Glasgow movie theatre. Desmond was arrested and fined for "attempting to defraud the provincial government" of the one-cent difference between the balcony seats (the "Black section") and the seats on the main floor. Her actions inspired later generations of Black people in Nova Scotia and the rest of Canada.

Dr. Lotta Hitschmanova came to Canada as a Czech refugee during the Second World War. In 1945, she founded the Unitarian Service Committee of Canada (USC Canada) to help those suffering in the aftermath of the war, especially children. Her compassion struck a chord with Canadians. Thousands gave food, clothing and money, making USC Canada one of the first international development agencies in our country. Dr. Hitschmanova dedicated her life to relief work. For 36 years, she spoke, wrote, travelled and raised funds for the needy. The work of USC Canada continues today.

The daughter of a Mohawk chief and an Englishwoman, E. Pauline Johnson is best known for the poetry she wrote celebrating her Aboriginal heritage. During her career, Johnson adopted her Aboriginal grandfather's name, Tekahionwake, meaning "double wampum." Between 1892 and 1910, Johnson undertook a series of speaking tours in Canada, the United States and England and travelled across Canada giving poetry readings in many remote settlements that saw few other forms of entertainment. Throughout her travels Johnson's recitations of patriotic poems and short stories featuring Canadian culture made her a popular ambassador for Canada.

Elizabeth MacGill was the first woman in Canada to receive a bachelor's degree in electrical engineering (University of Toronto, 1927) and a master's degree in aeronautical engineering (University of Michigan, 1929). She was the first woman aircraft designer in the world and is perhaps best known as "Queen of the Hurricanes" for her work on the Hawker Hurricane fighter planes that were used during the Second World War and were instrumental in the Battle of Britain. MacGill headed the production and design of a winterized version of the aircraft, more than 1,400 of which were built under her leadership. An active feminist, she was president of the Canadian Federation of Business and Professional Women (1962-64) and was a member of the Royal Commission on the Status of Women.

Nellie McClung achieved national renown as one of the five appellants (the "Famous Five") in the "Persons" Case, the constitutional ruling that established the right of women to be appointed to the Senate. As a politician and public lecturer, she campaigned vigorously for social reform and women's rights. McClung was a Liberal member for Edmonton in the Alberta legislature (1921-26) and the first female member of the CBC Board of Governors (1936-42). She was also the author of several influential books written in the style of the Methodist and temperance literature of her day, including Sowing Seeds in Danny (1908) and Clearing in the West: My Own Story (1935).

In 1908, Montgomery's first novel, Anne of Green Gables, became an immediate bestseller in Canada and the United States and remains in print in English and many other languages more than 100 years later. Over her life, Lucy Maud Montgomery published 22 novels and books of short stories, a brief memoir, and countless poems, stories and magazine articles. She was also an astute businesswoman, managing to ensure a reasonably stable and solid income from her work, a remarkable feat for a woman writer in the late 19th and early 20th centuries.

A track and field athlete, Fanny Rosenfeld held Canadian records in the running and standing broad jump and in the discus. At the 1928 Amsterdam Olympics, she took the silver medal in the 100-metre dash and was lead runner for the women's 4 x 100 metre relay team that won gold in a record time of 48.2 seconds. She was also joint holder of the 11-second, 100-yard world record. Rosenfeld was elected to Canada's Sports Hall of Fame in 1949 and, in 1950, was voted Canada's female athlete of the first half of the 20th century. After arthritis forced her into retirement, Rosenfeld entered the world of journalism and for 20 years wrote a sports column in the Globe and Mail.

A French-Canadian who grew up in poverty in Manitoba, Gabrielle Roy translated that experience, as well as her observations as a Montréal journalist, into vivid depictions of urban misery. The publication in 1945 of Bonheur d'occasion (translated as The Tin Flute) launched a new literary genre in Canada—the "urban novel"—and brought her fame and prosperity. Roy is considered one of the great contemporary writers on the human condition. A member of the Royal Society of Canada since 1947, Roy received the highest literary awards, including the Governor General's Award, the Prix Duvernay and the Prix David.

An actress, teacher and author, Idola Saint-Jean is primarily known as a feminist and pioneer in the fight for suffrage in Quebec. She led the efforts to obtain the right for Quebec women to vote in provincial elections (which was realized nearly 20 years after it was granted for federal elections). Saint-Jean was also the first woman from Quebec to run as a candidate in a federal election. Since 1991, the Fédération des femmes du Québec has given the Prix Idola-St-Jean to a woman or group of women who have improved the status of women and advanced the cause of feminism in Quebec.
The list is rounded out with humanitarian Lotta Hitschmanova, aircraft designer Elsie MacGill, Olympian Bobbie Rosenfeld and pioneering businesswomen Viola Desmond.
The bank says it received more than 26,000 submissions nominating more than 460 women.
A poll will be commissioned to gauge the views of the public on the list. Then, the advisory council and experts will pare it down to three to five finalists for a selection by Finance Minister Bill Morneau.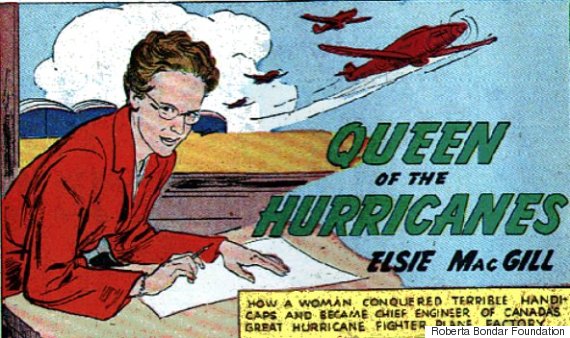 WWII plane designer Elsie MacGill is on a shortlist of women to appear on a new Canadian banknote. (Photo: Roberta Bondar Foundation)
The advisory council said it sought women who broke or overcame barriers, made a significant change, left a lasting legacy and are inspirational.
"The women who appear on our list should resonate with Canadians and reflect the diversity of Canada," the council said in a statement.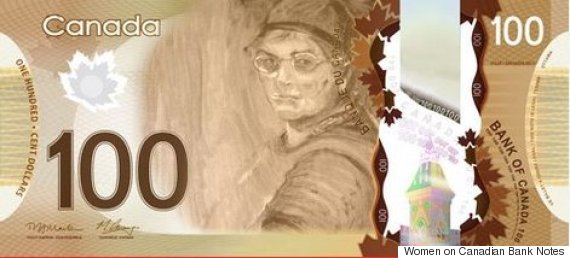 Artist Emily Carr appears on an illustration of a Canadian $100 bill. (Photo: Women on Banknotes)
"Their achievements must be seen in the context of the time they lived."
The new banknote is due out in 2018.
Earlier this month, the United States announced that Harriet Tubman, who was born a slave but escaped to become a prominent abolitionist and rights activist, will be featured on a new $20 bill.