Best Dressed Of The Week: Priyanka Chopra, Ariana Grande, Ibtihaj Muhammad And More
Famous fashion favourites stepped out in an array of outfits this week, and we're here to break it all down for you.
The big event of the week was the TIME 100 Gala, which honoured and celebrated the world's most influential people. Naturally, the red carpet was filled with big-name celebs in stunning ensembles.
Ariana Grande dominated the event, donning a show-stopping Christian Siriano gown fit for a queen, while Olympic fencer Ibtihaj Muhammad stunned in an embellished white gown.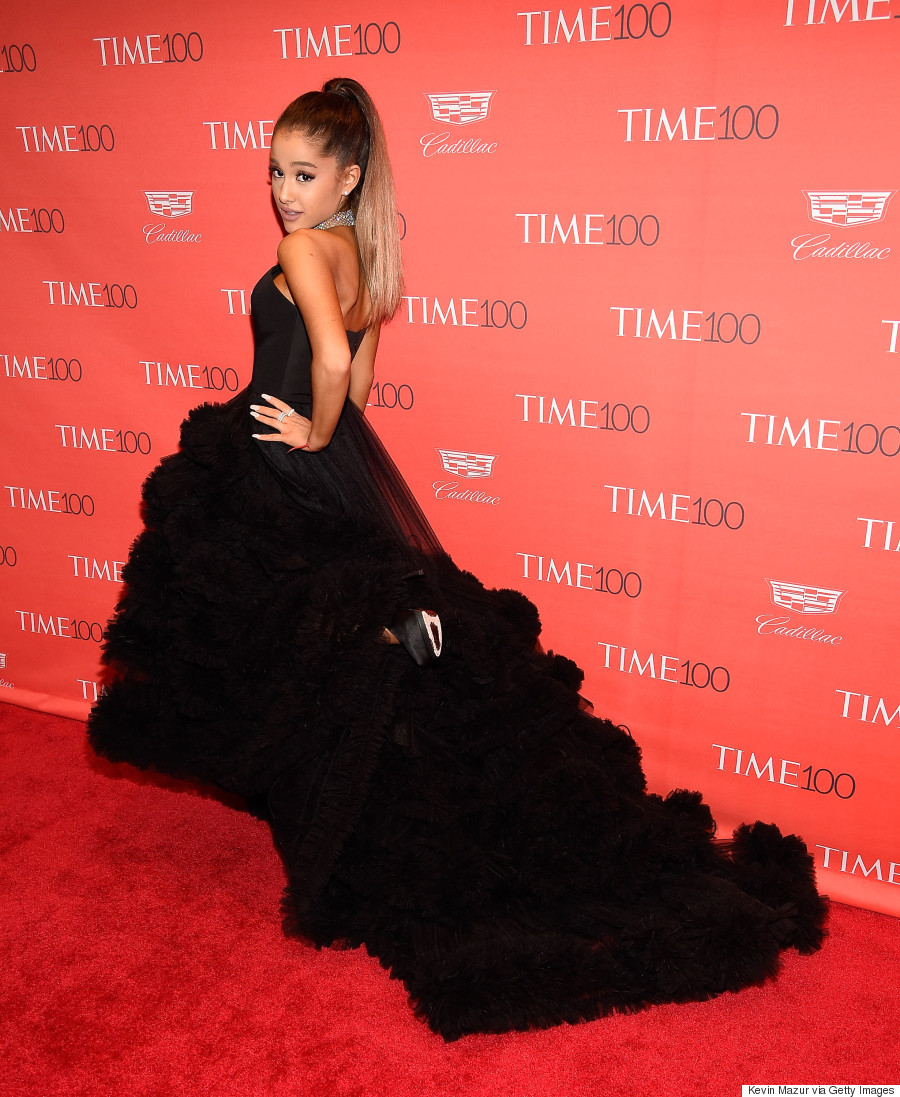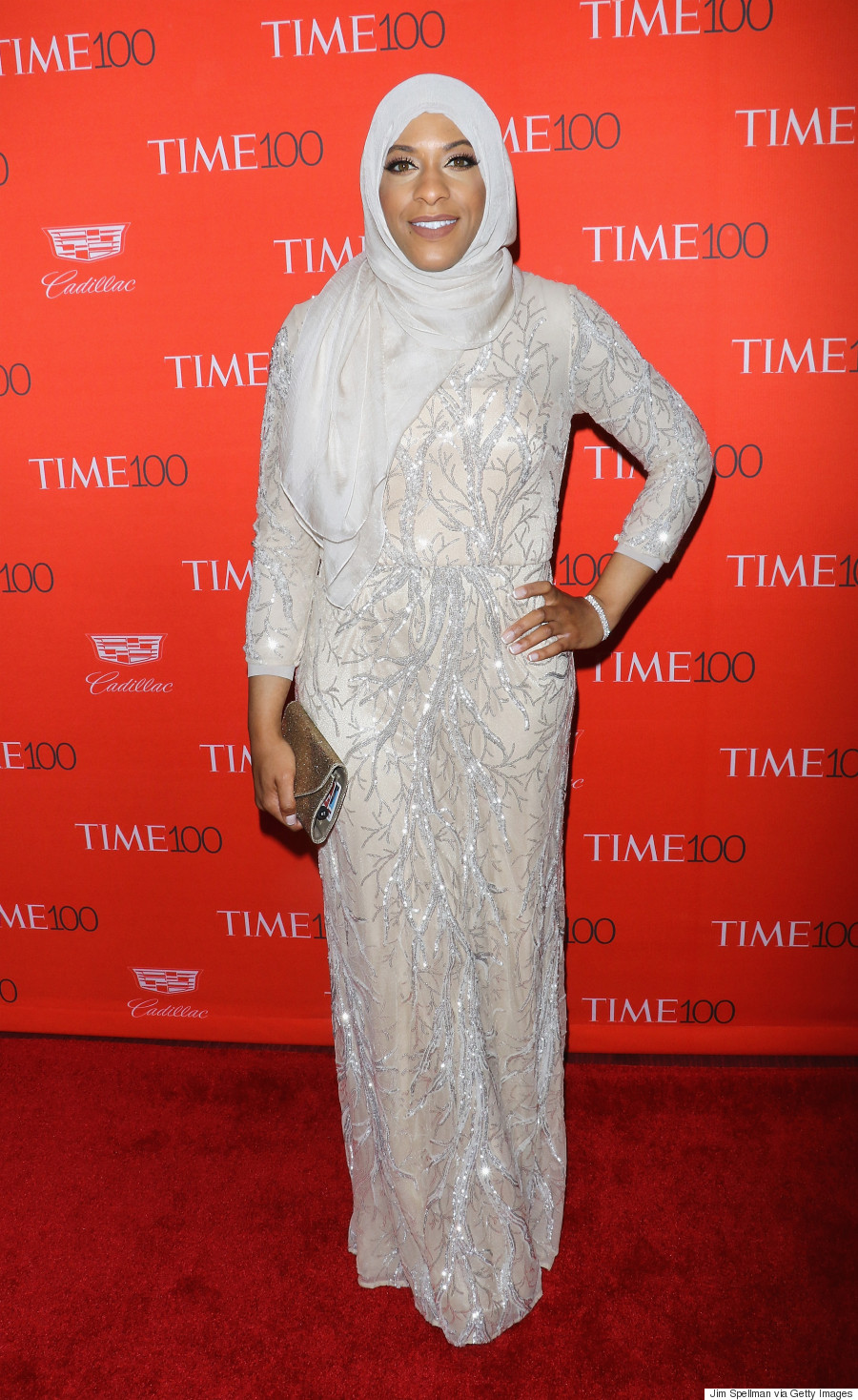 And Priyanka Chopra shocked us all by wearing a sexy white pantsuit, a big shift from her usual glam and embellished gowns.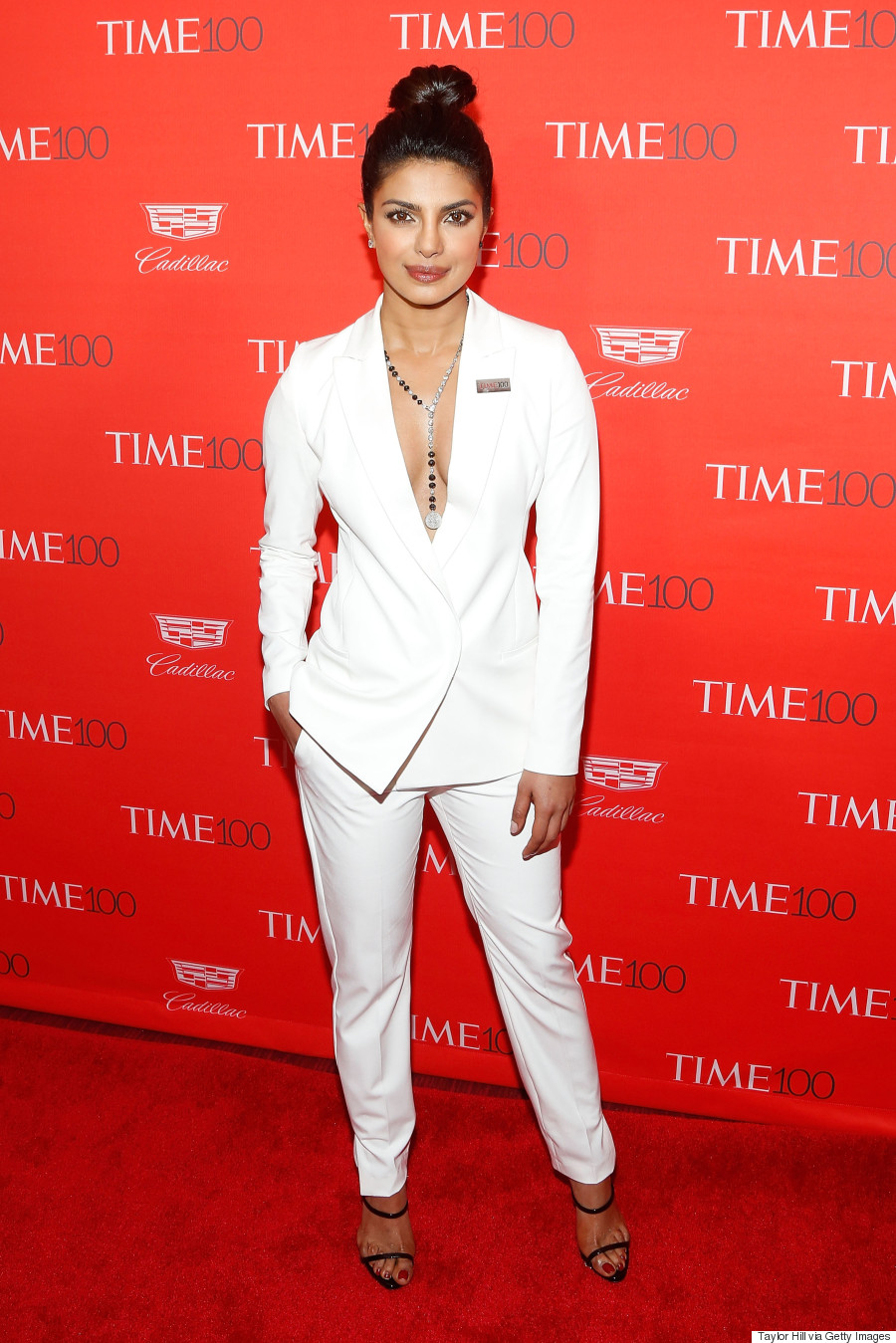 Check out our best dressed of the week below, and let us know in the comments if you agree with our picks!
Best Dressed: Week Of April 24, 2016
Olympic fencer Ibtihaj Muhammad was a vision in white at the TIME 100 gala, rocking a dazzling embellished gown that matched her hijab perfectly. As for her makeup? On point.

Ariana went full-on queen with this dramatic Christian Siriano gown for the Time 100 Gala. We're obsessed with the full skirt and that diamond choker gives it that extra-special touch.

While we're used to seeing Priyanka Chopra in stunning gowns, we're loving this suited look on her. The all-white ensemble is quite striking, and that diamond drop-down necklace is oh so sexy.

Elizabeth Olsen has, once again, proved good style runs in the fam with this Alexander McQueen number. This sophisticated gown is made modern thanks to that keyhole cutout and the beachy, boho waves are the perfect finishing touch.

This Bibhu Mohapatra number isn't your typical red carpet gown which is what we love about it. The black leather details on the chest remind us of a beyhive beehive (in a good way) and the light lilac hue looks lovely against Gina's skin tone.

We've said it once, and we'll say it again: you can never go wrong with a little black dress. We like how Shay added the It-girl accessory of the moment, the choker, to the ensemble and those pointy-toed pumps are the perfect finishing touch.

Pretty in pink! Though simple, Padma Lakshmi's bright pink gown is definitely effective. We especially love the ruching at the belly button and that gold accent on the neckline. Also, Lakshmi proves you can wear pink lipstick with a pink dress.

This leather Alexander Wang slip pretty much screams "badass" with those lace details and embellishments. And Tinashe's belted choker finishes everything off perfectly.

Ladies who lunch have never looked so cool! At Glamour's Game Changers Lunch, Zendaya proved metallics can be worn in the daytime with her fashion-forward ensemble. She expertly paired the metallic silver skirt with a simple, white button-up and strappy silver sandals to match. As for her hair and makeup look? SLAY.

For a dinner with U.S. President Barack Obama and First Lady Michelle Obama, Kate Middleton decided to go colourful in a printed LK Bennett frock. Flowy and oh so pretty!

Emily Ratajkowski knows the power of the little black dress, and we love her for it. For Glamour's Game Changers Lunch, the actress and model donned a simple black off-the-shoulder number with an asymmetrical hemline. She opted to leave her neckline completely bare, adding to the sexiness.

The lace-up top isn't dead, at least if Kendall Jenner has anything to do with it! While leaving LAX airport, the model-of-the-moment donned a skimpy Alexander Wang body suit that laced all the way past her navel. High-waisted jeans by Citizens of Humanity and a two-toned Commes des Garcons jacket completed her model-off-duty look.

For the opening of REFUGEE Exhibit at Annenberg Space For Photography in California, Mindy Kaling opted for a simple black sheath dress with red and white detailing. Though understated, we appreciate that Kaling tied the look together with red polish and a bright red lip.

For Queen Elizabeth II's 90th birthday celebrations, U.S. First Lady Michelle Obama made sure to dress regally, donning a purple Oscar de la Renta dress. The frock, which featured a floral motif and sparkly embellishments, proved to be a nice contrast to the Queen's pastel skirt suit, but we can't help but think, could it possibly have been a tiny homage to music superstar Prince, who died at age 57 on Thursday?

Doesn't get much sexier than this! For the "High-Rise" premiere during the 2016 Tribeca Film Festival, Sienna Miller went punk rock chic in a red Christopher Kane dress complete with cut outs and charms for good measure. Obsessed.

The key to rocking a glittery dress is to keep the accessories to a minimum, which is exactly what Kristen Bell did at the opening of REFUGEE Exhibit at Annenberg Space For Photography in California. To keep the spotlight on her Camilla and Marc frock, the actress simply opted for a few simple rings and a pair of pointy silver pumps.

Leave it to Zendaya to take a vintage piece and make it ultra modern and chic. We love the pairing of this Chanel tweed bralette and matching jacket with those high-waisted white jeans.

Chanel Iman really amped up the sexy factor for Sports Illustrated's Fashionable 50 NYC Event, donning a strapless suede frock complete with bust-high slits attached by a series of buckles. The model paired the look with a simple pair of black thigh-high boots, opting to go jewelry free to not distract from the dress.

Though quite simple, this Coach dress is still rather effective. We love the T-shirt silhouette and the polka dots are a nice, fun touch.

While classic, army jackets can sometimes get a bit boring. However, Hailey Baldwin's version is a fresh take on the trend, especially with those colourful embellishments and giant pockets.

We're suckers for tuxedo dressing, and Gal Gadot just solidified our obsession. This sleek tux is ever-so-sexy and we especially love the satin lapels. Add in that slicked-down hair and red lip, and you've got yourself a winning look.

Suede on suede can be tricky, especially in camel, as it runs the risk of looking too western or costume-like. However, Jada Pinkett-Smith's ensemble, while still Western inspired, manages to be red carpet-appropriate, thanks to the structured-style blazer and low-cut, black top underneath.

Halsey went all out for "The Huntsman: Winter's War" premiere, donning a stunning, dreamy gown by Labourjoisie.

You can never go wrong with a black blazer dress — just look at Jennifer Aniston's Anthony Vaccarello version. We especially love the asymmetrical hemline and the pointy-toed ankle strap heels are the perfect complement.

This Temperley London dress is equal parts pretty and sexy, with that soft colour palette, plunging neckline and thigh-high slit. Also, Shay's makeup? Love.

There's no doubt the Duchess of Cambridge nailed every single outfit during her royal tour of India and Bhutan, but we have to say, this Paul and Joe ensemble is our fave. Using Bhutanese fabric and woven in traditional Bhutanese fashion, the floor-length skirt is a nice homage to the country.

Jessica Chastain's dress is a bit of an optical illusion, which is why we love it so much. The Giles frock is incredibly structured (leaving us to wonder how Jessica even managed to sit in it) and its whimsical print is almost other-worldly. Fitting, as Chastain wore this to the Beijing press conference for her latest flick, "The Huntsman: Winter's War."

Leave it to Lupita Nyong'o to expertly pair a simple scoop neck tee with a sparkling, glittery skirt and make it look amazing and red-carpet worthy. The J.Crew ensemble is fun and fresh without being over-the-top. And that metallic orange eyeshadow? Love.

Liquid leather isn't an easy look to pull off, especially in matching separates, but of course, Bella managed to rock this Versace ensemble like a pro, making us want to buy ourselves some shimmery two-pieces.

For the launch of of her US$1,750 coffee table book set, Naomi Campbell made sure to dress the part. Donning a slinky, sequined purple gown with a plunging neckline and a matching shaggy stole, the supermodel looked every bit glam and fierce, like we know her to be.

For the "American Idol" series finale, Jennifer Lopez made sure to go out with a bang, donning a champagne sequined high-low dress with a dramatic train. The short hemline at the front showed off JLo's great gams (and shoes!) while the lengthy back really brought the whole ensemble to the next level.

Normally, if we were to imagine a sparkly, bright magenta dress, we'd think of something from a prom horror story. However, Diane Kruger proved us wrong in this Hugo Boss number. The chiffon frock isn't too overwhelming, thanks to the distressing throughout, and the actress was smart to keep accessories to a minimum to avoid overkill.

This Dior dress is so incredibly chic on Kate Bosworth, we can hardly stand it. Everything about the frock is ultra-feminine, from the midi-length hemline to the long, patterned sleeves. But the best part? That criss-cross front.

Zendaya went full-on rock chic at the iHeartRadio Music Awards, opting for a crushed velvet suit with a cropped bralette underneath. We love the juxtaposition between the oversized blazer and skinny trousers, and those pointed-toe booties are the perfect finishing touch.

As much as we love jumpsuits, we're also a bit bored of them, especially with so many celebs opting for the look on the red carpet. However, Selena Gomez's Mugler one-piece is anything but boring, especially with those asymmetrical cutouts and buckle detail at the side. As for the chokers, well, you already know how we feel about those.

For the 2016 Junos, Lights donned a very special gown created for her by her own mother, Virginia Poxleitner. The dress, which was modelled after "Final Fantasy" and Rey from "Star Wars," according to an Instagram post from the Canadian songstress, was a standout on the red carpet that evening.

Kendall Jenner was perfectly on-trend Easter weekend, donning our three must-haves of the season: off-the-shoulder tops, distressed denim and lace-up sandals.

Jessica Alba gave us a nice lesson in transitional dressing: opt for outerwear in pastel colours. Rather than wear your dark wool overcoat during those cooler spring days, try a lighter-coloured version instead. To make things even more spring-like, add in a pair of white shoes, like Jessica.

We love seeing Gigi Hadid in colour, but we have to say all-black suits her too. The slit on her turtleneck dress breaks up the darkness, as it allows some skin to show.

Rihanna broke up her all-black ensemble by donning a pair of badass pointy-toed pumps with ankle straps. And those sunglasses? We. Die.

Melissa McCarthy looked very spring-like this week in a shimmery pleated maxi skirt and a matching cream blouse with a tie at the front. With that clutch and bold lip, it's definitely red carpet-ready, but we can definitely see ourselves wearing this look during those breezy summer days.

We're not gonna lie: we're totally lusting over several pieces in Kendall and Kylie Jenner's clothing line, particularly the asymmetrical skirt and crop top ensemble Kendall is wearing and those lace-up shoes on Kylie.

Talk about a red carpet queen! Gal Gadot slayed on the red carpet at the "Batman v Superman" premiere in London, donning this custom cherry red gown by Prada. The plunging neckline is sexy, yet classy and those embellished details on the shoulders really bring the dress to the next level.

Not many people could pull off a sheer dress like this, but naturally, Gigi wears it wonderfully. With her blond locks left down in a soft wave, she looked simply angelic, and that brown lippie gives the ensemble that perfect '90s edge.

While this is a much more demure look than we're used to seeing on JLo, we like it nonetheless. The cut of this dress is quite flattering on her, and the sequins and delicate bow keep it from being boring.

Edgy, youthful and cool. Perfect for Kaia.

We love a good tuxedo dress, especially one that has extra-special details, like those puffy sleeves and military-style buttons.

Another interesting take on the tuxedo dress? Moschino by Jeremy Scott's "burnt" version, as worn by Bella Hadid.

You can't go wrong with a LBD and Pamela Anderson's fitted frock is proof. We especially love the patent leather piping and belt.

Kate Hudson is no stranger to the crop top and wide-leg pant combo, and we don't blame her. The ensemble works well on her, and is equal parts sexy and chic. What makes this particular version special is the colour blocking and the drapey black fabric on the trousers. Also that slicked back hair on Kate? Love.

FLOTUS looked stunning during a state dinner in Buenos Aires, donning a satin gown embellished with crystals. We're also huge fans of Argentina's First Lady Juliana Awada's grey lace frock.

For the launch of her Juicy Couture line, supermodel Behati Prinsloo donned a silky black slip dress that showed off a hint of her blossoming belly. To keep things casual, she cleverly paired the dress with a long, chambray coat.

UP NEXT: Best Dressed: Week of March 14, 2016.

Pulling off oversized pants with an oversized blazer is a tricky task, but Lupita Nyong'o did it flawlessly. The bright hue looks gorgeous against her skin tone, and we love that she paired it with a crop top to show just a hint of skin.

Another case of a celeb pulling off a very tricky look. Gwyneth Paltrow somehow managed to look amazing in this pink, bell-bottomed Emilia Wickstead jumpsuit, something we personally wouldn't dare to wear. Kudos, Goop.

This look was a definite win for the Duchess of Cambridge. Kate's not usually one to go monochromatic, but she did it flawlessly with this outfit. The printed coat keeps this all-grey look from being boring, as does the oversized John Boyd hat, and we appreciate that Catherine even opted for grey eyeshadow to go with the theme.

Gal Gadot is shaping up to be one of our fave new style icons. The former-Miss-Israel-turned-actress who plays Wonder Woman in the upcoming flick, "Batman v Superman: Dawn of Justice" looked incredible at "Jimmy Kimmel Live" in this floral Dolce & Gabbana minidress. We love how she paired it with bright yellow pumps to really bring out the yellow in the dress.

Kerry Washington looked ready for spring at the PaleyFest Los Angeles presentation of "Scandal" in this pastel blue Ulyana Sergeenko Couture dress. We love the intricate lace design and the tiered layers, and those suede sandals go perfectly with the ensemble.

Who says lacy gowns should be reserved for evening? Kirsten Dunst looked glam, yet still daytime appropriate in this lace black gown with embroidered details. The trick to making this work as a day look? Carry your usual day bag, rather than an evening clutch.

While most people wear jerseys to basketball games, Kendall Jenner opts for something way more fashion forward. We love the look of this oversized jacket on the model, especially paired with that black choker. And just wait until you see the shoes...

We. Die.

This plunging, blush pink J. Mendal pleated gown on Kate Hudson is what dreams are made of.

The slicked-back hair, the bold red lip and the gorgeous tailored power suit? Helen Mirren rocked this androgynous look and proves she's still running the fashion game at age 70.

Red, white and blue. Selena looked so elegant in the bold ensemble, which consisted of a knitted turtleneck and open-slit skirt. And those block-heeled shoes? We need those ASAP.

Jessica Alba was spring ready in this playful ankle-length gown from Brock Collection. She paired the garment with a sun-kissed glow and tousled beach waves.

Who doesn't love a leather skirt? Zendaya's Paris Fashion Week look is on point with this edgy look.

DAMN, KENDALL! She was back at it again with the Fendi fiery red romper and baby blue fur stole.

We think Karlie Kloss may be the only person on Earth who could pull off this cut.

Dakota flaunted a romantic sheer frock with embroidered details at the Valentino show in Paris.

Fresh off her opening night on Broadway, Lupita took to the streets of New York in a printed collar dress that cinched at the waist. Gorgeous.

Irina Shayk is the definition of sultry in this little-red-dress, oversized-blazer combo.

UP NEXT: Best Dressed Of The Week: Week Of Feb. 28, 2016

After topping our Oscars best dressed list, Rachel McAdams hit it out of the park, once again, at the Vanity Fair Oscar Party in this sparkly pink Naeem Khan gown. The silhouette is very similar to her August Getty frock, with the thin straps, thigh-high slit and slight train, but it's the plunging neckline on this gown that really brings on the drama.

Also pretty in pink this week? Kendall Jenner and Gigi Hadid. The model BFFs headed to the Balmain after-party after walking Olivier Rousteing's fall 2016 show in Paris donning looks straight from the runway. Oh and the hair colour swap? Love.

For Lanvin's fall 2016 show, Ciara opted for a monochromatic outfit consisting of a white dress paired with a beige trench cape and white and grey snakeskin boots. Simple, yet sleek.

Holy, glam! We're not used to seeing JLo this covered up, but a winter-ready look sure suits her. We're loving the fit of the overcoat, especially how it hits mid-calf, and the topknot and red lip combo are the perfect finishing touches.

It's official: Chrissy Teigen has the best maternity style in Hollywood. While out and about in New York City this week, the model pulled off this effortless look consisting of an oversized, billowy shirt dress and thigh-high boots.

Emma Roberts shone bright while sitting front row at H&M's Studio A/W16 show donning a high-waisted silver midi skirt and a sheer long-sleeved top. We usually aren't fans of visible undergarments, but thanks to the shimmery fabric of the shirt, it works.

This may be Jessica Alba's most sophisticated look to date, and we couldn't love it more. Those wide-leg trousers paired with that tucked-in white dress shirt and bolero jacket look so polished and chic, we definitely want to steal the look for ourselves.

Va-va-voom, Swifty! Taylor Swift took some style cues from her VS Angel besties, donning a very sexy gown by Alexandre Vauthier to the Vanity Fair Oscar Party. The thick, gold choker is the perfect addition to the show-stopping dress.

Following her win at the Oscars, Alicia Vikander swapped her yellow Princess Belle Louis Vuitton gown for this sequined number by the French fashion house. A very different look, that's for sure, but we kind of dig the darker vibes. Oh, and that Oscar makes for a great addition to her look.

We weren't fans of Kerry Washington's Oscars dress, but this after-party gown totally made up for it. This form-fitting Versace frock hugs Kerry in all the right places, but what we love best is those skinny neon straps in the middle.

Oh, and the back. Because WOW.

Rihanna seemed to have taken inspo from her second music video for "Work," donning a lilac Armani Prive gown complete with ruffled details. We love the fit of the dress and the pastel shade against her skin tone, especially paired with that light purple makeup. Werk, werk, werk, werk, werk (sorry, we had to).

Rihanna went for a different look for her Brit Awards performance of "Work" with Drake, opting for an off-the-shoulder crop top and fringed pants perfect for twerking. Slay.

WOWZA. Very few people could pull off a red, skintight, sequined jumpsuit, but of course, JLo rocked the ensemble like a pro. GIVE US YOUR SECRETS, PLEASE.

Sleek, minimalistic and oh-so-chic. We love this all-white look on Elizabeth Olsen.

Suki channelled her inner bohemian princess in this gorgeous, billowy Camila and Marc gown at the Elle Style Awards. We love how she has just that hint of skin showing thanks to the plunging neckline and how she opted to keep her accessories to a minimum. Also, that voluminous 'do is what hair dreams are made of.

This is probably one of our fave Jourdan Dunn looks to date, and that's saying something since she consistently tops our best dressed lists. Everything about this Emilio de la Morena ensemble is stunning, from the off-the-shoulder crushed velvet top with the side cut out to that embroidered skirt with the thigh-high slit.

We've already talked about how much we love Adele's ruffled Giambattista Valli gown, but we had to include her in this list simply because it's seldom we see the British songstress in colour. More of this please, Adele!

Zendaya's Thakoon jumpsuit with its matching vest is giving us major inspo for our next party look. Effortlessly cool, yet still super stylish.

The pop of white looks beautiful on Alek's skin tone, and we especially love the high collar on that blouse. As for the metallic silver skirt? Simply stunning.

Rockin' body-length fringe is definitely no easy feat, but Bella manages to pull it off effortlessly. Pairing the Julien Macdonald number with those thigh-high boots was a wise choice.

Chrissy Teigen's not the only mama-to-be with impeccable maternity style — Liv Tyler also knows how to display her blossoming belly beautifully. This cobalt blue gown is so bold and striking and was cleverly paired with complementary orange lipstick and eyeshadow.

Ashley Graham was the definition of bombshell at the Sports Illustrated Swimsuit 2016 press event in NYC this week. That LBD hugs her curves beautifully and the gold necklace and cuff dress it up well. Add in those glamorous waves, dark eye makeup and bold, oxblood lip and you've got yourself a drop-dead gorgeous look.

Another day, another winning Gigi Hadid look. It may not be as daring as her sheer, skintight jumpsuit, but this Herve Leger dress is still quite sexy in its own way, especially with those nude, thigh-high boots. We especially love the soft beading throughout — just lovely.

Blake Lively demonstrated the perfect way to make an evening gown appropriate for daytime: add a classic coat worn over the shoulders. We love the tone-on-tone theme going on here, and how effortlessly chic the actress looks.

At this point, it's safe to say Chrissy Teigen has some pretty killer maternity style. This dark green Galvan London gown was a nice change from Chrissy's angelic Grammys 2016 look, and it shows off her blossoming belly beautifully.

We only have one thing to say about this gown: showstopping.

Now THIS is a red carpet look! Everything about Kate's ensemble is perfect: from the slight, asymmetrical train to the jagged asymmetrical neckline and those stunning diamond drop earrings. Add in the bold, red clutch and the hair blowing in the wind, and you've got yourself a picture-perfect look.

Okay first thing's first: those boots. Not many people can pull of thigh-high belt buckle footwear, but naturally, Zendaya makes it work, and work well for that matter. And that sheer, flowy gown? A great way to soften the look overall.

Rooney Mara is always the picture of romantic elegance on the red carpet. This Givenchy gown is ethereal, yet still edgy, especially with those spiky geometric sleeves.

There's something so chic about a geometric neckline, especially when it features contrasting colours. The white gown is of course, very elegant and sophisticated, but it's that black sash that really ups the ante.

A little bit bohemian and a whole lotta glam, this Saint Laurent ensemble is one of our fave Lily Donaldson looks yet.

UP NEXT: Best Dressed: Week of Feb. 7, 2016

Amal Clooney exudes Old Hollywood glamour in this vintage Yves Saint Laurent gown circa 1981. We love the addition of the tulle overlay to the sequined dress and the sash gives it that extra special touch. We've said it once, but we'll say it again, "HAIL, AMAL!"

It's been a while since we've seen Blake Lively on the red carpet, and boy, did this outfit make us realize how much we missed her. The actress looked like a modern-day princess in this Chanel couture ensemble complete with a beaded turtleneck and matching tulip skirt.

Liu Wen ditched the gown and opted to go the jumpsuit route instead for the amfAR Gala in New York. We say she succeeded in this choice, donning this effortlessly cool Prabal Gurung number.

Though this Lela Rose frock is fairly simple, it's anything but boring. The nipped waist and low V-neck add a sexy touch while the voluminous sleeves give it a bit of edge.

For the amfAR Gala in New York, Jourdan Dunn donned a romantic floral strapless gown from Dolce & Gabbana that hugged her body perfectly. Paired with that dark lip and the low chignon, it makes for a perfectly pretty look.

Yes, yes, yes to this Sophie Theallet gown! We love the criss-crossed halter neckline and shimmery bronze fabric on Anais, and the bold, red lip gives that extra pop of colour.

Jasmine Tookes looked statuesque and beautiful in this white column gown by Saint Laurent. Oh, and Jasmine? We'd like your skin secrets, please.

Hannah Davis was Valentine's Day ready in this lace gown by Elie Saab. While the collar keeps things preppy, the sheer lace adds a touch of sexy.

Feathers are often a tricky thing to pull off, but Diane Kruger does it perfectly in this custom Prada gown. The key is the strategic placement, and the delicate arrangement.

After killing it in Versace last week, Penelope Cruz slayed, yet again, this time in Balmain. Black and gold suit the "Zoolander 2" actress, and the ornate motifs made her look regal and powerful.

Only Naomi Campbell could pull off what appears to be a beach cover-up at a movie premiere. Of course, undergarments from La Perla help her case as well.

1. We have our eyes on that grey T-shirt dress Kendall is wearing. 2) We're obsessed with those shoes and plan on wearing them all summer (we do give K credit for wearing sandals in the winter, though). 3. The fur topper is a nice, luxe addition, though if we were to emulate this look, we'd probably go for a faux option.

Jessica Alba channelled biker chic perfectly at the Saint Laurent show in L.A. this week. The slinky gold gown is toned down with that black moto jacket, and the textured hair and pink lip give her a grungy, yet feminine look.

DAMN. Penelope Cruz was quite literally a golden goddess at the "Zoolander 2" fan screening in London. This slinky custom Versace gown hugs Penelope's curves perfectly, and the ruched detailing and thigh-high slit add that extra touch of sexy.

This whimsical Reem Acra gown is so dreamy and ethereal on Suki Waterhouse, especially with those embroidered flowers and elegant train. One of our fave looks of hers to date.

Also going the romantic route was Ellie Bamber, who looked lovely in this nude lace Chanel gown adorned with flower petals.

Amal Clooney and Giambattista Valli go together like peanut butter and jelly. This fun, flirty frock reminds us a lot of the gorgeous GV she wore during her wedding weekend in Italy, and shows off her gams beautifully.

Dakota Johnson gave us some serious bohemian vibes in this flowy Saint Laurent gown. We love the bell sleeves and the delicate silver stars embellished throughout the dress. So lovely!

This Ralph & Russo frock mixes textures perfectly, making for a chic, yet interesting look. The icy blue hue looks gorgeous against Jourdan's skin tone and the floral appliques on the bodice are oh-so-pretty.

Lily James' Erdem number perfectly encapsulates the mood of "Pride and Prejudice and Zombies": old school, but with a modern twist. While the graphic stripes of this gown are very Victorian-esque, the off-the-shoulder crop top and flowing skirt make it perfectly appropriate for 2016.

Hot mama! This white dress with a flowing bandeau looks sleek and sexy on Hilary Duff. We love how she paired it with dark pumps and a dark lip, and how it goes perfectly with her newly-dyed pastel locks.

If you ever thought you couldn't mix pink and purple, Lupita Nyong'o just proved you otherwise. Sleek and polished, yet fun and vibrant, this look has us dreaming of spring.

This A-line gown with floral embellishments is the perfect frock for a young star like Maisie Williams. So fun and playful!

Catherine Zeta-Jones lit up the red carpet at the "Dad's Army" world premiere in this Elie Saab dress. The blue hue looks lovely against her skin tone, and the slinky fabric, thigh-high slit and low-cut neckline are oh-so-sexy.

Gigi Hadid took ripped jeans to the next level after walking the Chanel haute couture show, opting for a torn and tattered version by One Teaspoon. However, paired with that Intermix choker top and A.L.C. jacket, the supermodel managed to make the distressed look ultra chic.

Yes, Cara Delevingne's dog Leo is super cute, but even he couldn't distract us from the former model's killer Chanel outfit. Everything from the sheer tank to the embellished bomber jacket and those boots with chains is totally badass and cool.

Also donning a Chanel bomber jacket (albeit vintage) was Kendall Jenner. She paired the topper with the rest of her model-off-duty essentials: sunglasses, boots, leggings, and of course, the good old choker necklace.

Earlier this week we raved about the Valentino gown Natalie Portman donned to the New York premiere of "Jane Got A Gun," but the dress she wore to the Paris premiere deserves some love, too. This Dior gown is romantic and moody with its sheer panels and lace details.

This may be one of our fave Sarah Paulson looks yet! The "American Horror Story" actress looked radiant in this dark rose Stella McCartney gown at the "The People v. O.J. Simpson: American Crime Story" premiere. Paulson did well matching her clutch to her belt, and with that simple makeup and short 'do, it's a definite change from her usual red carpet garb.

Olivia Palermo will forever be one of our favourite street style stars. Just look at the ensemble she wore to the Elie Saab couture show this week. The Joseph trousers give off a cool, nautical vibe as does the Iris von Arnim turtleneck, while the Elie Saab fur topper adds that extra touch of luxe.

Anne Hathaway made her first red carpet appearance since announcing her pregnancy donning this black and white dress from Marc Jacobs. We love the mod vibe it gives off, and how it shows just a hint of the actress' blossoming belly.

Pretty in pink! Laverne Cox looked chic and ladylike donning this pink dress by Roland Mouret. Though it is form-fitting, the subtle peplum and high neckline make it perfectly appropriate for daytime.

Rita Ora's Ralph & Russo caped gown is a far cry from her Versace couture dress, but it's still sexy in its own right, thanks to the sheer skirt and daring thigh-high slit.

Is it just us, or Kirsten killing all her red carpet looks lately? After impressing us in Valentino at the 2016 Golden Globes, she decided to don this Chanel Couture dress to the Critics' Choice Awards, and boy, is it ever stunning. We love the '20s vibe it gives off, and how romantic it looks.

A black dress doesn't have to be boring — just look at Gigi Hadid's Sally Lapointe number. The form-fitting silhouette hugs her body perfectly, while the delicate sheer panels add that touch of sexiness. And the feathered hemline? We. Die.

We've already expressed our love for underwear as outerwear, so naturally, we're obsessing over this slip dress-inspired gown on Lily James. The sheer fabric clings to her frame like a glove, and that floral motif is so delicate and beautiful.

Simple, yet effective.

Now these are some winter blues we can get behind! Priyanka looks radiant in this bright blue Vionnet dress featuring one sleeve and a sexy slit. Also, can we have your hair secrets please, Priyanka?

Two words: white hot. Very reminiscent of what JLo wore during her "Jenny From The Block" phase.

It's been a while since we've seen Rosamund Pike in the spotlight, but she certainly dressed for a triumphant return. This scarlet red Chloe dress with laser-cut details is elegant and sophisticated on the "Gone Girl" star.

Another case of a not-so-boring black dress: this Saint Laurent gown worn by Rosie Huntington-Whiteley. While the slit is very sexy (naturally), it's that asymmetrical plunging neckline that really makes the statement.

We love this dark, moody hue on Rachel, especially paired with that oxblood lip.

Krysten Ritter also wore a simliar hue which went nicely with her raven locks.

Not very many people could pull off this Mary Katrantzou dress, but Alicia Vikander does it perfectly. The sheer fabric gives the dress some movement, while the bold patterns add some eccentricity.

Two words: RED HOT. This two-piece ensemble is all sorts of sexy with its form-fitting silhouette and deep, plunging neckline. All we have to say is, daaaaamn, KoKo.

We're suckers for underwear as outerwear, or anything lingerie-inspired, really, and this satin nightgown-inspired Galvan gown is simply stunning on Rosie. Add in that red lip and fur stole, and you've got yourself a glamorous, timeless look.

At W Magazine's It Girl luncheon, Chanel Iman certainly dressed the part in this two-piece ensemble from Jaime Lee. While the floral and lace motifs make for a pretty, delicate look, the off-the-shoulder cropped top and form-fitting pencil skirt with mesh inserts add some extra sexiness.

There's something to be said about backless dresses. Just look at Sarah Hyland's Amanda Wakeley gown from the InStyle Golden Globes after-party. The frock drapes perfectly down Sarah's figure, while the Lorraine Schwartz jewels add some extra glam.

Meanwhile, the front is modest and understated, to give the back centre stage.

Laverne Cox stuck to her all-white theme at the InStyle Golden Globes after-party, donning this custom cape dress by Mark Zunino. We love how she opted for a sexier garment this time around.

This has to be one of our fave Vanessa Hudgens looks yet. This slinky velvet gown is very '90s, but the crystal embellishments and feathered hemline amp up the glam factor. Love.

After seeing Kiernan Shipka's asymmetrical checkered and striped dress, we have the sudden urge to don a mixed print outfit immediately. Also those "bad Sandy" curls? Obsessed.

Proof Michelle Obama's Narcisco Rodriguez dress is a hit: it sold out on Neiman Marcus' website even before President Obama finished his State of the Union speech Tuesday night.

We'll admit we weren't the biggest fans of Jennifer Lopez's canary yellow Golden Globes dress, but we say she redeemed herself in this Roland Mouret number. Simple, classic, yet still sexy.

While this Stella McCartney gown isn't quite as dramatic as her Golden Globes dress, we love the understated glam it evokes.

Selena Gomez looked like a boho princess in her white off-the-shoulder maxi dress by J.Mendel. We like this style on her.

Consider this our going-out uniform: cropped top, wide-leg trousers and a chic topper.

Gigi Hadid ditched the greys and opted for an all-white outfit, which consisted of distressed skinny jeans, a lace-up sweater and a faux fur coat from Express. Yeezys completed her winter white ensemble.

The front of this silver metallic Burberry dress is absolutely stunning, especially with all the intricate embellishments, but the back is what really took our breaths away...

Dead.

Classic, yet modern. Love.

Emerald green is one of our fave colours on Jessica — and from this dress, you can see why. The hue goes perfectly with her milky skin tone and red locks, and the slinky fit of the number gives us serious Old Hollywood vibes.

Saoirse Ronan took a break from the red carpet gowns and instead opted for a two-piece number by Roksanda at the W Magazine Golden Globes party. We're loving the feathered detail at the shoulder and the wide leg of the pants.

Pretty in pink! This retro Erdem dress is fun and flirty, especially with the polka dots and ruffles.

Brie Larson shut. It. Down. in this forest green Jason Wu dress. The form-fitting silhouette is ultra-flattering and highlights her curves beautifully.

Cate Blanchett can do no wrong, and this Marc Jacobs gown is proof. The icy blue hue looks lovely against her skin tone and that embroidered embellishment adds that extra-special touch.

File this under: white hot.

Goodbye Sandra Dee and hello Sandy! Julianne Hough sizzled on the People's Choice Awards red carpet in an off-the-shoulder KaufmanFranco dress that reminded us of her "Grease" character's iconic off-the-shoulder top.

Lea Michele took the LBD to the next level by donning this embroidered number by Elie Saab. Paired with those T-strap pumps, it makes for a winning look.

Alison Brie's Cushnie Et Ochs dress is the perfect blend between sweet and sexy. The mint hue is delicate and ladylike, while the cut-outs at the side add that va-va-voom.

Lucy Hale's Self-Portrait gown was one of our faves at the People's Choice Awards. Everything from the tiered layers to the mixed fabrics and the lace-up bodice makes for an edgy, gothic chic look.

Priyanka Chopra shone bright on the People's Choice Awards red carpet in this silver and gold paillette gown by Vera Wang. And paired with that dark, sexy smoky eye? Perfection.

Kaley Cuoco proved you don't need to wear heels on the red carpet when she paired her glittery Manning Cartell dress with a pair of Dior sneakers. Talk about sport luxe!
Follow Huffington Post Canada Style on Pinterest, Facebook and Twitter!