Andrew Loku Death: Ontario Partially Releases SIU Report, Launches Police Oversight Review
TORONTO — An Ontario judge has been tapped to review the province's police oversight agencies — a move the Liberal government announced as it released part of a report into a fatal police shooting.
The government has been under pressure to release the report from the director of the Special Investigations Unit, which found a Toronto officer was justified in killing a man armed with a hammer.
Members of Black Lives Matter camped out in front of Toronto police headquarters for two weeks, and marched on the provincial legislature to call for an overhaul of Ontario's police watchdog and the release of the name of the officer who shot Andrew Loku.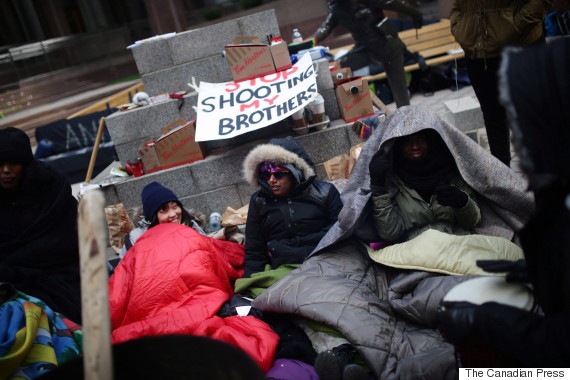 Protesters huddle for warmth in front of the Toronto Police Headquarters in Toronto on Monday March 21, 2016. (Photo: Cole Burston/CP)

The officer's name is redacted in the part of the report released Friday.
SIU Director Tony Loparco said the officer feared for his or her life after Loku walked toward police, saying: "What you gonna do? Come on, shoot me."
Police were called to an apartment building by someone saying Loku had a hammer and was threatening to kill their friend, the report said. When police arrived, they stood about eight or nine metres away from him in the hallway and ordered him to drop the hammer. However, e continued toward them with the hammer raised above his head, the report said.
The unnamed officer shot Loku from a couple metres away, Loparco's report said.
"Confronted with a large, armed and violent suspect who had neared to within three metres or less and was refusing to stop, I am satisfied that the subject officer fired his/her weapon believing it to be necessary to thwart an imminent hammer attack at the hands of Mr. Loku, and that the officer's apprehensions in this regard were reasonable," Loparco concluded.
SIU critical of non-witness officer
While media coverage noted Loku had mental-health issues, there was no evidence that was why he was "aggressive" toward police, the report states. It is "as likely" intoxication — his blood-alcohol level was three times the legal driving limit — explains his actions.
Loparco is critical of one non-witness officer, who tried to download security video even though the SIU had begun investigating the killing.
The officer's actions are "another example in which the post-incident conduct of some officers threatened to publicly compromise the credibility of the SIU's investigation," Loparco wrote. He listed at least one example, though it is redacted in the publicly released version of the report.
Members of the Canadian Mental Health Association were concerned about a gap in the surveillance video, but Loparco said a forensic investigation found nothing "nefarious" and the camera "had simply not recorded the shooting."
Judge to lead police oversight review
Attorney General Madeleine Meilleur said in a statement that Appeal Court Justice Michael Tulloch will lead an independent review of Ontario's three police-oversight agencies: the SIU, the Office of the Independent Police Review Director and the Ontario Civilian Police Commission.
Tulloch will examine how SIU reports could be made public in the future, as well as whether past reports could be published, Meilleur said.
Normal SIU practice is to issue a news release summarizing a case — not the full report — when an officer is either cleared or charged with an offence following incidents involving police where there has been death, serious injury or allegations of sexual assault.