Vancouver Now Fines Unlicensed Pot Dispensaries $250 A Day
VANCOUVER — The City of Vancouver has begun cracking down on unlicensed medical marijuana shops, but owners say they're still committed to keeping their doors open.
Prominent pot activist Jodie Emery said at least two dispensaries were issued $250 fines Saturday, the first day inspectors enforced regulations that the city put into place last year.
"But the two places I've spoken with are open for business. They're not going to deny accessibility to their patients,'' Emery said.
The rules were developed when medical marijuana businesses began growing across Vancouver, but the city refused to grant permits to 140 dispensaries that didn't comply with rules such as being too close to schools.
Seven businesses have been issued development permits under the city's regulations and 13 applications are being reviewed.
Andreea Toma, the city's chief licensing inspector, said last week that shops that haven't been granted a business license must pay $250 for every day they remain open and the city could also pursue court action, including a $10,000 fine or an injunction order forcing stores to close.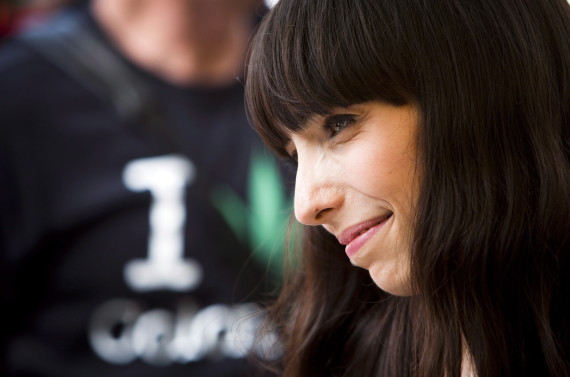 Prominent marijuana activist Jodie Emery is seen in Vancouver on Aug. 17, 2014. (Photo: Ben Nelms/Canadian Press)
B.C. Pain Society owner Chuck Varabioff has been outspoken about plans to keep his Commercial Drive store open and said he expected to see enforcement officers there on Saturday.
By mid-afternoon, he still hadn't been visited, but said he was ready when inspectors do come calling.
"If they come in with a fine and a ticket, and I have to sign the ticket, and accept it, I will, and then I'll decide later how and when and if I'm going to pay it,'' he said.
Varabioff said his permit was denied because his shop is too close to a school, though a long-time compassion club that is located even closer to the school was granted permission to stay open.
He said he wants a fair appeal, and until he gets it, his store will stay open.
"They've taken one big step backwards.''
Varabioff said he isn't against regulating medical marijuana businesses, but wants the city to play fair.
"The city was going forward in a positive way,'' he said. "But now that they've cut it back to just a few dispensaries, they've taken one big step backwards.''
The city needs to justify the rules that have been put into place, said Emery.
"Dispensaries want to be legal, but when the regulations are so prohibitive as to force them to close down, that needs to be explained and justified,'' she said.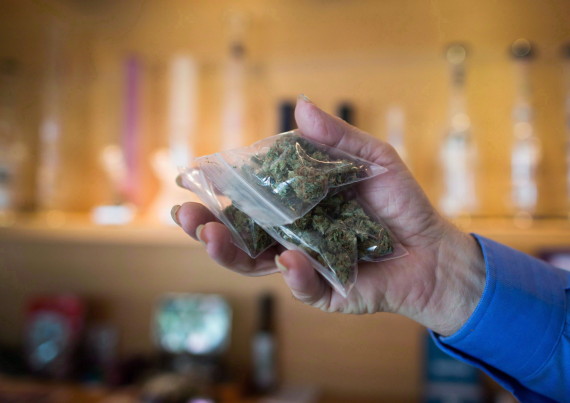 A bag of marijuana is held up at a medical marijuana dispensary in Vancouver on May 1, 2015. (Photo: Darryl Dyck/Canadian Press)
Right now, she said, the rules seem arbitrary and enforcing them is costly, between paying bylaw officers and fighting the legal fights that she predicts will come up when shops refuse to pay the fines.
"This is going to cause more harm than good,'' Emery said. "This is going to force thousands of people to loose their accessibility to medicine, it's going to cost thousands of people their jobs in dispensaries and related businesses, and landlords are going to have empty store fronts once again.''
A spokesman for the City of Vancouver declined to comment on the enforcement measures and said more information would be provided on Monday.
Also On HuffPost:
WEED: The New Science of Marijuana
Marijuana's advocates believe the long-maligned plant can enhance life—and help deliver people from sickness and pain. A Seattle cannabis worker cradles the resin-dusted bud of a strain called Blueberry Cheesecake.

Lily Rowland receives a dose of an oil derived mainly from cannabidiol (CBD), a nonpsychoactive substance in marijuana. She used to suffer hundreds of seizures with violent convulsions every day. Her family moved to Colorado, which voted to legalize marijuana in 2012, so that she could begin a daily regimen.

Phillip Hague, the chief horticulturist at a Denver cannabis company called Mindful, sniffs the roots of a plant to check on their health. He's grown cannabis most of his life and has traveled the world researching its many varieties. He's interested in developing new strains with higher concentrations of marijuana's lesser known compounds that appear to have medical uses. "Cannabis speaks to me," he says.

At Denver's LivWell, which has an enormous indoor growing operation, workers remove marijuana leaves before the buds are trimmed, keeping the plants destined for medical use separate from those for recreational use. After Colorado legalized marijuana, thousands of young people from all over the world flocked to the state to participate in the multimillion-dollar business phenomenon that's been called the Green Rush.

Kim Clark's younger son, Caden, 11, suffers from severe epilepsy. Despite having brain surgery twice, he'd never had a seizure-free day until he started taking CBD oil.