Amanda Lindhout's Phone Call With Mother During Her Captivity Is Bone-Chilling
Amanda Lindhout lived 15 months of her life in captivity.
Canadians learned horrific details of the daily abuse the Alberta freelance journalist experienced after being kidnapped in Somalia in 2008. She published her award-winning memoir "A House in the Sky," five years after she was first taken hostage.
One person who was also subject to the horrors Lindhout endured was her mother, Lorinda Stewart. Living in Alberta, she was contacted by her daughter's captors shortly after the kidnapping. It was Stewart who tried for over a year to negotiate Lindhout's release.
The two women shared many phone calls throughout the nightmarish ordeal. A select number of calls are now being released to the public for the first time.
'Things have changed'
The "worst" call happened about a year after Lindhout was kidnapped, according to CBC News. On the phone, Lindhout begs her mother for the $1 million her captors demanded. Stewart is heard trying to calm her down, assuring she was doing all that she could.
That call was aired Monday during an interview with CBC Radio host Anna Maria Tremonti and Lindhout and Stewart. It touched on the issue of Canada's stance of not paying ransoms for nationals kidnapped abroad.
The topic re-entered the national conversation after Canadian John Ridsdel was killed by hostage-takers in the Philippines in late April.
After Ridsdel's death, Prime Minister Justin Trudeau reiterated the government's position that Canada "does not and will not" pay ransom to terrorists, either directly or indirectly.
Listen to Lindhout and Stewart's call below, via CBC.
WARNING: The content may be disturbing to some readers
Lindhout said the call took place after she was assaulted for three days.
"OK, things have changed here, mom. You need to pay the money now," she says, sobbing during the call. Her voice shatters as Stewart repeatedly says her name in an effort to get her to listen.
"You need to pay the million dollars now because they've started to torture me."
Lindhout's book revealed how her family, as well as that of Australian colleague Nigel Brennan who was also kidnapped, gave up on Canadian and Australian governments and co-ordinated the pair's release themselves.
"You need to pay the million dollars now because they've started to torture me."
About $600,000 went to the kidnappers as ransom. The two families split the bill evenly. While Brennan's family was more well off, public donations helped Lindhout's parents come up with their half.
Lindhout says both the Canadian and Australian governments made the kidnappers an offer of $250,000. It was categorized as "expense" money to maintain official government policies of not paying ransoms.
It was rejected.
Despite the trouble her mother went through to raise the money, Lindhout says that she agrees governments shouldn't start paying ransoms.
In a piece for the National Post published Sunday, Lindhout writes about how she is "not comfortable with the fact that those who abducted me profited from it," but argues that families should be allowed to fundraise privately to pay ransoms.
A former hostage negotiator told Global News Sunday if governments start a precedence of paying for ransoms, more people will be kidnapped.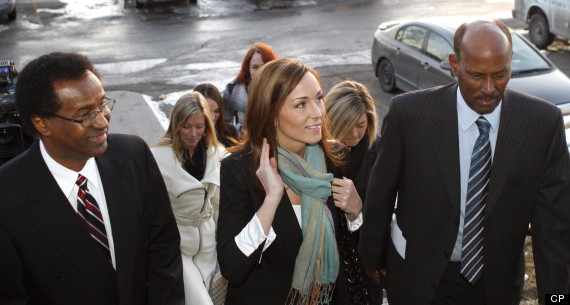 Amanda Lindhout was held hostage in Somalia for 15 months and released in 2009. (Photo: The Canadian Press)
The government paying ransoms "would make the world an even-more dangerous place for Canadians working and travelling abroad, increasing the chance they could be targeted for kidnapping," Lindhout wrote.
She says she knows she and Ridsel could have shared the same fate.

"As we mourn the terrible outcome of Ridsdel's hostage-taking, we need to work together — families and government — to reduce the risks for Canadians abroad and stamp out terror forever," she wrote.
"That is how we honour his memory."
With files from The Canadian Press
Also On HuffPost:
World's most famous kidnap cases
John McCarthy was a British TV journalist working in Beirut when he was kidnapped by Islamic Jihad in 1986 and held for more than five years. He was one of three high profile hostages from the UK and Ireland, the others being Terry Waite and Brian Keenan. Here McCarthy is pictured after his release in 1991 in Damascus with the British Ambassador to Syria, Andrew Flemming-Green.

Terry Waite was the Archbishop of Canterbury's Special Envoy sent to Lebanon to try and secure the release of hostages such as John McCarthy and who was himself taken hostage in 1987 and kept for nearly five years. Before he was taken, he had negotiated the release of several other western hostages in the country.

Josef Fritzl was convicted on numerous counts of murder, rape and incest in a sensational case from Austria in which he had imprisoned his daughter in a cellar for 24 years, fathering seven children with her. He was jailed in 2009.

A 2009 edition of People Magazine show a picture of Jaycee Dugard on its cover. This was the first current image of Dugard to have been published since she was kidnapped by Phillip and Nancy Garrido in Lake Tahoe in 1991 as an 11-year-old. During this time, Dugard bore two daughters who were ages 11 and 15 at the time of her reappearance.

Michelle Knight (pictured) was abducted, along with Amanda Berry and Gina DeJesus, by Ariel Castro and held captive for 11 years in Cleveland, Ohio. Castro pleaded guilty to 937 charges in 2013 and sentenced in July to life without parole. He was found dead in his cell a month later.

Natascha Kampusch poses with her book titled '3096 days' in September 2010 in a bookshop of Vienna. Kampusch was kidnapped at the age of 10 and held captive for eight and a half years by Wolfgang Přiklopil who kept her in a small cellar underneath his garage.

Iranian students are seen climbing over the wall of the US embassy in Tehran during the Iranian Revolution in November 1979. The students went on to seize the embassy staff, and held 52 of them as hostages for 444 days. A bungled rescue attempt in April 1980 ordered by president Jimmy Carter ended with the deaths of eight US servicemen.

Terry Anderson was one of six western hostages taken by the Islamic Jihad Organisation in 1985. This photo was released by the group in May of that year and shows Anderson (top right) along with five others, including William Buckley (top centre) who died in captivity. Anderson was held for six years, the longest of all the western hostages.