'Diefenbaby' Dies: George John Dryden, Likely Lovechild Of Former PM Dies At 47
TORONTO — George John Dryden, who spent years of his life trying to prove conclusively he was the love child of former Canadian prime minister John George Diefenbaker, died on Sunday, a longtime friend said.
Dryden, 47, who had terminal pancreatic disease, suffered fatal injuries in a suicide attempt, Merry-Ellen Unan said.
He blamed decades of alcohol abuse for the illness.
"I didn't have a bad life," he told The Canadian Press last week in his last interview. "I basically ended up killing myself."
Dryden, who bore an uncanny resemblance to "The Chief," grew up in a Toronto family of privilege as the son of prominent federal Liberal Gordon Dryden. About five years ago, however, a cousin told him it had long been a quiet family rumour that Dryden's mother, Mary Lou Dryden, had an affair with Diefenbaker that led to his conception.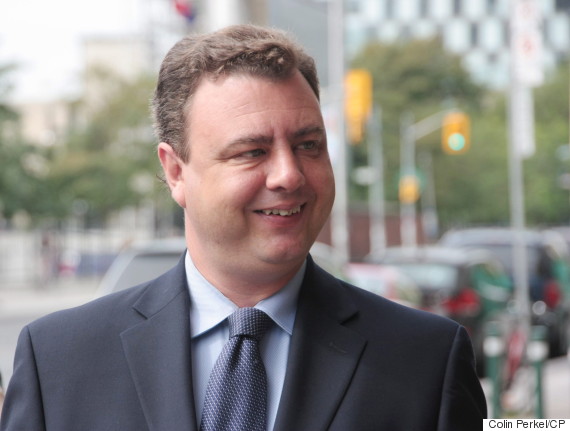 George Dryden, who believes his father was former prime minister John Diefenbaker, is seen in Toronto on Wednesday, Aug. 31, 2011. (Photo: Colin Perkel/CP)
In a stunning revelation, DNA tests confirmed Gordon Dryden was not his biological parent.
"For somebody who knows who their father is, it seems kind of strange," Dryden said at the time. "But I went for 42 years thinking I was a Dryden, and I just found out...that I'm not."
The bombshell sparked his elusive quest to prove his parentage definitively. It also caused an ugly rupture with the Drydens. The family kept him from his ailing mother, and hid the death of his father from him for eight months.
Unan, who met Dryden 20 years ago and was with him when he died, described him as sensitive, caring, a wonderful friend, but also "very much a lost soul," she said.
"He was searching most of his life for his identity," Unan said. "He truly didn't know who he was."
Father's name was John
Dryden said his mom, a staunch Conservative and known confidante of Canada's 13th prime minister, admitted to him she had seen Diefenbaker privately around the time he was conceived in late 1967 or early 1968 — a few months after she married Gordon Dryden. The former prime minister would have been 72 at the time; she would have been in her mid-30s.
She also told him his father's name was John, Dryden said.
History books record the twice-married Diefenbaker as childless, and Dryden found little appetite to change the official narrative. Known Diefenbaker relatives refused to co-operate, but Dryden managed to obtain a DNA sample from one of them, which proved enough of a match to convince him of the relationship.
"I don't have any doubts," Dryden said last week. "But nobody is going to say it."
"The best possible present that George could ever have gotten was an acknowledgment that Diefenbaker was his father." —Lawrence Goertzen
His belief was bolstered when DNA tests showed he was related to the Goertzens in Saskatchewan — three brothers with whom he had no known connection.
Independently, the brothers had previously learned that their father, Ed Thorne, was the son of Mary Rosa LaMarche, Diefenbaker's housekeeper in Prince Albert, Sask., in the late 1930s. Her daughter would tell them Thorne was the product of a dalliance between LaMarche and Diefenbaker, which would make them the former prime minister's grandchildren.
When one of the brothers, Lawrence Goertzen, read about Dryden, he made contact three years ago. Two of the siblings and Dryden did DNA tests. The result showed with near certainty that they had an uncle-nephew relationship.
Two weeks ago, an ailing Dryden went out to Saskatchewan to meet the Goertzens for the first time. They visited Diefenbaker's house in Prince Albert and the Diefenbaker Canada Centre in Saskatoon along with his grave.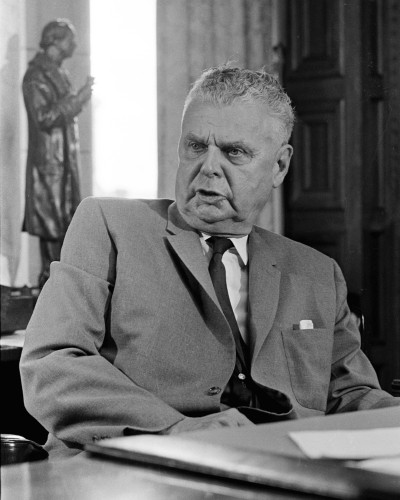 Former prime minister John Diefenbaker sits in his office in Ottawa, Aug 29, 1966. (Photo: Chuck Mitchell/CP)
"George was looking for a sense of connection there," Goertzen said.
Goertzen, who was surprised at how much alike he and Dryden were, described his putative uncle as a searching soul.
His inability to get Diefenbaker, who died in 1979, to recognize the relationship — former prime minister Pierre Trudeau was open about fathering a daughter in later life — left Dryden with a sense of something missing that he needed to find. He always insisted there was nothing in it for him, beyond certainty about his parentage.
"The best possible present that George could ever have gotten was an acknowledgment that Diefenbaker was his father," Goertzen said from Saskatoon.
"I get it: People don't want to tarnish Diefenbaker's name (but) somebody's covered something up."
"I get it: People don't want to tarnish Diefenbaker's name (but) somebody's covered something up."
Dryden, who never married, recently developed a close relationship with the sister of "Wheel of Fortune" personality Vanna White in South Carolina. Their father, Herbert White, treated him like a son, he said, for which he was grateful.
"I miss her and what could have been," he said wistfully.
As he counted down his final days, Dryden said he wanted to warn others of the dangers of alcohol abuse, and said he had no plans to suffer.
"I'm not going to be tied to machines," he said. "I'll take care of it myself."
He chuckled at the notion of a "Diefenbaby Dies" headline. His tombstone in Toronto, he said, would carry both the Dryden and Diefenbaker names.
ALSO ON HUFFPOST:
What Canada's PMs Have Said About Canada
"We are a great country, and shall become one of the greatest in the universe if we preserve it; we shall sink into insignificance and adversity if we suffer it to be broken."

"We shall all respect the principles of each other and do nothing that would be regarded as an act of oppression to any portion of the people."

"I hate politics and what are considered their appropriate measures. I hate notoriety, public meetings, public speeches, caucuses and everything that I know of which is apparently the necessary incident of politics—except doing public work to the best of my ability."

"The one calamity above all others which stands before this country is that political division should follow the division of race or the division of religion."

"I hope the time is fast approaching in Canada when we shall never hear the question raised of a man's birth, or the creed that he professes. We live in a country and under a constitution in which every man has a right to act as his judgment dictates, or as his education leads him, upon matters of this very important character."

"Each little Province is a little nation by itself. "

"Two races share today the soil of Canada. These people had not always been friends. But I hasten to say it. There is no longer any family here but the human family. It matters not the language people speak, or the altars at which they kneel."

"Let us never forget the solemn truth that the nation is not constituted of the living alone. There are those as well who have passed away and those yet to be born. So this great responsibility comes to us as heirs of the past and trustees of the future. But with that responsibility there has come something greater still, the opportunity of proving ourselves worthy of it."

"Loyalty to the ballot box is not necessarily loyalty to the nation. Political captains in Canada must have courage to lead rather than servility to follow."

"A strong and dominant national feeling is not a luxury in Canada, it is a necessity. Without it this country could not exist."

"Canada: a land endowed by heaven with incalculable wealth. A people free and brave and strong with the strength that comes from the mountains and the prairies, the rivers and the sea."

"Our nation was planned as a political partnership of two great races. It was planned by men of vision, of tolerance, as a partnership in which both of the partners would retain their essential characteristics, their religion, their culture."

"I am a Canadian, free to speak without fear, free to worship in my own way, free to stand for what I think right, free to oppose what I believe wrong, or free to choose those who shall govern my country. This heritage of freedom I pledge to uphold for myself and all mankind."

"Whether we live together in confidence and cohesion; with more faith and pride in ourselves and less self-doubt and hesitation; strong in the conviction that the destiny of Canada is to unite, not divide; sharing in cooperation, not in separation or in conflict; respecting our past and welcoming our future."

"Canada will be a strong country when Canadians of all provinces feel at home in all parts of the country, and when they feel that all Canada belongs to them."

"This is a very complicated country. You have to understand it, you have to respect it, and I think our most successful prime ministers have been people who have drawn together the diversity of the country."

"In any democracy, there is always a tug-of-war between policies to achieve equality and policies to promote excellence. I am certain that Canada can achieve both equality and excellence."

"Canada must stand for the best in all fields of human endeavour. And we must be uncompromising in the pursuit of values that are the moral foundation of all great nations. That is my dream for my country: a Canada fair and generous, tolerant and just."

"In the... years of our common history, anglophones and francophones, Aboriginal peoples and new Canadians have shown that our political system, founded on the profound respect of differences and the sharing of fundamental values, is our most powerful tool of development."

"What we have built together in Canada is something very great and very noble. A country whose values of tolerance, understanding, generosity have made us what we are: a society where our number one priority is the respect and dignity of all our citizens."

"The people of Canada have worked hard to build a country that opens its doors to include all, regardless of their differences; a country that respects all, regardless of their differences; a country that demands equality for all, regardless of their differences."

"Canada must reflect the true character of its people. Honourable in our dealings. Faithful to our commitments. Loyal to our friends. By turns a courageous warrior and a compassionate neighbour. That is the spirit of the Canada I know."

UP NEXT: Canada's Longest-Serving PMs

On November 13, 2014 -- his 3,203rd day on the job -- Stephen Harper leapfrogged former PM (and fellow Conservative) Brian Mulroney to become the sixth longest-serving prime minister in Canadian history. But he still has a ways to go to catch the five former leaders ahead of him.

Days in office: 3,689

Days in office: 5,564

Days in office: 5,642

Days in office: 6,934

Days in office: 7,837

UP NEXT: How Much Tories Have Aged?