Calgary Flames Fire Head Coach Bob Hartley
CALGARY — The Calgary Flames fired Bob Hartley on Tuesday, less than a year after he was voted the NHL's coach of the year.
Calgary regressed by 20 points in 2015-16 after reaching the second round of playoffs the previous season, finishing with a 35-40-7 record. Only Vancouver and Edmonton posted fewer wins in the Western Conference.
Hartley navigated the Flames to a 45-30-7 record and third place in the Pacific Division in 2014-15, which earned him the Jack Adams Trophy.
But that Flames team did not resurface this season despite the talents of Johnny Gaudreau and Sean Monahan and defencemen Marc Giordano and T.J. Brodie.
"Bob has taken this team as far as I feel he can take it,'' Flames general manager Brad Treliving said during a news conference at Scotiabank Saddledome.
Treliving met with Hartley early Tuesday morning and fired the 55-year-old from Hawksbury, Ont.
Hartley signed a contract extension in December, 2014, that was reported to be two years in length, so he would have one year remaining on his deal.
"Bob has taken this team as far as I feel he can take it."
"Bob is able to get a lot out of players,'' Treliving said. "I felt for us to move forward as an organization, it was time, it was important, it was critical we made this decision.
"This is isn't just a necessary move because we didn't make the playoffs, so we're going to throw a body on the tarmac. For us to move forward, I felt this decision had to be made for what Bob, in my opinion, can get from this group moving forward.''
Associate coach Jacques Cloutier also won't return next season, but Treliving said assistant Martin Gelinas, goaltending coach Jordan Sigalet and video coach Jamie Pringle will remain with the club.
The pattern with Bob Hartley's NHL coaching career:
- Colorado, fired in year 5
- Atlanta, fired in year 5
- Calgary, fired prior to year 5

— Darren Haynes (@DarrenWHaynes) May 3, 2016
After surprising many by making the playoffs in 2014-15 and beating Vancouver in the first round, Calgary finished 26th overall this season.
The problems came despite high-profile off-season additions. The Flames acquired defenceman Dougie Hamilton from the Boston Bruins at the draft, Michael Frolik signed as a free agent and Sam Bennett had a breakout rookie season.
But Calgary staggered out of the gates, losing its season opener to Vancouver en route to a 2-8-1 start. Unlike the previous season, they rarely rallied to wins in the third period.
The team opened the season with three goalies on one-way contracts. Karri Ramo and Joni Ortio both were waived at different times and sent to the minors. Veteran Jonas Hiller also struggled with a .879 save percentage.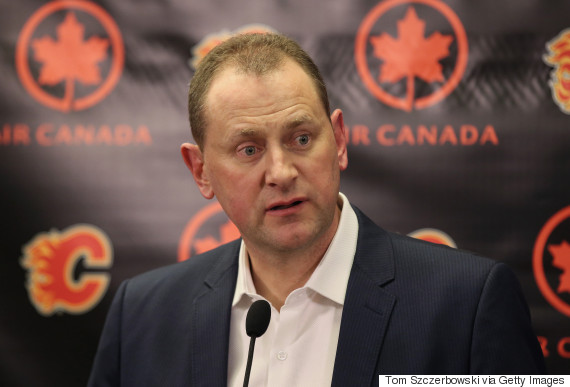 General Manager of the Calgary Flames Brad Treliving said Bob Hartley had taken the team as far as he could as coach. (Photo: Getty)
"Our goaltending was not good this year,'' Treliving said. "That falls on the general manager. I need to fix that. The way we played in front of the goaltender needs to be fixed as well.
"Our special teams for a good portion of the year were 30th in the league. There's some style of play issues in terms of how to move forward.''
Hiller has signed with a Swiss club and will not be back. Ramo, who suffered a season-ending knee injury in February, and Ortio are currently the top goalies in the system.
Hartley won a Stanley Cup with the Colorado Avalanche in 2001.
Also on HuffPost:
André Roy's team, the Tampa Bay Lightning, took home the Stanley Cup when Roy sported this well-manicured playoff beard in 2004. Pros: even distribution, nice color, above-average grooming Cons: lack of imagination, and...above-average grooming Final Score: a solid C

The Coyotes' 2012 line-up featured several of the Phoenix Coyotes sporting hip, patchy scruff during their journey to the Stanley Cup championship. Pros: huge props for team effort Cons: notable lack of aggressive, unruly growth Score: C+

2014 has seen its share of playoff beards too. This one from the Anaheim Ducks' Forward Patrick Maroon is straightforward, but robust. Pros: the perfect beard for the well-groomed guy Cons: not ambitious enough for a dude with some serious hair-growing potential Score: B-

Raphael "Raffi" Torres, who played for the Vancouver Canucks at the time, grew this ruby masterpiece for the 2011 playoffs against the Boston Bruins. Pros: striking color to scare off predators Cons: missed growth opportunity (i.e., could be longer) Score: B-

Czech Jake Voráček of the Philadelphia Flyers has this gnarly beard in the works for his team's current run at the championship. Pros: inexplicable blonde-black combo, impressive handlebar mustache situation Cons: sideburns noticeably absent and/or undefined Score: B

Chris Higgins grew this impressively full beard during the 2011 playoffs. His Vancouver Canucks made it to the finals that season, but lost to the Boston Bruins four games to three. Pros: the kind of beard that makes one stop and think, "damn, that's a manly beard." Cons: distracting, untrimmed mustache hairs Score: B

Jordie Benn of the Dallas Stars is also rocking a pretty mean beard for this year's playoffs. Pros: excellent facial expression/facial hair harmony Cons: none really, but we've seen better Score: B

Finnish player Ville Leino grew this beard out for the 2010 playoffs with the Flyers. He currently plays for the Buffalo Sabres. Pros: perfect juxtaposition of untamed length and well-groomed shaping Cons: holding back a bit on the sides Score: B

This might as well be the same picture as the previous bearded Flyer, but Center Claude Giroux of the Philadelphia Flyers grew this fiery gem for the 2010 playoffs. His team advanced to the Finals that season, but were defeated by the Chicago Blackhawks. Pros: coloring pairs perfectly with the Flyers uniform (sorry, Ville) Cons: notable gap between mustache and chin beard Score: B+

Daniel Winnik of the Anaheim Ducks is growing out this beard for the current playoffs. Pros: aggressive neck beard, yet still somehow real-life appropriate Cons: perhaps a little too real-life appropriate Score: B+

Here's the beard that Radko Gudas grew for this season's playoffs. His team, the Tampa Bay Lightning, was unfortunately knocked out during the first round by the Montreal Canadiens in late April. Pros: basically sets a new standard for all of mankind's future neck beard attempts Cons: didn't fulfill expectations Score: B+

Continuing the Flyers' domination of the playoff beard lineup, the steely-eyed Scott Hartnell of the Philadelphia Flyers grew this wild beauty for the 2010 playoffs. Pros: thinks outside the box (and face) Cons: too much of a good thing? Score: A

Ken Deneyko, who spent his entire career with the New Jersey Devils, rocks a toothless grin and shaggy beard in this photo after his team won the 2003 Stanley Cup. Pros: epic toothlessness makes this glorious masterpiece even more complete Cons: objectively, very patchy Score: A

Mike Commodore of the Carolina Hurricanes grew out this beard for his team's successful Stanley Cup journey. The Canes came out on top of the league in 2006. Pros: nails the playoff beard hat trick -- loud color, unruly shape and all-over shag. Plus, the bathrobe brings the Dude aesthetic to life in a truly delightful way. Cons: absolutely none Score: A+

Here's a real treat. Check out how Duck player François Beauchemin's beard has come in. It's looking pretty strong!