Canada's Army Reserve Lacks Soldiers, Training, Equipment: Auditor General
OTTAWA — A scathing auditor general's report Tuesday shows Canada's army reserve is in dire straits, with only a fraction of its troops properly trained, equipped and fit for international operations and domestic emergencies.
Michael Ferguson's latest audit conducted a detailed examination of the problems faced by the military's part-time branch and found that even though there are 21,000 positions on the books, only 13,944 reservists are considered active and ready for service.
The federal government's stated goal is to have a reserve force of 27,000.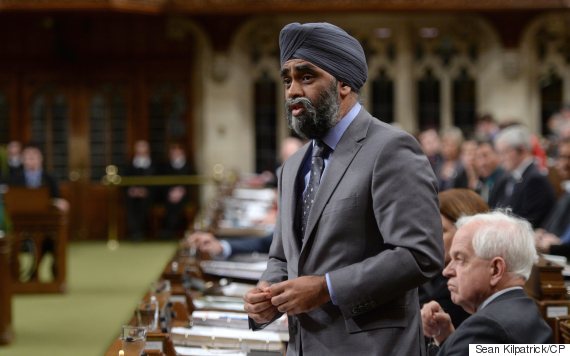 Defence Minister Harjit Singh Sajjan responds to a question during question period in the House of Commons on Parliament Hill in Ottawa on Monday, May 2, 2016. (Photo: Sean Kilpatrick/CP)
The audit goes into detail about how National Defence has not only failed to recruit for the part-time force, but also how reservists are quitting at a rate faster than they can be replaced — and are doing so before they are fully trained.
"In late 2015, National Defence set a goal to increase the army reserve by 950 soldiers (five per cent) by 2019. In our opinion, this goal will be difficult to achieve given the present rate of attrition," said the audit.
The sweeping review also looked at training and found that many reservists don't receive certain basic weapons training, such as the use of a pistol or grenade launcher.
They have been woefully unprepared for some duties in combat zones, such as convoy escort and force protection, and ill-equipped for missions at home like responding to forest fires and floods.
'Woefully unprepared'
When there is a domestic emergency, reserve units are expected to assemble trained units of up to 600 soldiers, but Ferguson's report noted that they were thrown into the field over the last few years — specifically in Alberta, Saskatchewan and Manitoba — without everything they needed, including essential items.
"When we reviewed these reports, we found many instances of key equipment lacking, such as reconnaissance vehicles, command posts, and communications equipment," the audit said.
"We found that the Canadian Army has not defined the list of equipment that all army reserve units should have for training their soldiers and teams for domestic missions. This means that army reserve units may have to rely on other Canadian Armed Forces units to provide this equipment, but we were told that it is often not available."
The former Harper government was keen on highlighting the participation of reservists, notably the Canadian Rangers, in annual Arctic exercises. In 2013, it staged a series of photo-ops with then-prime minister Stephen Harper shooting rifles and mingling with the troops, who are drawn from indigenous northern communities.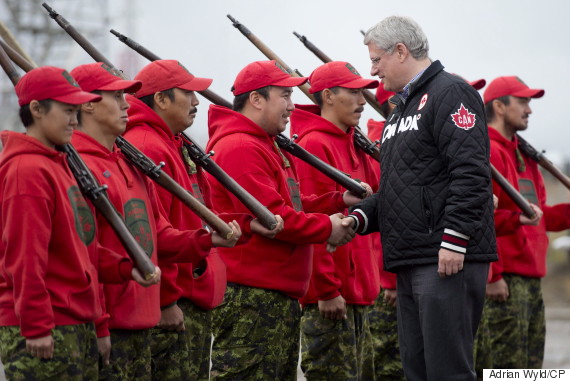 Former prime minister Stephen Harper shakes hands with Canadian Rangers on hand to welcome the prime minister Monday August 25, 2014 in Pond Inlet, Nunavut. (Photo: Adrian Wyld/CP)
The audit says the army made a special effort to equip them, but even there Ferguson's report found support wanting.
"Following recent training exercises, these groups reported that they did not always have access to the equipment they needed to be self-sufficient, such as reliable communications and vehicles larger than light snowmobiles," said the report.
National Defence, in its response, agreed with the criticism and said it is working on the equipment issue.
Sajjan says Liberals are investing
Defence Minister Harjit Sajjan said the Liberals have already started investing in the reserves, but didn't explain how. He said he recognizes recruiting and retention as long-standing problems, and that the department is looking at ways to make training more engaging.
Lt.-Gen. Marquis Haines, the commander of the army, says they're putting in place measures to ensure that reservists are more prepared to deploy, both at home and abroad.
"Any gaps in training will be assessed and resolved before deployment and the completion of army reserve training objectives will be confirmed annually," he said in a statement.
Ferguson also tore a strip off the government over how it balances and pays for reservists, some of who are being called up to full-time duty. Under the law, a part-time soldier can be converted to full-time status for periods of between 180 days and three years.
Critical of pay system, too
But those jobs can be — and often are — renewed for longer periods of time. It was one of the criticisms in retired lieutenant-general Andrew Leslie's 2011 report, which was meant to overhaul administration at National Defence.
Ferguson's report goes a step further, showing that as many as 1,704 part-time soldiers are on full-time duty, but are financed out of the reserve budget.
"This means that the Canadian Army spent about 27 per cent of its overall army reserve pay and operating expenses on these full-time contracts, leaving less available for other army reserve activities," said the report.>
ALSO ON HUFFPOST:
Auditor General Spring 2016 Report Highlights
Here are the key findings from the spring 2016 report of federal Auditor General Michael Ferguson, courtesy of The Canadian Press.

Veterans Affairs Canada lacks adequate limits on the soaring cost and usage levels of marijuana among ex-soldiers who are using it for medical purposes, authorizing in some 340 cases the consumption of 10 grams a day — twice Health Canada's recommended threshold.

The number of veterans receiving medical marijuana jumped from 112 in 2013-14 to 1,320 in 2015, and the cost rose accordingly: from $408,810 to $12.1 million. The audit estimates the cost could reach $25 million in 2016-17, nearly one third of the drug costs of the Veterans Affairs health benefits program.

Veterans Affairs also lacks a "well-defined approach" for monitoring drug use among veterans, and does not monitor trends that could indicate "high-risk" behaviour. For instance, while it will not cover the cost of acetaminophen that exceeds the maximum recommended dose, no such limits exist for narcotics or sedatives.

Immigration, Refugees and Citizenship Canada lacks a systematic method of identifying and documenting fraud risks among its applicants, resulting in people being granted citizenship based on incomplete information or background checks.

The RCMP and the Canada Border Services Agency do not consistently share important details about criminal charges and potential residency fraud with Immigration, Refugees and Citizenship Canada.

Between 2008 and 2015, 50 different applicants used the same single address on their citizenship applications during overlapping time periods; seven of the applicants became Canadian citizens before the address was flagged during a residency fraud investigation.

Citizenship officers did not always follow the standard procedure of checking travel documents against the department's database of lost, stolen and fraudulent documents.

Out of 38 criminal cases since 2010 involving a permanent resident or foreign national, the RCMP shared the relevant details with Immigration, Refugees and Citizenship Canada in only two of them.

Individual units of the Canadian Army's reserve units lack sufficient soldiers — just 14,000 instead of a needed 21,000 — as well as access to key equipment for domestic missions and clear guidance on training, counter to National Defence's stated goal.

Between the 2012-13 and 2014-15 fiscal years, the number of Canadian Army reservists has dwindled by about five per cent, or about 1,000 soldiers per year.

The process of choosing fund managers for the government's $400-million "Venture Capital Action Plan," established in the 2012 budget, was onerous, laden with red tape and insufficiently fair, open and transparent, resulting in just nine submissions out of a possible 100 would-be candidates.

The Immigration and Refugee Board has long-standing vacancies that are contributing to decision-making delays: 21 positions are vacant, leading to wait times of an average of 18 months.

Via Rail lacks a long-term plan or direction approved by the federal government, receiving federal approval only for short-term funding and its five-year plan — a "significant deficiency" that makes it impossible for Via to "fulfill its mandate as economically, efficiently and effectively as desired."